<![if !vml]><![endif]>Wimbledon Common – Mobile-O
Results
17 July 2007

Well you all seemed to be still talking to each other at the end, only just in some cases. This is the first time we've attempted a Mobile-O and judging by comments, it was good fun. It was hilarious watching and listening to the 'control freaks' providing the instruction to the 'runners'.
<![if !vml]>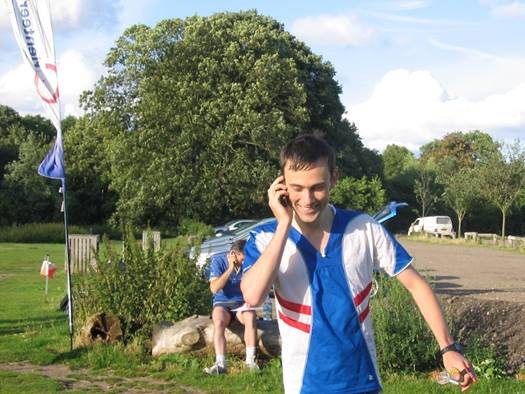 <![endif]><![if !vml]>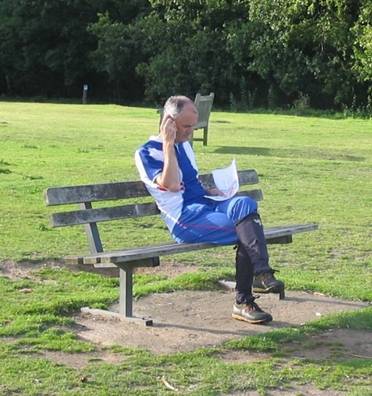 <![endif]>
The format was that one 'runner' just had a mobile and a compass and was instructed by the 'navigator' aka 'control freak', who stayed at base with the map with the course marked on and of course a mobile. Pairs then swapped over and runner 2 ran a different, parallel course.
Fastest individual time was 13.01 run by Ed, navigated by Sarah (who had actually already run the course as she ran both courses). Andy had put out some of the controls (not all) so probably should be n/c. Congrats especially to our novice team, one of whom had not seen an orienteering map before! I think the hot tips given were crucial: frequent communication; use major tracks, not minor paths; use vegetation, especially open areas; use the compass. I only heard of two breakdowns in mobile transmission.
Both courses were 2.4k long.
If you want to know more about Mobile-O look at the website of its creator:  http://mobile-o.freeweb.hu/index_en.html  
<![if !vml]>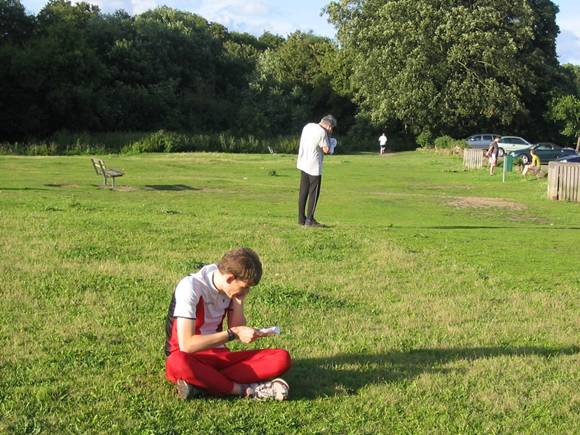 <![endif]><![if !vml]>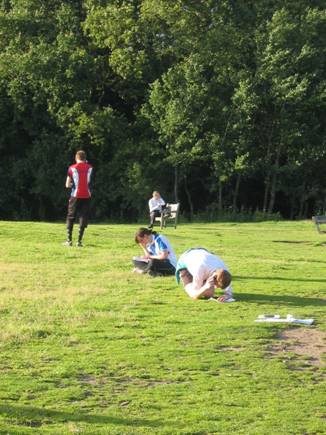 <![endif]>
A good time was had by all; thank you for coming.
Chris Robinson
 RESULTS
COURSE

INDIVIDUAL TIME

TEAM TIME

TEAM POSITION

Paul Whiston

CROC

0

16.07

Andy Robinson

SLOW

1

17.37

33.44

1

Ralph Street

SLOW

0

16.03

Matthias Mahr

SLOW

1

18.06

34.09

2

Kate McKerrow

SLOW

0

20.34

Don McKerrow

SLOW

1

20.26

41.00

3

1st Father & daughter

Ollie O'Brien

SLOW

0

19.47

Steve Brockbank

CROC

1

21.23

41.10

4

Chris Jepson

SO

0

24.15

Vince Joyce

SO

1

19.06

43.21

5

1st Couple

Sarah Brown*

SLOW

1

32.09

* Navigator= Paul Street

Ed Catmur

SLOW

0

13.01

45.10

6

Mark

1

26.40

Peter Huzan

SLOW

0

22.53

49.33

7

James Morris

SLOW

0

22.03

Nicky Morris

SLOW

1

30.32

52.35

8

Chris Schofield

MV

0

32.19

Tony Schofield

MV

1

34.02

66.21

9

1st Father & son

Nick Phelps

1

21.39

Sam Phelps

0

54.36

76.15

10

1st Novices!

Sarah Brown*

0

22.12
Updated 19 July 2007