---
Click here for split times   
Click here for other trail challenge races information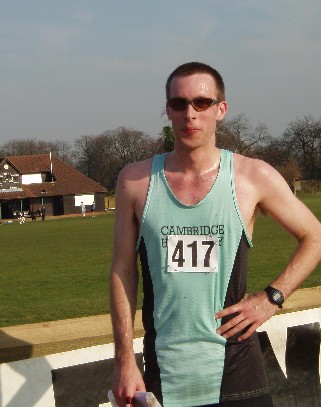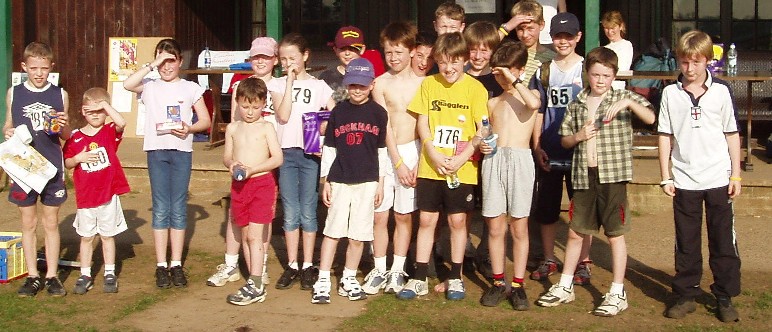 Charlie Wetham (SLOW) 10 km winner and juniors (2 km Mini race)
Planner / Organiser Comments
The mini race was excellent. A big enough field to make it exciting and (the bit I was worried about) none of them had seen an orienteering map more than a couple of times before - and many of them not at all. That they all made it round the course successfully and in a fast time is an amazing tribute to the power of group decision-making, assisted by a few guiding hands. Key features were:
a big finish from the leading pack of seven with Henry Lejeune just holding off the other boys.
The entire field going from No 2 (on the north side of the canal) to no 3 (on the north side of the lake) by running along the south side. Maybe not group decision-making's finest hour.
Emma Farmery's decision to read the map and work it out herself, earning her the Easter egg for first girl.
The senior races had a more select (i.e. smaller) field, but still plenty enough to make it fun for all. Charlie Whetham and Jeff Green vied for the lead the whole way on the 10k, until Charlie's superior speed finally told. Complete novice Sandra Blenkinsop took the ladies prize and remained coy about who she was following; I just know Colin Gray can run faster than that.
The 6k race was a runaway win for regular Mike Elliot. Tyrone Weller's second place may have been helped by support from his scout group, as he probably heard them all the way across the park!! We were also very impressed by the international flavour of the field. I hope they are equally impressed by our spelling.
The next race is at Box Hill on 3rd April ( starts) and then at Peaslake on 1st May (starts about as it follows the World Cup orienteering races there in the morning).
Keep checking the websites
www.mvoc.org (for 3rd April)
www.wcup2005.org.uk for the Peaslake Race and also orienteering in Battersea Park on 2nd May (World Cup Sprint races and then everyone else having a go)
and then our summer evening series starts on 24 may at the Hawker Centre
Thank you all for coming
Andy Robinson
Pl Name                       Club                             Time 



Long Trail 10k 10.0 km   11 C              

    1 Charlie Whetham            SLOW                            36:43 
    2 Jeff Green                 SLOW                            37:24 
    3 Colin Lynch                SN                              38:41 
    4 Andrew Reddington          LOK                             39:41 
    5 Phil Davies                SLOW                            41:32 
    6 Paul Street                SLOW                            42:59 
    7 Robert Robinson            SLOW                            45:10 
    8 Sandra Blenkinsop          Stragglers                      46:00 
    9 Colin Gray                 Stragglers                      46:05 
   10 Simon Maytum               Saxons                          46:06 
   11 Mike Williamson            Ind                             46:39 
   12 Chris Glew                 Stragglers                      53:27 
   13 Sarah Covey Crump          SLOW                            59:55 
   14 Collete Du Toit            Wimbledon Windmilers          1:03:47 
   15 Bernard Sweeney            Stragglers                    1:05:04 



Short Trail 6k 6.0 km   7 C                

    1 Mike Elliot                MV                              32:53 
    2 Tyrone Weller              SLOW                            34:35 
    3 Laszio Kincses             Ind                             37:00 
    4 Viktor Szaladi             Ind                             37:02 
    5 Bernadett Kalmor           Ind                             37:05 
    6 Daniel Dunbar              Ind                             37:08 
    7 Alison Gourd               CROC                            37:31 
    8 Ann Beckett                Ind                             37:39 
    9 Agnes Koczian              Ind                             39:47 
   10 Philip Craven              DFOK                            40:35 
   11 Kjell Tullus               SLOW                            43:56 
   12 Jackie Steinitz            SLOW                            44:27 
   13 Colin Barnes               Ind                             44:59 
   14 Maurice Dunnett            MV                              50:52 

      Corinne Griffin            Ind                                mp 
      Andrew Meiring             Ind                                mp 



Mini 2km  (28) 2.0 km   6 C                

    1 Henry Le Jeune             Ind                             12:18 
    2 Joel Buckett               Ind                             12:27 
    3 Harry Tivnen               Stragglers                      12:39 
    4 Johnny Gouch               Ind                             12:41 
    5 Ben Walker                 Ind                             12:42 
    6 Ellis Farmery              SLOW                            12:47 
    7 Adrian Davies              SLOW                            12:51 
    8 William Tyler              Ind                             14:01 
    9 David Forshaw              SLOW                            14:21 
   10 Omri Kedem                 Ind                             14:59 
   11 Nick Dodds                 Ind                             15:08 
   12 Hugh Sheldon               Ind                             15:40 
   13 Alasdair Kane              Ind                             16:01 
   14 Jamie Sheldon              Ind                             16:26 
   15 Alasdair Sheldon           Ind                             16:38 
   16 Rhodri Palmer              SLOW                            16:39 
   17 Jack Reynolds              Ind                             16:48 
   18 Daniel Buckett             Ind                             16:57 
   19 Christian Harper           Ind                             17:28 
   20 Emma Farmery               SLOW                            17:50 
   21 Alice Harper               Ind                             18:10 
   22 Hannah Farmery             SLOW                            18:20 
   23 Hannah Simpson             SLOW                            18:37 
   24 Jack Simpson               SLOW                            19:27 
   25 James Farmery              SLOW                            20:00 
   26 Tamzin Reynolds            Ind                             20:47 
   27 Matilda Harper             Ind                             25:52 
   27 Claire Whistler            Ind                             25:52