<![if !vml]><![endif]>The 29th Surrey Hills Race
Monday 29 May 2006
Check out the Photo Gallery for a few more pictures from the race.

Race report
<![if !vml]>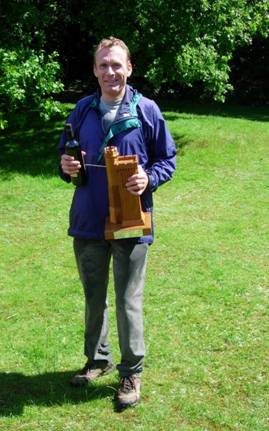 <![endif]>This year was my second as organiser.  Last year I wrote in my report that in future years I would make it even clearer to the road- and X-country-running fraternity that either local knowledge or good map-reading skills were required for these races. I think the message must have got through, as this year the last runner got in just after 14.30 (4 hours after the start of the race), compared with 2005, when the last runner didn't get in till 16.00.
Numbers were about 10% down on last year, which can probably be attributed to the weather: heavy showers were forecast, and duly appeared, complete with huge hailstones. One such shower forced us to put back the prize-giving, which was then held in blazing sunshine!
Thanks go to all the SLOW helpers, as ever, and especially to my long-suffering husband Richard who valiantly learnt how to use the SportIdent timing software for this event. Thanks also to the landowners and especially to you, the runners, for taking part.
Virginia Catmur (South London Orienteers)
<![if !vml]>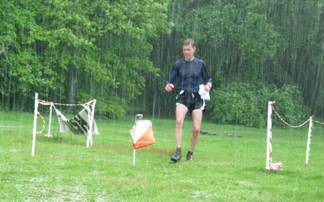 <![endif]><![if !vml]>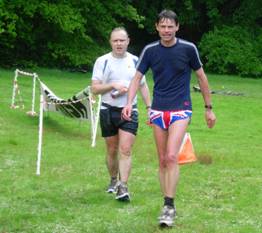 <![endif]>
 "A" course winner Jeff Green (above)
A finisher in the hailstorm! (far left)
Richard Arnold & Jeremy Wilde finish the A race (left)
Page updated 14 June 2006