SLOWprint 151
June 2005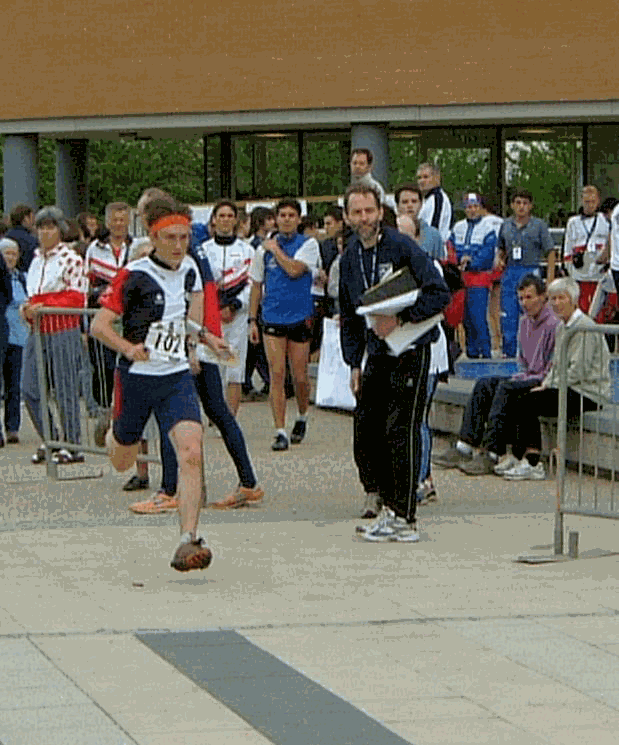 http://www.sloweb.org.uk/

Club Officers 2004–2005

Chair: Don McKerrow
Secretary:, Kate Thomas
Ladies' Captain:
Treasurer: Jackie Chapman
Mapping Officer, SEOA Rep. and Fixtures Secretary: Andy Robinson,
Club Kit: Teresa Turner


Men's Captain: Peter Huzan,
Publicity Officer: Mark Vyvyan- Robinson
Social Secretary Simon Evans
Membership Secretary: Ginny Catmur
Beginners' Rep. and Training Officer: Heather Walton,
Equipment Officer: Chris Fry,
Archivist: Sue Lumas,
SLOWprint Editor: Sarah Brown,
Webmaster: Andrew Trimble

Copy date for Issue 152 will be late August 05. Letters, event reports, articles, cartoons, gossip, scandal, notices, small ads, court circulars, births, deaths and marriages should be posted to Sarah Brown (address above); electronic copies via e-mail are particularly welcome.

New Members: If you are new to SLOW, you might not know about ... Training:

… and Transport: we can organise lifts to events: ring any of the club's officers, as listed above, and one of us will sort this out for you.

DON'S DAYDREAMS, DIARY, DEBATES,......

Thanks to all of you who helped with the World Cup. The international orienteers all agreed that it was an excellent event organisationally and, perhaps surprisingly to some, that the South East can offer terrain sufficiently challenging to test orienteers even at the highest level.

SLOW members who helped are far too numerous to mention here but whether you manned a control, helped put up a tent, shepherded young orienteers or were a Race Director or Planner you can be confident that your contribution to the success was both vital and appreciated.

I am sure the legacies will be numerous but if both British and International orienteers have a positive image of orienteering in the South East and just a few of the young orienteers who participated take up the sport then we will have achieved more than just the satisfaction of putting on an excellent event.

Meanwhile SLOW have had not a little competitive success in recent months with wins from Ed, Heather, Mike, and Ralph topping the strength in depth which helped us to qualify for the CompassSport Cup National Final for the first time since 2000. (Please ensure 16th October is in your diary because we need every possible member to turn out for us at the final).

At the British, Ralph was our only individual winner in M16A, but we had relay wins in W45 and M50 and a second place in M45. Well done to those and all SLOW members who made the trip to Cornwall; especially those who braved the worst of the storm on Relay day.

I hope to see as many of you as possible at the South East Relays. Best wishes for that and whatever else you may be doing over the summer.

Don McKerrow

Chair

In This Issue:

Lots of team events to enter especially for juniors, a coaching day, alternative views of the world cup and a chance to run the North Downs Way......

COACHING DAY

You are invited to a coaching day on Sunday 12th June 2005 probably on Wisley Common (subject to land permission) just off the A3 near to the M25 junction. Time 10am to 2pm.

Details of car park to follow when land permission confirmed.

Terrain is pine forest with a scattering of rhododendron thickets. Technical exercises from white for young juniors, through yellow/orange for beginners and juniors to light green and beyond to stretch developing orienteers will be available.

For those of you who have not been before, you can go round with somebody or talk to the coaching team afterwards. We generally do 2 or 3 exercises in the morning followed by a break for lunch (please bring your own) and socialising. We generally finish with a fun competition so you can practice your skills.

Please let me know if you will be coming as soon as possible. Let me know if there are any techniques you particularly want to practice.

I am also particularly looking for volunteers to help.

PAST COACHING

A big thank you to Chris Fry who has planned two coaching occasion for us – at Newland's Corner near Guildford and at Broughton Burrows in South Wales. At Newland's Corner we were very glad Chris chose to nestle the start in a wooded valley as it was a bitterly cold day. This did not seem to dampen the enthusiasm of the participants, particularly the 3rd Molesey scouts. Rhodri Palmer from 3rd Molesey won the orange course at the end. On the yellow course, Alice Clemens, with her friend Laura, was very chuffed to beat her older sister Holly who had been doing very well until control 5.

Broughton Burrows, a fiendishly intricate sand dune area, was rather windy but nothing like as wild as it can be. It was good to see the juniors Greg, Ralph and Michael at an advanced coaching weekend. Greg tried to persuade his dad to visit a local island on foot but sense prevailed. It was a jam packed weekend with the coaching day closely followed by the Midland night championships on Pembrey. Kiera got the most plaudits for providing a personal delivery of chips at the night event. And it was back to Pembrey the following day, where Ralph won his course by over 20 minutes!

THE REST

Congratulations to Trish Robinson for becoming a BOF Level 2 coach.

Congratulations to Ralph Street – M16 British Champion on Penhale Sands followed by running in our Mens Open team. It was also good to see Thomas Jones and Matthew Jones 5th and 7th on M10B and M12B at the British Champs. Matthew Jones was also 2nd on M12B at the JK. The JK saw the three musketeers (Ralph, James McM and Michael) competing in the M48- relay coming a creditable 4th against teams with older juniors. Our mini-relay team (James H, Matthew H and Greg) came 3rd – well done to Greg for holding off a SARUM team hot on his heels.

Ralph, James McM, Michael, Charles and Greg all scored for the club at the Compass Sport cup earlier this year, with Ralph and James topping the Light Green course.

It was great to see our juniors represented at the Young Orienteers Festival final at Battersea. David Forshaw had a good 5th place on YOFB6 for London South West Guides and Scouts. I am not sure I should mention Hannah, Emma and Ellis Farmery, Charles McM, James McM and Ralph who were, wait for it, running for our rivals Mole Valley (!) (something about qualifying through the Box Hill qualifying round). Still the Mole Valley website is a bit coy about Ralph and James's 1st and 2nd places, so I will mention them here. Well done.

The mini Trail Challenges are proving popular. Holly Clemens was 2nd at Box Hill with Alice Clemens 4th and David Forshaw 6th. Ellis Farmery was 6th at Bushy Park, with Adrian Davies 7th, David Forshaw 9th and Rhodri Palmer 16th. Emma Farmery was the first girl in 20th closely followed by her sister Hannah and then Hannah and Jack Simpson. The Ham mini trail challenge was won by Jack Moss with Lottie Moss 2nd and Hannah Farmery 3rd.

I hope to see you all at coaching opportunities and competitions over the coming weeks.

Heather Walton

SLOW members' news, February – May 2005

Please find the Address List for 2005 enclosed with this issue of SLOWprint.

Welcome to the following new members

Vicky Whaley (W21)

Vince Roper (M35) and Cherry (W21),

Mike Williamson (M45),

Matthias Mahr (M21) and Abi Weeds (W21),

Chris (W50), George (M45), Jenny (W12) and Suzie (W10) Glew,

Tiffin Boys' School (via Ian Cooksey)

Claire Warner (W21)
From Ginny Catmur, Membership Secretary
HOT PICKS
For Sunday events and specifically those in the following list, we aim to meet as a club and will have the SLOW banner or tent to help meet-up. SLOW can also offer transport from southwest London. We suggest a middle start time block to help with arriving and finishing at a similar time and co-ordinating lifts. We intend to meet afterwards for a drink at a nearby pub and will list below if known. Otherwise, see us at the event to find out where we're going.
Sun 19th June CHIG South East Relays, Epping SW
Clubs will be contacted direct and entries will be through clubs.
www.chig.org.uk
Contact Rachael or Peter if you would like to run.
31st Jul – 6th Aug Scottish 6-Days
Held every two years, this event attracts thousands of Orienteers from many different countries. Campsite available at Event Centre. CD: 30/06/05. Limited EOD and CC courses.
http://www.scottish6days.com/2005/2005index.htm
Summer O Series – Tuesday Evenings
Also look out for the Tuesday evening summer series of local informal events run by SLOW, Mole Valley and Croydon Orienteering Clubs. These are a great opportunity for beginners interested in learning orienteering skills and good training for the more experienced. Details available in events page on
http://www.sloweb.org.uk
Summer Evening Trail Challenges
Trail Challenge races are mass-start TRAIL races with a difference. A series of checkpoints define the courses which are run over tracks and trails - the CHALLENGE arises from choosing the fastest route between them. Series Flyer:
http://www.sloweb.org.uk/trail/tc-summer05.pdf
Tue 21st June – Bushy Park
Tue 5th July – Wimbledon Common
To assist with getting transport to events, contact Ginny Catmur
CD = Closing date. It can be possible to get a late entry. EOD = entry on the day. CC = Colour coded.
THE FIXTURES BIT

Fixtures future

: The summer Trail Challenge series is now underway. The next race on 21 June HAS HAD TO BE MOVED FROM BUSHY PARK TO RICHMOND PARK. CHECK WEBSITE FOR CONFIRMATION. THIS IS PROVISIONAL AT TIME OF WRITING

3 July. Frolic. Hawker Centre. Don is planning, Gavin doing SI and Paul S is organiser.

5 July Trail Challenge. Wimbledon Common from Thames clubhouse. Paul N is planning.

26 July. Matthias and Abi are planning courses in Richmond Park. These will be short as we will already be losing the light. (what? Already? shame! …but true)

9 October (Note the change of date from earlier info). Trail Challenge half marathon – Richmond Park. Mike G is planning and Mark and I will cover the organising side.

27 November. OK Nuts Trophy. Esher Commons. Nicky is planning; Mike G is organiser.

Fixtures past.: Since the last mag the club has staged…

19 March. Trail Challenge. Bushey Park. New map by Ed Catmur. Mark V-R planned and Andrew T did the SI. The "mini" race was excellent – 28 juniors with, how shall we put this tactfully, limited navigational experience. Very entertaining and a good time had by all, helped by the fine weather and the venue at Hampton Wick cricket club. The timing – a Saturday afternoon – was not ideal and led to small senior fields, but most of those on the 10km enjoyed the watersplash and one or 2 others found other watersplashes too!

30 May Surrey Hills races. Organiser – Ginny Catmur. Mike Elliot covered the SI for us as all our experts were away for the bank holiday. We think we will go for the bank holiday again in 2006 as entries were up especially on the 18 miler – 37 runners – the best field for years – great stuff.

And then of course there was that one other thing…………….

THE WORLD CUP: So how was it for you?

Great but perhaps a shade fraught seems to the general conclusion. The great rush of compliments in the days afterwards all had a genuine warmth about them. If you haven't done so already do have a good look at Andrew's compilation of various World Cup items on the website; it really is excellent.

All organisational and planning aspects went well, and the atmosphere at Battersea was super. But have we achieved what we set out to do, which was raise the profile of orienteering to the outside world. Only time will tell, but I do know one thing – if we don't keep on working in that direction, it will all go to waste, and so please think what you can do to keep the momentum going.

CLUB TEAM EVENTS AND INFORMATION

IMPORTANT - Forthcoming Team Events (June, October)

The South-East Relays are on 19th June at Epping South-West. There are courses for everyone. Please contact Pete as soon as you read this if you would like a run and have not already asked. Everyone who has asked, is in a team already - look out for the email next week.

The North Downs Way footpath relay is on 25th June.

The most important club day of the year the Compass Sport Cup Final is on 16th October at Clowbridge, near Burnley. We are really keen to get the strongest team there as possible. Of course everyone is welcome, but we do need ALL our best club members across the age groups to turn out for the club on this day (at least all the way down to people of Captain Pete's standard as an M21 !). And especially ANYBODY over 60 or under 18 ! With our best team there, we can do so well.

Please tell Rachael of your availability immediately. We are intending to organise subsidised team transport to the event going up on Saturday or Sunday – which do you prefer? If we go up on Saturday, then we can organise training and group accommodation. Not a weekend to be missed!

IMPORTANT - Forthcoming Junior Competitions (September, October)

The Peter Palmer Junior Team Relay is currently scheduled for 4th September in the South-East! This is for teams of six, 1 or 2 of which will run at night. We need at least 2 girls & 2 boys in each team. Courses range from yellow upwards so I hope there is something for everyone. This is a great event for juniors up to 18 years, and it will be super for the junior section of the club to have a team there.

The Yvette Baker Trophy regional round is on 2nd October at Lesnes Abbey Woods in SE London. This competition is suitable for ALL juniors up to age 20 of ALL standards from yellow upwards. Last year we had a great time qualifying for & running in the final. We would like to get to the final again this year. You run as an individual on a course suitable for your ability , then the best 9 scores are taken – that means that no-one is under pressure. This is the best junior competition of the year. It would be good for as close to 100% of our juniors as possible (of yellow standard upwards) to be there. So please, do come along and help your team mates to qualify for that final (on 4th December).

JK Relays, Hopwas, West Midlands on 28th March

We had 17 teams at this event, including some guest runners from Canada and Norway! The courses made good use of a small area, and there was a lot of head-to-head racing.

We also got some good results with wins for W120 (Diane Leakey, Jackie Chapman, Kathy Haynes) and M165 (Alan Leakey, David May, Mike Murray). For both of these, our strength in depth of having someone very good on the shorter middle leg was very significant. Kathy & the lady from WCH were within a couple of minutes of each other on the same gaffle for the whole of the last leg.

In the premier categories, the women did very well. Amy Sarkies & Rachael Holmes got the team into 7th after 2 legs. Then Heather Monro had a great run on the last leg, beating all other times by about 5 minutes to bring the team into 3rd place. In the men's premier, Ed Catmur, Paul Nixon, Pete Huzan & Simon Evans came 17th. This was our best men's premier JK/British result this millennium, including running within 30% of the winning team's time.

In the Mini Relay (12-), James Haynes, Matthew Haynes & Greg Street came 3rd. Great runs from the Haynes, & Greg successfully held off SARUM & TVOC on the last leg. So Peter Haynes was the only Haynes not to walk away with a prize! And in the Men's Junior class (M48-), James McMillan, Michael May & Ralph Street were a good 4th, just 1 minute down on the podium – all three ran very well.

Finally Pete Huzan was successful in the other team competition of the weekend, helping JOK to win the quiz, with Paul Nixon's team not far behind.

British Relays, Penhale, Cornwall on 17th April

After a sunny day on Penhale Sands, the weather turned nasty for the relays. Fortunately the club tent had not blown away overnight &. it was welcome shelter for our11 teams. Our Women's Premier team (Amy Sarkies, Vicky Whaley, Rachael Holmes) finished a good 6th. We had 3 teams in the Men's Premier, finishing in 16th, 22nd & 24th. Our first team was Ed Catmur (who brought us back in 2nd place on the first leg!), Ralph Street (his premier debut) & Jeff Green (his SLOW relay debut).

Our W45 team (Sarah Brown, Jackie Chapman, Diane Leakey) yet again won the trophy. Diane held off Bristol by 15 seconds. Jackie was our fastest, on the middle leg. Our Women's short team were 17th (with a good run from Sarah Covey-Crump).

Our top M50 team (Paul Street, Alan Leakey, Andy Robinson) were a brilliant 1st, beating the likes of the army & Southdowns. Our 2nd team were 6th, including a good first leg by Richard Catmur. Our M45 team (Andy Jones, Don McKerrow, John Dowty) were 2nd behind a very strong Bristol team - John had a great run on last leg. We also had 2 teams in the Ad Hoc, the most popular course! SLOWly Does It (Gordon Parker, Adrian Sarkies, Chris Wroe) were 10th, & SLOW as Snails were 31st.

Harvester Relays, Pillar Woods, Lincolnshire on 5th June

Our A team comprised Andy Robinson, Richard Catmur, Ed Catmur, Pete Huzan, Mike Garvin, Don McKerrow & Paul Nixon. All of them had ok to excellent runs. After 2 legs we were 6th & we held that till 40 minutes from the end of 8 hours of running when a stronger FVO runner overtook us. But 7th is our best position this millennium!

Our B team comprised Chris Fry, Jim Mallinson, Andy Loofa, Vicky Whaley & Vince Roper. Again there were some good runs. The team was n/c because Andy Loofa had already run in the A team. But we would have come 12th out of 28 teams, just 43 minutes down on the leading team. After Chris & Jim had run we were a few minutes ahead of the best handicap team.

The event was very well organised with real-time computer displays of how well the runners were getting round their courses. SLOW had their own part of the campsite so it was easy to find people to meet up. The Harvester is a unique event in the British orienteering scene & should be experienced! Next year the event is on 10th June in South Scotland. It should be possible to fly up by budget airline for less than £50 and have team transport from the airport. Have a think about that!

The Harvester concluded the UK Relay League for 2005. Our women scored 35 points & finished 7th (2nd in the south-east, 3rd in the south) despite running in only two of the four races. Our men scored 23 points & finished 13th (1st in the south-east & south), including scoring in 3 events – that is the men's best relay league performance since at least 2001.

The World Cup - seen from different angles




Just A Few More Things to Do

As I hand drew the unmapped uncrossable wall onto the 240th University of Surrey World Cup map at 2330 the night before the race, I consoled myself that heat sealing 240 map cases, taping the bits of hedge and the dodgy retaining wall that we didn't want anyone to run through, getting the building contractors to move the barrier fences they'd unexpectedly put up the week before, putting out 30 of Mike Murray's solidly built control bases followed by 45 sets of stakes, flags & SI units, were my only outstanding tasks for completion by 1600. Cinch!

Two and a half days later, in the car park field at Winterfold (after a highly entertaining middle-aged duel with a Russian M50 and 18 hours before the first starter at Battersea), my controller explained that: a) the IOF controller required the sadly empty paddling pools at Battersea to be taped to prevent World Cup runners crossing them (thus requiring the laborious redeployment of the Murray bases, this time with bamboo canes duck taped on); and b) the steep slope next to the wall near the ponds next to the pools was in fact a sleeper retaining wall (I know this!) which would be unnegotiable in ascent by the M/W70+s and that I would have to re-plan their course.

I only found myself able to comply with one of my controller's requests.

That I am smiling now is down to 4 things: firstly, the willing and expert help given by many clubmates and friends before and during the event; secondly, the fantastic commitment, athleticism and sheer youthful joie de vivre of the World Cup competitors; thirdly, the patient understanding of Karen Jones as she ran a single parent household; and fourthly, the debut album by Bloc Party. Rock on, orienteering dudes!

Andy Jones (Sprint Planner)


Driving for the World Cup

It seemed like an easy thing to do; just hire a van and take a few tents and tables and chairs from event to event of the World Cup. What could be easier? 37 tables, 87 chairs, and 32 tents; well, people would be there to help load and unload. Of course there were also the 8000 bottles of water to be distributed and a few posts and a bit of tape. Those white "tread-in" fence posts are really easy to put in the ground, and carrying half a dozen is a doddle, but when you have 800 they simply will not do what you want them to and at least one will have its very sharp spike aimed at you at all times. Only one got me during the whole week so I suppose I should be thankful. Surprisingly 15 kilometres of tape looks like hardly anything. Twelve 50 metre rolls of orange or blue mesh presents few challenges; except counting up to six was apparently beyond me on one occasion.

Then of course there is the backdrop for the podium. A nice little frame, excellently designed and made by Mike Murray. The only problem was that two of the cross pieces were nearly 5 metres long. We're now needing quite a big van. And, oh yes, there are 35 stands to avoid having to stick control stakes into tarmac, and 86 map trees which are almost unstackable. Then there's the step to get up onto the podium; upside down it helped to contain the map trees for a while but then they needed to go to different places... Add to that five results displays, and the "café": ten round tables and a further 50 chairs and even the biggest van you can hire is looking full.

Then of course you mustn't forget the 60 pedestrian barriers for Guildford and Battersea, and the eight "rocks" which were 1 metre cubes made from wood and chicken wire. They were very light, as rocks go, but bulky and quite a bit more delicate than the real thing.

And finally, joy of joys, 28 flagpoles (not a problem) and 14 bases made from logs sawn in half. The effect with the flags looked lovely, but the logs were a challenge as all those who tried to move one found out.

The driving itself turned out to be the easy bit. We even managed to get the van under a bridge claiming to be two inches lower than it. The venues to be visited were hardly exciting: the event centre, six assembly fields (when nothing was happening), four equipment hire companies, Pat Nelson's and Mike Elliott's homes, Mike Murray's workshop, Ewell Primary School, and Nicky King's allotment (an update perhaps from Nicky in the next SLOWprint?).

My thanks to Paul, Gary, Tom, Alistair, the other Gary, James, Andy and Tyrone for helping me in probably one of the least sensational but none the less necessary tasks of putting on a World Cup.

Don

Looking After the Media

Paul and I agreed to this job, having successfully looked after Finnish, Swedish and British TV crews during the World Championships in Scotland. At least there wouldn't be the midges.

We were principally looking after a single company who wanted to shoot enough stuff to put together a 20 minute film about orienteering. Our role was to escort cameras into the forest and make sure that didn't give away a control site and distract competitors . We were also at the start and finish, getting film of potential winners and keeping an eye on the Brits.

The most hectic day was the relay day dashing with the camera crew from the viewing point at the far end of the assembly field, through the spectator control, past the hand-over point and then on to the finish control. Once both men's and women's races were underway, the challenge was to get quickly enough from one position to another in order to keep track of all the leading teams.

Taking camera crews into the quiet of the forest was a completely contrasting experience. It was great seeing the top runners flow in and out of controls. My camera man's comments were that it all looked rrather easy, surely it was a matter of pointing the compass and off you went. However once we had done the filming and left the pit hidden by low scrub, we trecked about 300 meters sightly up hill (by which time he was exhausted) and then looked back on a seemingly featureless landscape. He did then see that coming upon that pit with the certainty of the orienteers was no mean feat.

It has also made me aware of how tricky it is to get a sense of orienteering through the eyes of the camera. In the forest there is little sense of a race as the runners are frequently on their own and they make it look so easy as they glide through ankle snapping terrain. The physical exhaustion is evident, but the mental aspect is far trickier to portray. Perhaps the film will give viewers a sense of wanting to tackle the challenge which is, even after seeing these highly talented athletes still what interests most of us.

North Downs Way Relay

25th June

This year we are running one team for whole distance and starting a second team from Vigo Inn for the second half. The teams are pretty much selected but it would be great to see spectators out on the course during the day. Life is made easier nowadays as we have fixed start times for each leg which avoids long periods of waiting around amidst uncertainty of what is going on.

At the end we will all meet from about 20:00 in The Good Intent in Puttenham for drinks and food. We've been there for the past two years now and I can recommend both beer and food. There is a garden if it is fine so families can make themselves at home.

We have a good team out but composite teams from the other clubs may offer a stiff challenge on the day.

Rachael & Dick
Event Information

You are strongly urged to confirm these events using the following website/answerphone services. The SEOA website has links to SE clubs and other regions.

SEOA (020-8948-6056): http://homepage.ntlworld.com/simon.errington/seoa/seoa.htm

(

SCOA (0118-946-4354) (Army (01256-883265) (SO (01903-239186)

(

SAX (01303-813344) (MV (01372-279295)