SLOWprint 152
<![if !supportLineBreakNewLine]>
<![endif]>
September 2005
<![if !vml]>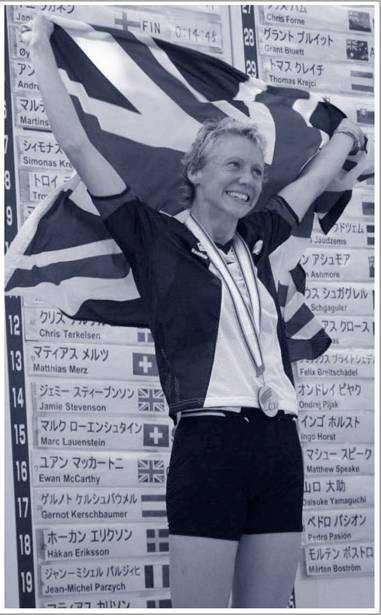 <![endif]>
Heather Monro winning Bronze in Japan http://www.sloweb.org.uk/
ClubOfficers2004–2005
Chair: Don McKerrow
Secretary:, Kate Thomas
Ladies' Captain: Rachael Holmes
Treasurer: Jackie Chapman
Mapping Officer, SEOA Rep. and Fixtures Secretary: Andy Robinson,  
Men's Captain: Peter Huzan,
 Publicity Officer: Mark Vyvyan-Robinson  
Social Secretary Simon Evans
Membership Secretary: Ginny Catmur,  
Beginners' Rep. and Training Officer: Heather Walton,
Equipment Officer: Chris Fry,
Archivist: Sue Lumas,
SLOWprint Editor: Sarah Brown,
Webmaster: Andrew Trimble,
Copy date for Issue 153 will be late November 05. Letters, event reports, articles, cartoons, gossip, scandal, notices, small ads, court circulars, births, deaths and marriages should be posted to Sarah Brown (address above); electronic copies via e-mail are particularly welcome.
New Members: If you are new to SLOW, you might not know about ... Training:
… and Transport: we can organise lifts to events: ring any of the club's officers, as listed above, and one of us will sort this out for you.
DON'S DISCOURSE
Many congratulations to Heather Munro (one of SLOW's more successful members!) on her bronze medal in the 2005 World Championship Sprint race in Japan. She is only the third ever Briton to win a World Championship medal. A fantastic performance from Heather and one that shows that Great Britain really can compete at the very highest level in orienteering. [see more on this on page 9]
For others the summer saw SLOW's first ever club trip to Latvia, a select group competed in the World Masters in Canada, and a large contingent travelled "abroad" to the Scottish 6 day. Much enjoyment was had by all.
 Now September is upon us and its time to think of attracting new members to our sport in general and SLOW in particular. For example, do you know anyone moving to London, perhaps a new graduate, who would be interested in our sport. If so, do encourage them to our Trail Challenge in Richmond Park on 9th October, to one of our second Tuesday of the month Street events, or just to our fourth Wednesday of the month club social. All details at www.sloweb.org.uk
Finally, we need every possible member at the CompassSport Cup Final on 16th October. We worked hard to qualify and need the best possible turnout to take advantage of the opportunity we now have. We will be arranging transport; if you need it do let us know.
Don McKerrow Chairman
<![if !vml]>
<![endif]>
Chairman and other SLOWies in Latvia - see page 14
COACHINGCORNER
COACHING DAY SUNDAY 25TH SEPTEMBER
You are invited to a coaching day on Sunday 25th September 2005 probably on Wimbledon Common (subject to land permission).  Time 10am to 2pm.  Details of car park to follow when land permission confirmed.  Technical exercises from white for young juniors, through yellow/orange for beginners and juniors to light green and beyond to stretch developing orienteers will be available.  For those of you who have not been before, you can go round with somebody or talk to the coaching team afterwards. We generally do 2 or 3 exercises in the morning followed by a break for lunch (please bring your own) and socialising.  We generally finish with a fun competition so you can practice your skills.
Please let me know if you will be coming by Friday 16th September so that I can organise some more experienced orienteers to guide you.  Let me know if there are any techniques you particularly want to practice.  Any offers from volunteers to help also gratefully received.
Heather Walton 
PAST COACHING
There was a big buzz with 28 participants at the coaching day on Wisley Common in June.  This included a group from Tiffin school in Kingston and two new Italian members.  Thank you to all the coaches who helped and to Chris Fry for planning.  Congratulations to Ralph Street, Karen/Joshua Morrewski and Kamlesh Walia who won the odds and evens relay and to Jackie Steinitz who won the distance estimation competition (by 0.6 recurring metres)!.
THE REST
It was also good to see the group from Tiffin (and Ellis Farmery) attacking the light green course at the Frolics on Ham Common.  Congratulations to Day Moran from Tiffin who scored for the club on his first go at orienteering.  Michael May also scored.  Emma, Hannah and James Farmery got a yellow badge standard.  Ellis was 4th on the yellow at the Nower and his sisters were 10th . There are some new faces on the block too with Rachel and William Andrews out on the mini Trail Challenge on 21st June and Nicola Robinson at the mini Trail Challenge on 5th July.  At the other end of the scale, well done to Ralph Street - 4th on M16 at the Junior Inter-regional Championships. James and Charles McMillan were also in the SEOA team.  Finally, juniors were out in force at the Scottish with Matthew and James Haynes, Alex and Gerogia Roach, Greg and Ralph Street, Michael May, Ian and Guy Hiddleston, and Anna Bonafini.  Coloured suncream seemed to be spreading itself around liberally......
I hope to see many of you at the Coaching Day and Good Luck for the New Season (particularly the Yvette Baker trophy (see Captain's report).
Heather Walton, SLOW Training Officer
CLUB TEAM EVENTS AND INFORMATION
Calling all juniors/parents! The Yvette Baker Trophy junior competition is at Lesnes Abbey Woods (near Woolwich, SE London) on 2nd October. This is for *ALL* juniors (from the very youngest up to M/W20) of *ALL*  standards from Yellow through to Green. You run a course appropriate to your  ability (based on whether you have gold standard) rather than your age, so  it is suitable for everyone.
Boys & girls are scored separately on each of the courses (yellow, orange, light green, green) - our top 9 scorers will make up the team score. So everyone has a chance to make an important contribution to the team!
We have managed to qualify for the national final the last two years. To get there again, we need a full turnout of our juniors in October.
So please I'd like EVERY SINGLE ONE of our juniors to be there - the rest of  your team will be so glad! (The final is on 4th December at Mansfield.) The club will pay for all the junior entry fees for this event. There are courses up to Brown for all adults as well.
So please confirm your availability NOW. I would like to hear from EVERY junior/parents where the junior is happy to go round at least a yellow standard course. (It is also possible to go around a yellow course as a junior pair.)
Best wishes,  Pete Huzan 
Street O
Our first monthly street event of 2005-06 will be on Tuesday 13th September at 109 Hamilton Avenue, Surbiton, KT6 7PT, right next door to St George's church, opposite the end of Oakleigh Avenue. Although this is a street orienteering event, which for once will probably be in day light, it is also a social event and a chance to meet up with club mates at the start of the new season. Beginners, new club members and aspiring club members are particularly welcome. Members from other local clubs are welcome as well.
Starts for a short (45 minute) or long (60 minute) score event are between 7pm and about 8.30pm. You don't have to run, you can just come and socialise, have some of my wife's delicious leek and potato soup and eat a crusty ham roll. Hot food and soft drinks are provided, you just put £3 in the pot at the end, if you want some beer etc bring your own. Please drop me an email if you do intend to come, although be warned if you do turn up (and you enjoy the evening) you might find your arm twisted to host one of these club nights / street events later in the season. Don't worry if you have never done this before: you will get lots of help with the map, and most of our events use a local pub afterwards. We have some locations already lined up but will need some other volunteers. Do let me know if you are coming as I need to have an idea of numbers for food.
Regards, Andrew Trimble SLOW street events coordinator
SLOW MEMBERS' NEWS,
May – September 2005
Welcome to the following new members
Ian Christie (M35),  Wimbledon, London SW19 
Andrea Rebora (M35) and Raffaella Marin (W35), London EC3N 
Thibault Lacourtablaise (M21), Colliers Wood, London SW19  
Tom (M35) and Jillian (W21) Seddon,  , London WC1X 
Welcome back to the following returning members
Diana Smith (W21), 
3rd Molesey Scout Troop, c/o Tyrone Weller, Walton on Thames, 
Anita Ray (W21),   Kingston-upon-Thames, Surrey, KT1 
From Ginny Catmur, Membership Secretary: 
HOTPICKS
For Sunday events and specifically those in the following list, we aim to meet as a club and will have the SLOW banner or tent to help meet-up.  SLOW can also offer transport from southwest London. We suggest a middle start time block to help with arriving and finishing at a similar time and co-ordinating lifts. We intend to meet afterwards for a drink at a nearby pub and will list below
if known. Otherwise, see us at the event to find out where we're going.
2nd
OctoberDFOKDistrictEvent,LesnesAbbeyWood(inc.YvetteBakerTrophy)Come and support the juniors in the regional round of the Yvette Baker Trophy.  Colour Coded Courses white to brown (excluding red).  Ideal for beginners.  All EOD. http://www.dfok.co.uk/  Afterwards: The Rose Inn, 292 Waverly Road, London
9th
OctoberSLOWTrailChallengeRichmondPark1/2 Marathon, 12km, 6km and 2km junior course.  Mass starts from 10.30am from the Hawker Leisure Centre, Kingston.  Pre enter or EOD.  Technically easier courses and mass starts make this a good event for beginners.  http://www.sloweb.org.uk Afterwards: The Hawker Leisure Centre.
16th OctoberCompassSportCupFinal,Clowbridge
Back in February, SLOW qualified for the Compass Sport Final which takes place at Clowbridge near Burnley.  The captains will be sending out further information about this event.  This is a date for the diary!  25 people from each club score points over 6 different courses depending on their position.  Even if you don't score you could still lower the points available to other clubs so every team member counts.  Further Details: http://www.seloc.org.uk/
13th NovemberSNRegionalEvent,AshRanges.
All Regional events have courses available by age class or easier selection of colour coded courses. CD: Not yet known.  Likely limited EOD for age class courses and unlimited EOD for CC courses. http://www.geocities.com/yosemite/2227/ Afterwards: The Swan, 2 Hutton Road, Ash Vale.
The following events will be updated on the web with further details as they become available. 27th NovemberSLOW Regional Event, Esher
 Afterwards: The Prince of Wales, 48 West End Lane, Esher
11th DecemberGO District Event, Blackheath and Farley Heath
http://www.go-pages.fsnet.co.uk/
22nd JanuarySLOW Loop Race, The Nower http://www.sloweb.org.uk
29th JanuaryBKO Southern Championships, Hermitage Bucklebury
http://homepages.nildram.co.uk/~tbooth/bko/
To assist with getting transport to events, contact Ginny Catmur CD = Closing date. It can be possible to get a late entry. EOD = entry on the day. CC = Colour
coded.
NOTICES and SLOW SUCCESSES
Please Post the enclosed Posters!
Together with this Slowprint you should have found a few marketing posters. All members have been sent these posters and the idea is to spread these posters far and wide across the South of London. (The orienteer in the picture happens to be Paul Nixon's brother!) I would therefore be grateful if you could take these posters and post them in the most likely place where potential orienteers may see them, so please resist the temptation to pin them up in your bedroom and head for your local sport centre or running shop!
Coaching courses
From: Keith Marsden  
 The following Level 1 and 2 courses will be taking place in East Anglia and Herts in the autumn.
 Level 1 - September 24th at Ely Level 2 - November 26th at thetford Level 1 - November 30th at Simon Balle school, Hertford
 If anyone in SLOW is interested I can supply contact names
 Keith  [more on coaching courses in 'The Fixtures Bit see page ]
Orienteering Film
Look out for the film that was made during the World Cup. It will be broadcast as follows:
Start time / duration SportNation 3 10/09/05 01:00 01:00 Sky Sports 3 Digital SportNation 3 10/09/05 05:00 01:00 Sky Sports 2 Digital SportNation 3 10/09/05 13:00 01:00 Sky Sports 3 Digital SportNation 3 11/09/05 06:00 01:00 Sky Sports Xtra
Radio Society of Great Britain
Highgate Common 10 Jul 2005
Gavin Andrews catapulted himself into the top rank of UK competitors when he posted a simply stunning 37.20 for the three transmitters on 144MHz. By his own admission, all the TXs fired up just when he needed them but he still got round 10 minutes ahead of anyone else.
Ask Gavin for more details and for his winner's commentary see:
http://www.ardf.btinternet.co.uk/trial.html
Heather wins Bronze at the World Championships
Today Heather Monro became the 3rd ever World Champs individual medallist for Great Britain. Heather has worked for many years to achieve this goal, forsaken and sacrificed much and is now delighted at finally getting a World Championships medal. She already has European, World Cup and World Games medals to her credit but until now a medal at a World Championships has eluded her.
Having qualified in a middling position Heather led the race when she finished and then faced an agonising 15 minutes whilst the runners starting after her came towards the finish. First it was a definite top 10, then top 8 then she was into 'best ever' performance and still it got better. A definite podium became a definite 5th then 4th and then it was confirmed Heather Monro was going to get her first World Champs medal. Tears of joy and elation - what a moment - all those years training, preparing, recovering from injuries, living in Halden, Norway, competing in World Champs and the roller-coaster life of an elite athlete all became worthwhile for Heather.
So how did Heather feel about her run, her day, her result - "delighted!"
Dave Peel, GB Head Coach - "Heather's medal was a result of great team preparation and strategy in the gruelling 37 degree heat. Her performance is a testament to her commitment and dedication."
This is a fantastic result for Heather and Team GB! This is our first WOC medal since 2003 and Heather's second bronze of the year!
Women's Sprint - Final Results:
1 Simone Niggli - SUI - her third successive sprint gold 2 Anne Margrethe Hausken - NOR 3 Heather Monro - GBR 15 Sarah Rollins - GBR DNQ Helen Bridle - GBR
Men's Sprint- Final Results:
1 Emil Wingstedt - SWE 2 Daniel Hubmann - SUI 3 Jani Lakanen - FIN 14 Jamie Stevenson - GBR 16 Ewan McCarthy - GBR - debut WOC 41 Matt Speake - GBR
Full results can be found at www.woc2005.jp Messages can be sent 
Heather will be in the SLOW team at the CompassSport Cup match in October!!
NorthDownsWayRelay,25th June
<![if !supportLineBreakNewLine]>
<![endif]>
Our annual sortie along this National Trail duly took place. One difference was that Andy Robinson missed the run for the first time in many years so we had to survive without his encyclopaedic knowledge of the route, the runners and everything else! However Rachael lent valuable assistance throughout the race after leg 4 which managed to keep matters in general order.
Originally we were hoping to field 2 complete teams, and when that didn't seem possible a half team starting from Vigo. As it was we did have some extra runners on some legs and that all added to interest to the SLOW  effort.
Six teams were present. Canterbury Harriers, CROC/SLH, GO + assorted extras, Loose Valley/Tadworth, SAX/SN, and SLOW. Robbo's absence at the last moment meant persuading a runner to be at Folkestone at 05:55 and I have to thank Andy Jones for doing this when he thought he was originally due to be running at 18:00 a few miles from his home! Sadly AJ's calf broke down after 1km and he had to retire resulting in a penalty time for SLOW.
All this meant that despite some good runs by our early runners (Andy Hodgson 1st, Rachael Holmes 2nd, Mike Garvin 2nd, Mike Farmery 2nd, Caroline Catmur 1st) we were still lagging behind SAX and GO who were trading places for first spot. However we were always in touch. The pattern continued with sound runs from Mark V-R and Jeff Armitage. Paul Nixon who was miles ahead in his run got mixed up with some cows and went off course, but even with that diversion we didn't lose too much time. Then we had a splash of first placings with Gordon Parker, Paul Brooks – who set a new record on his leg, Ed Catmur who was again very swift and the ever impressive Charlie Whetham. This passage of running left all the opposition a long way back as we cemented a winning lead. Jon O'Donnell consolidated on his leg and we finished with another win when Karen Jones stormed in at Farnham. Karen said she was trying to make up for AJ's penalty!
North Downs Way Relay - 25th June 2005 LegStart placeStart TimeRunnerDistance (km)RecordLeg time1Dover 05:00Dick Clark12.049.231:04:372Castle Hill path & road jn. 05:55Andy Jones**13.053.491:28:003Stowting (The Tiger) 06:55Andy Hodgson 11.046.510:55:024Wye (Level Crossing) 07:45Rachael Holmes11.040.490:52:415Charing (A252 Jn) 08:30Mike Garvin12.050.561:00:286Hollingbourne (X-roads) 09:25Mike Farmery17.076.301:35:507Bluebell Hill (Picnic site) 10:50Caroline Catmur8.028.260:34:378Medway Bridge W (Car Park) 11:25Mark Vyvyan-Robinson13.057.551:10:459Vigo Inn (X-roads by pub) 12:25Jeff Armitage14.764.351:20:0110Dunton Green (Rose & Crown) 13:30Paul Nixon9.844.140:58:5011Betsom Hill Farm (road X-ing) 14:20Gordon Parker11.049.471:01:1012A22 (footbridge East Side) 15:10Paul Brooks*11.546.330:46:2913Reigate Hill (Car Park) 16:00Ed Catmur11.846.410:47:2214Stepping Stones (West side) 16:50Charlie Whetham15.061.221:06:4015Newlands Corner (road X-ing) 17:55Jon O'Donnell12.447.541:04:0816Puttenham ( by Car Park) 18:45Karen Jones10.644.250:53:30 Farnham (A31) 193.8 16:40:10* = new record   ** = cut off awarded
(dnf) Final placings were:
<![if !supportLists]>1 <![endif]> SLOW 16:40:10
<![if !supportLists]>2 <![endif]> SAX/SN 17:11:20
<![if !supportLists]>3 <![endif]> GO 17:46:34
<![if !supportLists]>4 <![endif]> CH 18:03:55
<![if !supportLists]>5 <![endif]> CROC 18:06:19
<![if !supportLists]>6 <![endif]> Loose/TAC 19:07:24
2005 is my last year for organising the SLOW team. It has been an honour to lead the team over the past few years. As I am now almost certainly the slowest runner in the team, and rising at 03:20 becomes less appealing as each year passes, it seems the most appropriate course of action.
I would like to thank all the many SLOW runners who have supported the event over the years, and long may it continue in the future.
Dick Clark
Frolics: SLOW wins This is the summer parks competition which has been running now for over ten years. The title invented by Paul Street originally stood for First Running Of the London Inter Club Season. The idea was to have a fairly informal fun competition that could be run on areas that couldn't support a full scale orienteering event. This year, Slow managed to put in a team at aeach of the 4 events. Thanks to everyone who contributed. 
TEAM EVENTS: South-East Relays, 19th June, Epping South-West
SLOW members took the trophies in both the Open and Handicap classes at this year's South East Relays, held in Epping Forest. The event was a real test of heat endurance, as temperatures were up in the thirties and there was limited shade on the courses.
In the open class Charlie Whetham brought us in 3rd on the first leg, less than 3 minutes down on the local leaders CHIG. In the womens' race, Sarah Brown was also less than 3 minutes down on the leaders SO. On second leg Paul Street pulled the mens' team up to second place, now less than a minute down on CHIG. Jackie Chapman recorded the fastest female time on the leg to keep the women in strong contention. Ed Catmur anchored the mens' team home in style to take the title by a whopping eleven minutes, while CHIG mispunched under the pressure. Rachael Holmes was unable to catch the SO women on last leg, so the ladies finished second overall.
Our  two handicap relay teams also had a great day - SLOW handclap (Ralph Street, David May and Paul Nixon) won the race by a big margin. SLOW progress (Vince Roper, Don McKerrow and Michael May) finished third. Paul won the Green handicap race by a massive 10 minutes, Ralph had the third fastest time on Blue, Michael beat David around the Orange with third fastest time too. This is a good fun, low-key relay event which caters for all standards and is recommended for next year (especially if we can win again!)                                    Rachael Holmes
THE FIXTURES BIT
Major Officials – who are they and what do they do – and – how to be one.
Regular readers of this column will have worked out I spend much of my time recruiting officials for SLOW's events. Frequently it's the "usual suspects" who perform these tasks, but any experienced orienteer is capable of them. Many of our events are small and as such suitable for someone who has never taken on one of these roles before.
I.The Planner sets the courses. This often seen as the plum job because it gets you in the forest thinking about o'ing; as such it can improve your own orienteering. It covers the creative bit deciding where the courses go and the more routine bit of preparing maps and control site equipment, and then placing them in the forest. Competent orienteering is a pre-requisite, and a first step would be to help a planner place the controls.
I.The Organiser does the admin. Since the arrival of SportIdent (see 4 below) this job has got a lot smaller and easier, and usually comes down to publicity, manpower and equipment. Land use and car parking negotiations can be involved too, but for most SLOW events these are sorted out by the local expert. Less orienteering experience is needed for this job, but a more organised person is needed.
I.The Controller checks up the organiser and planner have been doing their jobs properly. It is the only post that requires a qualification, but many of SLOW's events are sufficiently small not to need one. Controllers usually have to come from another club to be independent. The Controller spends most of their time with the Planner and in the forest. Sometimes they don't speak to Organisers at all, and the Organisers are quite relieved about that!
I.SportIdent. This job involves running the electronics for the day – entries, downloads and results. SLOW is fortunate in having a few people who can fill this role. Most clubs depend on the same person every time.
I.Entries Secretary. Large events with pre-entry need one of these to spread the workload. However SLOW only do one or two a year of this scale. It suits any organised person with a PC at home and requires little experience.
Now – how to become one.
There is a one day course coming up – at Redhill on October 8th .
There are separate courses in that day for organisers planners and controllers. See the following web page for more details:
http://www.lifesci.sussex.ac.uk/home/Neil_Crickmore/controllers/courses.html
So if anybody out there had been thinking of responding to my requests in the past but felt a bit nervous and under-qualified, this could be the day for you. Have a look at the web page and contact Neil Crickmore directly.
Now you are qualified and competent, what is coming up. In the immediate future these posts are filled but once into 2006 there will be plenty of opportunities. This is what is happening in the next few months.
9 October (Note the change of date from earlier info). Trail Challenge half marathon – Hawker Centre and Richmond Park. Mike G is planning and Mark and I will cover the organising side. Andrew T and Chris F are on the SportIdent
27 November. OK Nuts Trophy. Esher Commons. Nicky is planning; Mike G is organiser. Gavin is the SI king. Andrew T is taking entries.
21 January 2006. Box Hill Fell race. The Silver Anniversary – that means 25th running thereof. We're looking for ideas for something special. Not an orienteering event – so does require the officials in the same way.
22 January. Loop races on The Nower. Matthias is planning; Gordon is doing the SI and taking entries. An organiser is needed.
11 February. Hankley Common. Southern Express and Senile – we are trying to fit 2 events in on the same day to spread the cost and effort of making the booking. Organisers and planners are needed for both, and it may be easier for one official to cover both races. These certainly count as small events and suitable for new officials.
I look forward to hearing from you  (and so does Neil Crickmore)
Andy Robinson
<![if !vml]>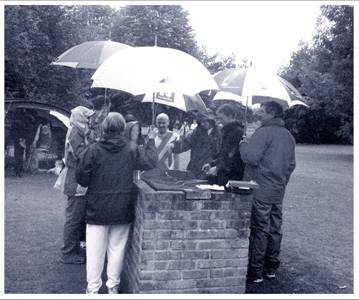 <![endif]>
SLOW BBQ- SUMMER 05!
REPORTS
LATVIAN 3-DAY EVENT, 1-3 JULY 2005
In early July this year a group of 8 SLOWies headed out to Latvia to compete in the annual "Kapa" 3-day international Latvian orienteering event, which this year was held in forested sand dunes on the Baltic coast, just south of the city of Liepaja.
The first navigational challenge of the holiday involved driving from the airport to the hostel we had pre-booked in Riga for the first nights. It really shouldn't have been too hard - we had 3 or 4 different maps of Riga in each of the two cars, and knew exactly where the hostel was on the maps. However having crossed the bridge over the river into the main part of Riga, to within touching distance of the hostel, it then took 8 of SLOW's finest navigators somewhere in the region of 45 minutes to complete the final 300m of the leg! At least we'd got to see half of Riga by the time we arrived at the hostel, although that included much of the less desirable part of the city - best viewed "from the safety of a moving vehicle" according to a tourist magazine!
Having finally found the hostel we were all presented with a free beer on arrival - the Latvians certainly know how to make us feel at home! We spent the rest of the afternoon and evening exploring Riga - a beautiful city with a large pedestrianised Old Town boasting magnificent architecture throughout. We enjoyed our first taste of Latvian cuisine with a superb traditional meal in one of the local restaurants, and the evening finished in the Skyline Bar, a fairly modern venue located on the top floor of the highest building in town, offering fantastic views of the whole city.
The following morning started with a wander around the renowned Riga food market - situated in rebuilt Zeppelin sheds, these offered a window onto another way of life and food (salt fish, pickled vegetables, and plenty of cakes at ridiculously low prices). We then set out on the 120 mile drive to the coast, which took 3 1/2 hours - the road surface wasn't the best, and it was single carriageway all the way - and we had to get to grips with the crazy Latvian drivers who were intent on overtaking as soon as they caught you up, regardless of whether anything was coming the other way.
Still, we arrived at the event just in time, and made our way to the assembly area which was situated right next to the beach of the Baltic Sea. The first day's terrain was a superb forested sand dune area - imagine Penhale Sands covered in trees. The map was incredibly detailed, but very easy to read and interpret the contours. The forest was beautifully runnable, which led to some quite fast times for those who could stay in contact with the map.
Our accommodation during the orienteering was a hotel in Liepaja - no need to slum on the campsite when there are really good hotels down the road for £10 a night! During the 3 days we had several excellent meals in town - usually with 3 large courses and a couple of beers, all for the princely sum of around £5 each.
Day 2 offered more of the same excellent forest, just slightly further down the coast (the two maps overlapped), with some slightly improved results from our party as we got used to the terrain. Post-orienteering tourism involved exploration of the local area, which had plenty of natural sites, although all fairly secluded and remote. We visited a bird-viewing platform across a lake, the 'third most spiritual rock in Latvia' (an unplanned detour!), a lighthouse and a lovely quiet beach, where some of the group braved a dip in the icy cold Baltic sea! The highlight was a visit to a wild horse sanctuary, where we witnessed close-up the proud stallions chase off a group of cheeky 'teenagers' to protect their harems, and a 1-week old foal.
The 3rd day's area did not quite live up to the standard of the first two, being slightly inland from the coast. This included some rather grotty patches of thick forest, within which I managed to set the record of longest split for the holiday when I took a whopping 32 minutes to find a rootstock located in the middle of a block of green forest about 500m from the nearest attack point (though it didn't help that I'd spent about 10 of these minutes not even on the map...)
The highest overall result of the group went to Don, who finished 15th in the M50 class. Everyonewas fairly happy with most of their runs, and enjoyed orienteering on the generally excellent terrainwhich was very different to anything to be found in south-east England.
After the final day's orienteering we drove the 30 miles down to the coast into Lithuania - anothernew country to tick off the list! Here we drove a long way inland to the middle of a remote forest tovisit an old Soviet nuclear missile silo, which has now been converted into a tourist attraction. Builtin the 1960s, this gave us a fascinating but eerie insight into Soviet military operations. Althoughnever used, the potential power of the weapon (claimed to be 10 times more powerful than thebomb used on Hiroshima), and the distance it could travel (designed to reach as far as southernEurope), was quite shocking - especially when we were informed that one of the missiles wasdirected towards London for a number of years.
On the final day we headed back to Riga, and still found time to visit the really fascinatingOccupation Museum, which sheds light on the tragic, complicated history of Latvia in the 20thcentury and the occupation by firstly Germans and then the Soviets. It brought home how much thiscountry has changed in the short time since gaining independence in 1991, and how it is now areally interesting and beautiful country to visit. Latvia provided a great cheap alternative to otherEuropean summer orienteering events, with good complex terrain and some interesting sightseeing.
Whispers abound that next year a trip to the Swiss 6-Day event in Zermatt in July is on the cards...watch this space!Paul Nixon
Club BBQ -Horton Country Park – 13th August 05
This year's BBQ took place at Horton Country Park near Epsom. With an Orienteering map of the area andbrick built BBQ sites, it looked like a good area for hosting the event.Paul Nixon planned a Harris Relaycourse and we arranged teams on the day with the aim of them being evenly matched.
In the end, just 6 minutes separated the first and last teams. All members of the team had to get the 'spine'controls (1-6) and then split the remaining controls (7-20) between them.
Results are shown below, slightly tweaked from what was announced on the day (small technical hitch,pointed out by the eagle-eyed Robbo). Although the overall finish order was correct, the prize for the teamwith the "best planned route" (i.e. shortest time difference between all 3 finishers) went to the 2nd placedteam of Mike, Mark & Richard -hope everyone got a fair share of the chocolates though!
Special mentions to:Sarah -fastest time of the day by a whopping 3 minutes. Surely not given enough controls to do.Jenny -fastest split of the day (0:27 from number 1-7).James -fastest run-in split (0:53 from number 7).Liz/James/Andy -the team who collected the most controls in total, 37 (required number was 32).Mike/Mark/Richard -all 3 of whom collected the 'team' control number 12
Rain arrived with unfortunate timing before the start of the relay. The club tent became a valuable shelterand the BBQ was well protected by a team of people holding umbrellas.
Thanks to Paul for planning the course, Gordon Parker & family for running the Sport Ident and helping putcontrols out, plus all those who helped to collect controls afterwards.
<![if !vml]>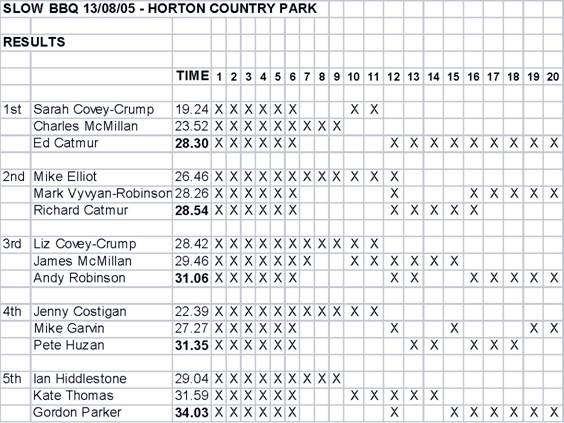 <![endif]>
EVENT INFORMATION
You are strongly urged to confirm these events using the following website/answerphone services. The SEOA website has links to SE clubs and other regions.
SEOA (020-8948-6056): http://homepage.ntlworld.com/simon.errington/seoa/seoa.htm �SCOA (0118-946-4354) �Army (01256-883265) �SO (01903-239186) �SAX (01303-813344) �MV (01372-279295) BOF: