SLOWprint 153
February 2006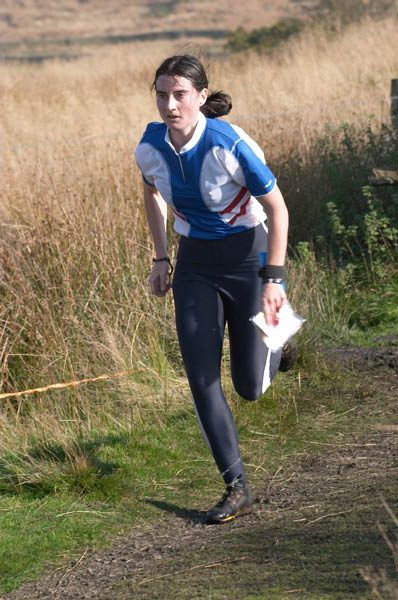 Abi Weeds finishes a great run at the CompassSport Cup Final
Photo copyright Peter Cull Photography www.petercull.com
SLOW on the Web http://www.sloweb.org.uk/
Club Officers 2005–2006
Chair:
Don McKerrow

Secretary

:
Kate Thomas

Ladies' Captain

:
Rachael Holmes

Treasurer

:
Jackie Chapman

Mapping Officer, SEOA Rep. and Fixtures Secretary:
Andy Robinson,

Club Kit:


Paul Nixon

Men's Captain

:
Peter Huzan

Publicity Officer:
Mark Vyvyan- Robinson

Social Secretary


Simon Evans

Membership Secretary:
Jenny Costigan

Beginners' Rep. and Training Officer

:
Heather Walton,

Equipment Officer

:
Chris Fry

Archivist

:
Sue Lumas

SLOWprint

Editor:
Sarah Brown,

Webmaster:
Paul Nixon
Copy date for Issue 154 will be late May 06. Letters, event reports, articles, cartoons, gossip, scandal, notices, small ads, court circulars, births, deaths and marriages should be posted to Sarah Brown (address above); electronic copies via e-mail are particularly welcome.

New Members: If you are new to SLOW, you might not know about Transport: we can organise lifts to events: ring any of the club's officers, as listed above, and one of us will sort this out for you.

SLOW club kit


For those of you who have not already bought the new SLOW club kit, there are still a small number of spare tops and trousers remaining, in sizes XL and L only (although note that these kits are a bit smaller/tighter than average, so people who are normally an M size are likely to fit the L). Prices are £27 for the top and £14.50 for the trousers.
If you are interested please see me at an event or send an email to webmaster
Paul Nixon

DON'S Discourse

Congratulations to all SLOW members who turned out in October to help us achieve 5th place in the CompassSport Cup Final. This was our best result recently and all the more satisfying for coming ahead of the other South East qualifier SO. Travelling, staying and eating together made for an excellent weekend in all respects.

Many thanks to all who have helped SLOW put on its, now usual, unusually wide range of events. From the brand new concept of Micr-O to celebrating 25 years of the Box Hill Fell Race, and from a traditional SENiLe to Loop Races on the Nower. The loop races had an unexpected international flavour when a dozen Norwegians entered and helped to keep Ralph Street on his toes.

TROPHY IN HONOUR OF HEATHER

The OK Nuts also now has an international flavour with SLOW's only World Championship medal winner letting her name be given to the women's trophy. The 2005 winner of the Heather Munro Trophy was Sarah Rollins.

WEDNESDAY SOCIALS

More informally, SLOW's evening street events, the monthly Wednesday socials, and the post event pub get-togethers are all thriving. For more information see the website or contact Simon Evans our Social Secretary.

HELP NEEDED AT THE BRITISH CHAMPS

Finally, SLOW has agreed to man the non-technical part of Finish/Download/Results at the British Champs on April 1st. We still need a few more volunteers to help meet this commitment. Everyone will get a run; there are jobs for those who want to sit down (download), and jobs which will not tax the mind (handing out bottles of water), so no excuses for not offering your services. Please contact me.: e-mail below

Don McKerrow

CONGRATULATIONS TO:

- Ralph Street for being selected to run in the World Schools Orienteering Championships this spring. The trip not only includes a week in Slovakia but also means missing 4 days of school!

- Mike Murray and Ralph Street for being selected to represent England at Interland 2006, a competition between Germany, England, Belgium

CHANGES TO OFFICERS Please note changes to officers: Jenny Costigan takes over from Ginny as membership secretary and Paul Nixon is now Webmaster as well as being n charge of Club Kit (see page 2)

SLOW members' news

, September 2005 – February 2006

With this issue of SLOWprint, 'local' (i.e. SLOW only, not SLOW + BOF) members will find a membership renewal form. Renewals for SLOW + BOF members are handled directly by BOF.

This is my last appearance in SLOWprint as Membership Secretary. I am handing over this responsibility to Jenny Costigan.

Thank you for your support, and I hope you will continue to enjoy your orienteering.

Ginny

Welcome to the following new members

Cordula Suter (W20)

Mark Houllier (M21)

Richard (M21) and Jane (W21) Duncan

Sarah-Jane Gaffney (W21)

Jenny Sanderson and Chris Jomaron

Jessica Hartsilver

Emma Finegan

Melissa Davies

Sarah Baird (W21) and Carl Rathbone (M21)

Brenda Esterhuyse

Phil Marsland (M35)

Peter (M40), Thomas (M14) and James (M12) Sleep

John Wilson (M21)

Sofie Lange (W20)

Russell (M35) and Susanna (W21) Holroyd

David Gates (M21)

Tim Smith (M21)

Welcome back to the following returning members

Andy Hodgson

From Ginny Catmur

EDITOR'S NOTE

My thanks to Ginny who has been secretary ever since I began editing Slowprint. She has been very efficient at delivering copy and patient with me when I have not! Sarah

TEAM EVENTS - SPRING 2006

There are quite a few team events coming up soon. As usual, absolutely everyone is welcome to take part. There will be suitable teams for everyone whether you want to try to be a champion or just to enjoy the events. If you have any questions then please contact Pete or Rachael.

Compass Sport Cup Regional Round (9 April, Wisley, Surrey)

This is the most important team competition of the year. If we win the Regional Round then we will qualify for the final in October (likely to be in the Midlands or South so would be very accessible this year). The rules are the same as for last year, with everyone able to contribute to the success of the club by either scoring points or reducing other clubs' points. If you are a potential scorer then please make every effort to come along. We can do well with a FULL strength team.

There are up to 4 scorers on each course: Brown (M21-40, 6 scorers), Blue W (W21-40), Blue M (M20/45-55, 6 scorers), Green W (W20/45-55), Green M (M60-70), Short Green (W60+, M75+), Light Green (MW16-18), Orange (MW14-). Then the best 25 make up the club score.

Relays - British (Sussex, 2 April), JK (Yorkshire, 17 April)

There are courses for all, including ad-hoc. If you are going to the individual races, then it would be great to see you at the relays. These are among the most sociable days in the orienteering calendar. NOTE that for the British, it is easy to travel there on the day, so maybe more of you will come along to this one!

Here are the courses (separate for Men and Women)

British: Premier, Short, 40+, 50+, MW60+ (2 men & 1 woman), 18-, 14-, MW12-, Mixed Ad-Hoc, Junior Ad-Hoc.

JK (combined ages): Premier, Short, 120+, 165+, 48-, 40-, & MW12-, Mixed Ad-Hoc.

How to Enter

Please send an email to captain 7th MARCH - earlier replies are appreciated. State your BOF number, SI number and any preferences. At the same time send a cheque (payable to SLOW) to Jackie Chapman. The costs for the British & JK Relays are £10/run for adults. The club will pay the entry fees for juniors (MW20-) and full-time students.

At this stage please pay for the British & JK Relays. AND confirm your availability for the Compass Sport Cup.

If you normally go to these events, then please reply even if you are not able to go this year. That makes it easier for the captains to organise teams.

Future Events

At this stage, just let us know of your general interest in the following events...

01 May - Harris Team Races (part of Triple O-Severn long weekend, Wiltshire/Somerset). We want this to be a top weekend away. The team races are orienteering races where all 3 team members are in the forest at the same time. The open races have an extra person at the end. Courses (separate for Men & Women): MW12- (white/yellow/orange standard), 16-, Open, 40+, 55+.

21 May - South East Relays (Balcombe, Surrey). Celebrate MV's 40th anniversary with a BBQ.

27 May - Scotish Relays (Deeside)

03 Jun - Swiss 'Harvester' Relays (Valais, train from Geneva). Stephan R has invited us out to this event. Please let me and Stephan know if you are interested in making up a team.

10 Jun - Harvester Relays (Hawick, Scottish Borders)

For the Scottish events, we can sort out suitable transport depending on the popularity; so please give early indications for these, especially if you have taken part in recent years.

June - North Downs Way Relay

SWISS 6 DAY

- from Simon Evans

Some of us in SLOW are planning to go to the Swiss 6-day event based in Zermatt from the 15th - 22nd of July 2006. We thought is would be nice to find some group accommodation, probably self-catering in apartments or a chalet. The plan is to organise flights and event entries individually and find accommodation for the group to which all are welcome. If you are interested in going and sharing accommodation then please let me know so we can get an idea of numbers as soon as possible. Below is some further information about the event, entries and flights. There's lots more info about the event on the Swiss O Week website.

http://www.sow2006zermatt.ch/page.php?lang=de_&lang=en

EVENTS
The events are on terrain in the mountains around Zermatt. Included in the event fee is transport from Zermatt to the start of each day via train/cable car etc.

There is a rest day in the middle with opportunities for sightseeing, walking or even glacial skiing if enough energy!

ENTRIES
The final closing date for event entries is the 15th of May. After the 31st January the entry price goes up by about 15%. The continental system for entering these events is by club. Due to the different closing dates it seems easier to enter individually or in small groups under different club
names. I believe the names SLOW, South London and SLOW BEARS have already gone!

FLIGHTS
Geneva airport has good links for trains to Zermatt. Easy Jet, BA and Swiss all fly there. Planning to fly out on Saturday morning and return the following Sunday.

Drop me an e-mail if you have any questions or would like to come. Regards,
Simon

COACHING DAY

Chris Robinson is organising this on Esher Common, scheduled for 25th March. More details via e-mail.

FIXTURES

from Andy Robinson

Job vacancies – your club needs you.

Yes – it's the usual appeal for major officials. At the last couple of committee meetings its been suggested that I publish (and keep updated on the website) a job vacancy list of what's coming up, and what jobs in them need filling. This is a particularly good time of year to start it as we've got a few months before our next events, and most of those coming up are small and so suitable for people who haven't done that sort of thing before. This is what we have.

Summer evenings (yes they are really not too far away – what a nice thought).

The main feature will again be Trail Challenges which Mark V-R will organise and I will control, but we need planners, preferably a different one for each, and also Sportident supremo. Likely dates are May 23, June 27, August 1 with provisional venues being Bushy park, Ham Riverside and Richmond Park.

We will also be staging a score event for the Stragglers again (probably June 22) and that needs a planner and an SI king.

Other summer evenings are open to suggestions and are the lowest key type of event – i.e. no SportIdent. They are usually on Tuesdays (but if you want to offer for another day, that will be fine) and local to our main catchment area.

Surrey Hills races. May 29 (bank holiday)

Ginny is organising and has started her search for a SportIdent supremo.

Frolic. Wimbledon Common. July 23rd or 30th.

Needs planner organiser and SI king. 3 ordinary courses.

Trail Challenge Half Marathon. Sept 24th from the Hawker Centre.

As with the summer ones we need a planner and a SportIdent supremo.

OK Nuts Trophy. November 26th Winterfold and Pitch Hill.

The annual biggie, and so does need experienced officials. Matthias has already agreed to plan, and so we need an organiser, an SI king and someone to take entries.

Contact Andy Robinson to fill any vacancy and here they are again in summary form.

Summer Trail Challenges – planner, SportIdent.

Stragglers score - planner, SportIdent

Other summer evenings – organiser/planner

Frolic – planner, organiser, SportIdent.

Autumn Trail Challenge - planner, SportIdent.

OK Nuts - organiser, SportIdent and entries.

Now it's been an awful long while since the last mag, and the club have put on a lot in that time. So to whizz through them giving credit where it's due and highlighting points of interest

9 October. Trail Challenge half marathon – Hawker Centre and Richmond Park. Mike G planned and Mark and I organised. Chris F did the SportIdent. Good turn-out of runners (except for junior course) – just as well we printed maps for 2.5 times the pre-entry numbers.

27 November. OK Nuts Trophy. Esher Commons. Nicky planned most of it with David M doing the micrO bit; Mike G organised. Gavin was the SI king and Andrew T took entries. Keith Tonkin(GO) controlled. Use of Cobham International school was excellent - a really fine event centre, which added a lot to the day. 3 different maps used with runners in a ddition to a "normal" course" doing either micrO or "sprint" style in the school. Introduced a lot of people to sprint type o'ing and many will come back for more.

21 January 2006. Box Hill Fell race. I organised with Dick doing entries and computing. Proved more popular than ever, filling up 3 weeks before race day. We gave away car stickers as 25th anniversary souvenirs.

22 January. Loop races on The Nower. Matthias planned and Abi organised – a busy household; Gordon did the SI and took entries. Simon Ling (MV) controlled. A good turn-out (well, The Nower can't take that many) with the main feature being 10 visiting top class Norwegians. That was real evidence of a World Cup legacy; elite Scandinavians coming to the south-east of England for a long weekend's training!!?? Unheard of - before last year's World Cup.

11 February. Hankley Common. We managed a Southern Express and Senile on the same day at the same place and Gavin managed to stage a radio-O competition as well which let him in for a very long day. A good example of how its possible to stage a really small event with only 4-5 officials.

That's all for now and don't forget to look at those vacancies.

Andy Robinson

Level 2 BOF Coach training course

Awarding Body 1st4sport

Being held on 4/5 March 2006 at the British Army Orienteering Centre,
Longmoor.

Cost £100, which includes the 1st4sport registration fee and tuition
manuals.

Please contact Phil Brown
for further details etc.


HOT PICKS

from Simon Evans

HOT PICKS are recommended events for SLOW members to attend. For these we suggest start times from 11.00-12.00. We intend to meet afterwards for a drink and Sunday lunch at a nearby pub and these are listed below if known. Otherwise, see us at the event to find out where we're going.

SLOW can offer transport to events from south west London. To arrange transport, contact Ginny Catmur

CD = Closing date. EOD = entry on the day. CC = Colour coded
For events with a CD, it is sometimes possible to get a late entry or EOD – check the organising club's website

STREET EVENTS – ALL Hot Picks.
Usually held on the 2nd Tuesday of each month, close to London. Ideal to try for a first introduction to Orienteering and meeting other members of the club. Full list of Street-O's can be found on the SLOW website.


5th March DFOK Regional Event, Westerham Chart, Kent.
Mixed runnable forest on the plateau and slopes of the Greensand Ridge with intricate contour detail in places. CD: 17/02/06.
www.dfok.co.uk Après O: The Stanthorpe Arms, Church Road, Brasted

1st - 2nd April British Championships - Individual and Relays, Midhurst, West Sussex.
Terrain consists of detailed contour features and combined with flatter and faster terrain to the north and heathland to the west.
CD's: 31/1/06, 28/2/06 and final 18/3/06.
Contact the SLOW captains if you would like to run in a relay team
www.boc2006.co.uk

9th April Compass Sport Cup Qualifier, Wisley, Surrey.
One of the most important team days of the year. Absolutely everyone is welcome. An enjoyable area near the M25-A3 junction. Put the date in your diaries now, and contact captain
www.southernnavigators.com

15-17th April JK, Yorkshire.
This is the biggest annual event in Britain, held over the Easter weekend.
Day 1: Ilkley Moor. Day 2: Keldy. Day 3: Relays – Bramham Park.
CD's: 31/1/06, 14/3/06 and final 31/3/06.
Contact the SLOW captains if you would like to run in a relay team captain www.jk2006.org.uk

Peter Palmer Relays

from Michael May

Like most Sundays, early in the morning on 4th September, I dragged myself out of bed to go orienteering. However this Sunday, there were a few differences to the routine: firstly, I was knackered; not so unusual, strangely enough. Secondly, I woke up at 4 in the morning, and lastly, I strapped a huge headlamp on (thanks to Chris Fry for that).

This was the Peter Palmers – the annual junior relay competition which takes place every September. It starts at 4.45 in the morning, and there are 6 legs – red, red, light green, orange, yellow, and green. Sadly, SLOW couldn't field a team for this, but luckily I managed to find a space in a SO team.

The day before, we drove down to RMA Sandhurst, which was the location of the event this year, arriving in the afternoon, ready for the most important event of the weekend – the 5 a side football. This is always a hotly contested competition, and this year was no different. With strong Welsh and MDOC teams, we were up against tough opposition, but thanks to 9 goals from yours truly, as well as inspired keeping from Jon Crickmore, we came 2nd in the tournament. After the excitement of the football, everyone poured into the café/restaurant for food, and started queuing to order a pizza. An hour later, we were still queuing. Fast food it was not, but when it eventually came, it was a welcome relief. After that, we nabbed as much rest as we could.

So I came to the start line for the mass start, having had 5 hours of sleep and a Nutrigrain bar. I can't remember it as much more than a blur, other than it felt pretty surreal, and it was extremely foggy. The area was Sandhurst's grounds themselves, running around buildings, lakes, and over assault courses. I finished well, and handed over to the next runner. By the time she came back, it was dawn, and the 3rd legs onwards didn't need headlamps. Our team did pretty well up till the end, when the last runner was disqualified, although we were non-competitive on account of me anyway.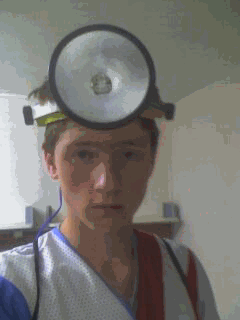 Next year's event is in Sutton Park, very near Birmingham. The event two years ago was there too, and was really good fun (as was the footy). Hopefully we can get a full team together by then, and possibly have some fun too.
Thanks to Keith Tonkin for the Odoku (medium difficulty)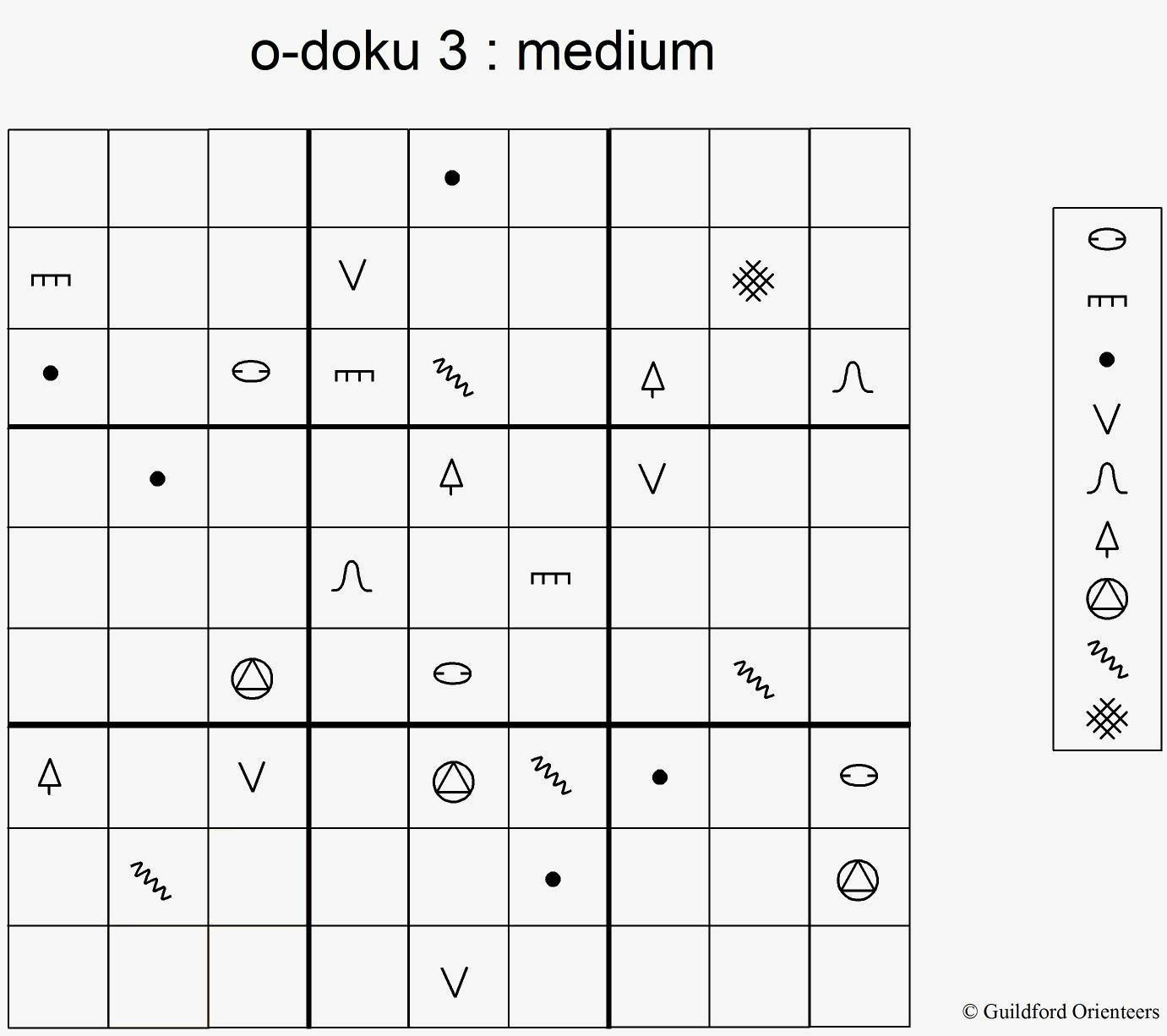 Event Information

Apart from events listed on pages 6,7 & 10 as Hot Picks or team events, look for event information starting with the BOF website and then find individual clubs.

Contact numbers for SE clubs listed below.

The SEOA website has links to SE clubs and other regions.

SEOA (020-8948-6056): http://homepage.ntlworld.com/simon.errington/seoa/seoa.htm

(

SCOA (0118-946-4354) (Army (01256-883265) (SO (01903-239186)

(

SAX (01303-813344) (MV (01372-279295)

BOF: http://www.britishorienteering.org.uk/asp/homepage.asp

Coaching Day 25th March Esher Common