<![if !vml]><![endif]>North Kingston Primary Schools
Orienteering Festival
Thursday 12 June 2008
<![if !vml]>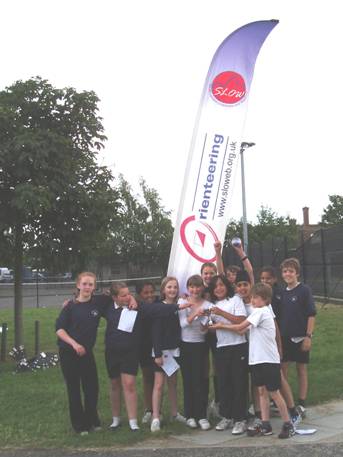 <![endif]>Congratulations to all those who represented their school in the North Kingston Primary Schools Orienteering Festival, held at Tiffin Girls School on Thursday 12 June. This was the culmination of months of inter-school competitions held 'home and away' in each primary school's grounds. The course at Tiffin Girls was harder and longer than the courses in the primary schools' own grounds and everyone coped extremely well with the extra challenge. Particularly well done to Jamie and Thomas of St Luke's on running the course over 2 minutes faster than any other pair. Congratulations to the victorious St Paul's Junior School, a very solid performance with all six pairs taking approx 9½  - 10½ minutes.
Thanks to all the Tiffin girls and to Chris, Judy and Teresa for their invaluable help.
Hope to see you all orienteering again soon: 29 June on Putney Heath or 12 July on Wimbledon Common.
Christine Robinson
Development Officer
Full results below
| | | | | | | | | | | | |
| --- | --- | --- | --- | --- | --- | --- | --- | --- | --- | --- | --- |
| Place | School | Name | Name | Time | Errors | Points | | St Pauls | St Lukes | Latchmere | Fern Hill |
| 1 | St Lukes | Jamie | Thomas | 6:35 | 0 | 30 | | | 30 | | |
| 2 | St Lukes | Charlie | Henry | 8:38 | 0 | 29 | | | 29 | | |
| 3 | Latchmere | Maddie | James | 8:49 | 0 | 28 | | | | 28 | |
| 4 | Fern Hill | Connie | James | 9:08 | 0 | 27 | | | | | 27 |
| 5 | St Pauls | Phoebe | Mia | 9:33 | 0 | 26 | | 26 | | | |
| 6 | St Pauls | Emily | Mandip | 10:39 | 0 | 25 | | 25 | | | |
| 7 | Latchmere | Rachel | Geraldine | 11:50 | 0 | 24 | | | | 24 | |
| 8 | Fern Hill | Amy | Amee | 12:33 | 0 | 23 | | | | | 23 |
| 9 | St Pauls | Jake | J.P. | 13:01 | 0 | 22 | | 22 | | | |
| 10 | Latchmere | Callum | Tom | 13:29 | 0 | 21 | | | | 21 | |
| 11 | St Lukes | Vanessa | Holly | 14:23 | 0 | 20 | | | 20 | | |
| 12 | St Pauls | Teggan | Lucy | 15:33 | 0 | 19 | | 19 | | | |
| 13 | St Pauls | Rhys | Freddie | 7:07 | 1 | 18 | | 18 | | | |
| 14 | Fern Hill | Joshua | | 7:22 | 1 | 17 | | | | | 17 |
| 15 | Latchmere | Hannah | Sydney | 9:54 | 1 | 16 | | | | 16 | |
| 16 | St Lukes | Michael | Ben | 10:27 | 1 | 15 | | | 15 | | |
| 17 | St Pauls | Zanisha | Bethany | 10:31 | 1 | 14 | | 14 | | | |
| 18 | Fern Hill | Amber | Sumaiya | 12:46 | 1 | 13 | | | | | 13 |
| 19 | Latchmere | Mariam | James | 14:54 | 1 | 12 | | | | 12 | |
| 20 | St Lukes | Nabeeha | Henry | 17:16 | 1 | 11 | | | 11 | | |
| 21 | St Lukes | Maryam | Lara | 22:00 | 1 | 10 | | | 10 | | |
| 22 | Fern Hill | Pedro | | 5:23 | 2 | 9 | | | | | 9 |
| 23 | Latchmere | Deepa | Jake | 8:06 | 2 | 8 | | | | 8 | |
| 24 | Fern Hill | Emily | | 10:05 | 3 | 7 | | | | | 7 |
| | | | | | | | School | St Pauls | St Lukes | Latchmere | Fern Hill |
| | | | | | | | Position | 1 | 2 | 3 | 4 |
| | | | | | | | Points | 124 | 115 | 109 | 96 |
Posted 12 June 2008