New to Orienteering?
Introductory Film
We have made a five minute introductory film.
It covers the orienteering map, courses, controls, equipment and what to wear, and ends with the presenter Graham Gristwood linking to our series of Skills Videos so you can easily see explanations of useful techniques.

Our YouTube channel has several other videos you may enjoy.
What is orienteering?
Designed originally to make running more fun, orienteering is a superb way to take exercise in the countryside, in parkland or in interesting urban settings. It will, if you let it, take you to beautiful terrain which you would not otherwise visit. And it's a challenging, adventurous sport at the same time.
It's a race in which the runners choose their own routes to visit a number of checkpoints. The maps are highly detailed, specially prepared for the sport, and the runner only sees where the checkpoints are once their race is underway.
It is both navigating and running.

Stay with the thought that the runner only sees where teh checkpoints are once their race is underway for a moment. It means that decisions about navigation and route choice are made in race time. Trying to think clearly and preferably quickly, even whilst running and maybe when tired, is a feature of the sport.
Put aside a picture of walking in boots in a group, all wearing rucksacks – although you can do that if you really want, as orienteering is a very flexible sport:
Adjusting the physical and navigation difficulty make it suitable for different levels of fitness and all ages.
It can take place almost anywhere, using the environment as is – in forests, on moorland, in parks, on the streets. There have been races indoors, in cave systems, and in the Nanhai Movie & TV Studios (and film – 90 minutes.)
At the top level, orienteering is a highly competitive sport where the race winner needs to combine map-reading and complex decision-making at speed. The majority of people, however, as in most sports, participate for their own pleasure, and they are catered for at events where there are courses designed for a wide range of ages and abilities.
Is it for you?
If you like adventure, exploration and being outdoors, orienteering could be for you. The combination of a physical and mental challenge and the fun of succeeding at that challenge attracts people to orienteering. If you enjoy looking at maps, solving puzzles, and making your own decisions then why not give orienteering a go?
The combination of the physical and mental challenge, and the other people attracted by making and tackling such a challenge, together with the often beautiful places visited, have convinced many that this is the best sport yet invented.
There are different formats of the sport. The sport originated and is perhaps mainly associated with the countryside, which the sport calls "forest" orienteering. More recently, "urban" orienteering, such as our winter Street-O series events, and "sprint" orienteering, a shorter format in intricate urban settings such as city centres and University campuses, have become popular.
Basic Skill
Key is matching the terrain with the map. Here's an example (from the "Chiltern Challenge" put on by Thames Valley Orienteering Club in February 2020.)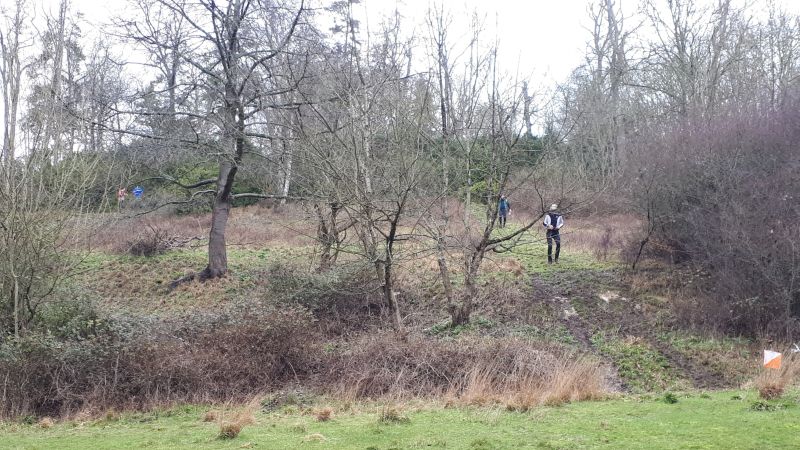 The photograph shows the final checkpoint in the bottom right, marked by an orange and white kite, with the slope of a hill behind . Four orienteers are on the slope, having come round the shoulder of the hill in the top left. They will find the checkpoint and then run to the finish out of picture to the right.
This is part of the map they are using. Contours in brown show the slope. Dark green shows dense vegetation. Black shows tracks, and is used for "H" symbols for horse jumps.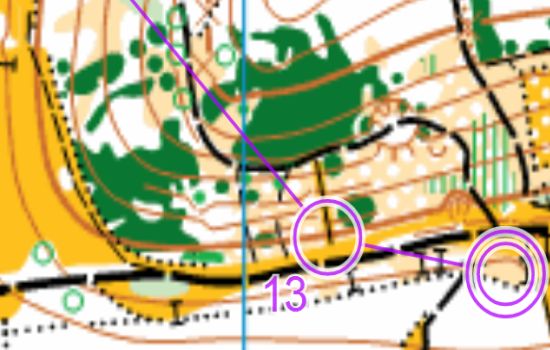 We hope you can match the terrain picture and the map segment, at least to some extent.
Of course it is different for the orienteers in the picture: they have a different view, they are in a race, and they may be tired after running the rest of the course.
Further Introduction Pages
How to try orienteering – an invitation
British Orienteering has a useful Newcomers Guide section

We hope to see at one of our events soon.