Trophy Cabinet
Club trophies, as well as major trophies won by club members, are listed here. This is currently a very incomplete list!
See also the SLOW entries on Simon Errington's ARBOR results database for major British events.
Please contact the webmaster

to add or update this list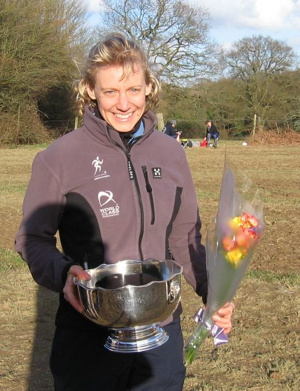 Photograph: Heather Monro, SLOW's greatest champion. At British Championships 2006 after winning W21E.
2022
2021
2020
2019
2018
2017
2016
2015
2014
2013
2012
2011
2010
2009
2008
2007
2006
2005
2004
2003
British Championships (results):

1st Mike Murray (M55)

2nd Chris Robinson (W45)
2nd Sarah Brown (W50)

British Relay

(

results

):

1st W45 (Chris Robinson, Diane Leakey, Sarah Brown)
1st M45 (Paul Street, Andy Robinson, Andy Jones)
1st M50 (Alan Leakey, Charlie Turner, Mike Murray)
2nd W50 (Karen Jones, Kate Thomas, Kathy Haynes)
3rd M14 (Michael May, James McMillan, Ralph Street)

JK Overall (results):

1st Heather Monro (W21E)
1st Alan Leakey (M50)
1st Monika Bonafini (W50)
1st Mike Murray (M55)

JK Relay (results):

2nd W120+ (Monika Bonafini, Sarah Brown, Diane Leakey)

3rd MW40- (James McMillan, Ralph Street, Robert Jones)

3rd M120+ (Stephan Rudolf, Mike Murray, Urs Zinniker)

CompassSport Cup Final: SLOW did not qualify
2002
Harvester Relay (results): A Handicap (Mike Murray, Richard Catmur, Chris Robinson, Ed Catmur, Andy Robinson, Caroline Catmur, & John Dowty)
British Championships (results):

1st Ed Catmur (M20E)

2nd Ralph Street (M12A)
2nd Stina Andreasson (W18A)
2nd Sarah Brown (W50L)

British Night Championships

: Mike Murray

(M55)
British Relay (results):

1st W45 (Chris Robinson, Diane Leakey & Sarah Brown)
2nd M40 (Peter Haynes, John Dowty, Mike Murray)
2nd M45 (Charlie Turner, Andy Robinson, Alan Leakey)

JK Champion:

1st Sarah Brown (W50)
1st Mike Murray (M55)
3rd Karen jones (W40)

JK Relay: 1st W120+ (Karen Jones, Diane Leakey & Sarah Brown)
Representing Great Britain at JWOC: Ed Catmur
CompassSport Cup Final: SLOW did not qualify
2001
2000
1999
1998
Harvester Relay:

A Handicap (Alan Leakey, Peter Huzan, Trevor Jones, Jon O'Donnell, Tim Rogers, Mark Walmsley, Malcolm Fisher)
Women's Handicap (Diane Leakey, Christine Robinson, Caroline Catmur, Madeleine Watson, Sarah Brown)

British Championships

:

1st Sarah Brown (W45)

2nd Alan Leakey (M45)
3rd Simon Turner (M16A)
3rd Mike Murray (M50)
3rd Ann-Marie Kjos (W55)

British Relay:

1st W40 (Christine Robinson, Sarah Brown, Diane Leakey)
1st M45 (Jim Mallinson, Charlie Turner, Alan Leakey)
1st M50 (Tom Lillicrap, David May, Mike Murray)

2nd W35

(Karen Jones, Heather Walton, Kathy Haynes)
2nd M40 (Peter Haynes, Andy Jones, Trevor Jones)

JK Relay:

1st W120+ (Monika Bonafini, Sarah Brown, Diane Leakey)
2nd M120+ (Stephan Rudolf, Alan Leakey, Trevor Jones)

CompassSport Cup Final: SLOW did not qualify (made it to

Round 3

)
1997
British Relay Champions: 1st Women 'Vets'

CompassSport Cup Final: SLOW not in final
1996
1995
1994
CompassSport Cup Final: SLOW not in final
1993
1992
CompassSport Cup Final: SLOW not in final
1991
Harvester Relay: A Handicap
1990
British Relay: 1st Women Premier (Heather Monro, Monika Bonafini, Diane Leakey)
JK Relay: 3rd Women's Premier (Heather Monro, Monika Bonafini, Diane Leakey)
CompassSport Cup Final: SLOW not in final
1989
1988
1987
CompassSport Cup Final: SLOW not in final
1986
CompassSport Cup Final: SLOW not in final
1985
1984
CompassSport Cup Final: SLOW not in final
1983
British Relay (Women)

(First) CompassSport Cup Final: SLOW not in final
1976
Founding of SLOW in November 1976