SLOW is British Orienteering's Club of the Year 2013
In a weekend full of highlights for South London Orienteers and its members, SLOW was selected as British Orienteering's Club of the Year 2013 on Friday 29 March. Third place went to Swansea Bay Orienteering Club and runner-up was Cambridge University. The award was based on the club's performance across five areas:
Programmes the club delivers. SLOW has a full schedule of races throughout the year, from introductory Park Races and Street-Os through to the successful high-profile London City Race, and has a weekly club training night.
Volunteer Management. Organisers come from across the club, with many people planning smaller events, and the club coming together to deliver superb organisation at the largest events.
Partnerships and relationships. Good relationships with local administrators, local authorities and other clubs, both within orienteering and in other sports.
Creative Diversity. Club events are targeted at bringing new people into the sport, with many on weekday evenings around central London to attract people after work, and the club has an active social media presence to appeal to younger people.
The future. Plans for the future include bringing more London non-orienteers to the City Race and improving the club's provision for junior members.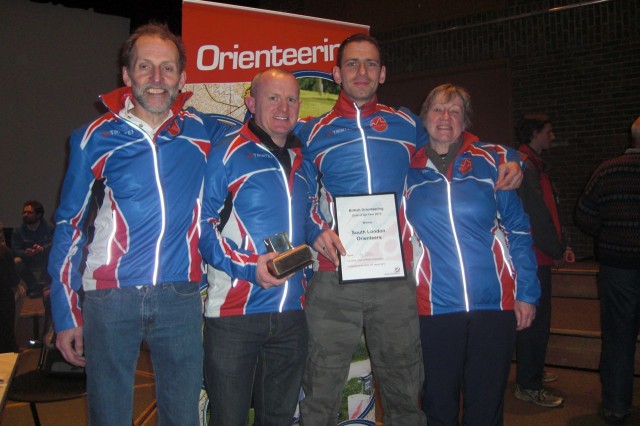 Andy Robinson, Angus Lund, Dan Findlay-Robinson and Chris Robinson collecting the British Orienteering Club of the Year 2013 award and Oliver O'Brien's Bonington Trophy for outstanding services to mapping