Join the Club
South London Orienteers welcomes new members of whatever standard, from absolute beginners and children to experienced orienteers.
Please join or renew via the British Orienteering website https://www.britishorienteering.org.uk/join_online
There is a combined fee for British Orienteering and SLOW membership.
British Orienteering membership runs for a calendar year from 1st January to 31st December.
Membership renewals start on the 1st of November.  If you are a new member wishing to join in November, then your membership period will run from the 1st of November to the end of December of the following year.
Who are SLOW?
South London Orienteers (abbreviated as "SLOW") are an orienteering and running club based mainly in south London. Our members are based all over the south London area, with a particular concentration in the Kingston/Wimbledon/Richmond areas. We also have quite a few members in north London, and also in Surrey, as far out as Dorking and Guildford. SLOW currently has around 150 members, ranging from complete novices to international level orienteers.
What do we do?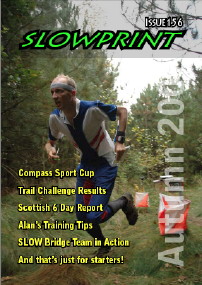 The club organises a large number of events throughout the year, including orienteering races, training days, evening street events, and cross-country type fell races. Additionally, there are a large number of orienteering events staged all over South-East England that are organised by other clubs, which SLOW members regularly compete at. Details of upcoming SLOW events, and links to events organised by other clubs, can be found on the events page. Results of past SLOW events can be found on the results page.
SLOW is a very social club, and organises a regular program of social events:
Club members usually meet up in a nearby pub after most events. Some of these are arranged in advance.
During the winter there is a program of monthly street orienteering events and social evenings, usually on the second Tuesday of each month from September to April. Details of the current or most recent series can be found here. There is also a smaller series of "terrain" night orienteering events.
In the summer months, between May and August, there is a series of regular evening training and social events – the Park Races.
Membership benefits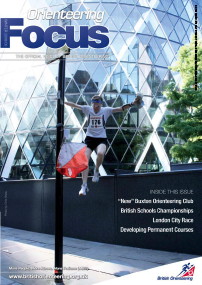 British Orienteering's magazine Focus, featuring the SLOW City of London Race.
£10 off a club race top (only applies when joining SLOW for the first time).
Membership rate entry fees:

£3 vs £7 for Tuesday evening races in the street, night and park race series.
No fee to run in SLOW teams at major relay races such as the British Champs, and to run as part of SLOW at the CompassSport Cup.

Eligibility to compete in British Orienteering races in all regions of the UK, including the British Championships
Membership of British Orienteering
Entry into the national orienteering ranking list (if over 16)
Membership of the South East Orienteering Association
Receive paper copies of the occasional club newsletter SLOWprint
Join the SLOW e-mail distribution list
Join the SLOW Members Facebook group
Right to purchase the SLOW club orienteering kit
* Events registered with British Orienteering.
Affiliate membership
Affliate membership is available to people who are already members of British Orienteering and another UK orienteering club, but wish to join SLOW as an additional club, or are ineligible to join British Orienteering. These members receive the SLOW-specific elements of the membership except the kit discount.
Fees for 2021
Adult, junior and student membership fees include membership of British Orienteering and SEOA (The South-East Association), as well as SLOW.
| Adults (born 1996 or earlier) | Juniors (born 1997 or later) | Full-time students | Affiliates | Groups |
| --- | --- | --- | --- | --- |
| £25 | £6 | £15 | £15* | free** |
| Join Now | Join Now | Join Now |   |   |
* Students should join British Orienteering as adult members. SLOW will then refund students the adult club fee of £10.
** Group membership is available for bona fide school groups, scouts, guides etc. Affiliate membership is available to all such groups for free. If any Groups would like to join SLOW as a full (British Orienteering) member, please contact
for further information.
Join us
If you wish to join SLOW as an adult, junior or student member, you can do so on-line through the national body, British Orienteering: JOIN HERE (and remember to select SLOW as the club you wish to join!)
If you want to join SLOW as an affiliate member or group, or for any help on completing the registration process, or if you require any further information, please contact the club membership secretary at

who will be able to help you.
Top photo courtesy of Peter Huzan.