SLOW entered five teams in the Harvester Relay, an overnight orienteering relay competition for teams of seven (A relay) or five (B relay) runners. The A relay starts around midnight and the first legs are run at night with the race finishing in the light. B Relay runners start an hour and a half after the A race and also finish in the light.
The race was run in the early hours of Sunday 30 June, with the team meeting for a meal in a pub the night before – an unusual start to a night's athletic performance! It was a lovely evening for racing, and Longmoor – a British Army area – provides great varied terrain for orienteering.
Our men's team came second in 2012, and knew that they were in for a shout for the win. The whole race was a close battle between the five top teams – SLOW, Forth Valley who won last year, Bristol, Deeside and the South Yorkshire veterans. Places swapped between these teams all night, until Rob Patterson went out on last leg in second place just over two minutes behind Deeside. However they were both over-hauled by occasional SLOW member Nick Barrable running for South Yorkshire, and Rob didn't have the legs after 13km to take the DEE runner on the sprint finish. Finishing seven seconds apart after almost eight hours of racing is incredibly close. But that's another podium finish and a whole lot closer to the win than when coming second in 2012.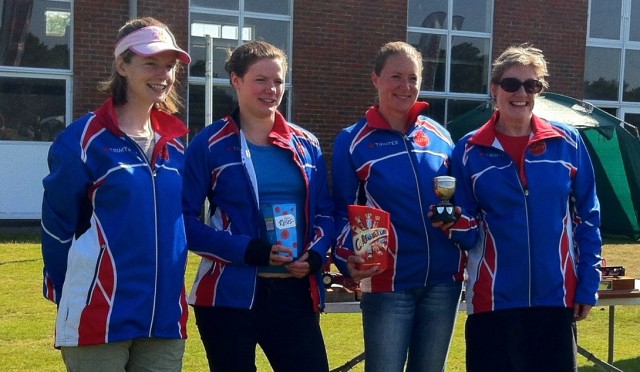 For the women Anja Stratford put in a great first leg to be placed just behind South Yorkshire. After that SLOW were never out of the top three, with South Yorkshire fading and Bristol coming through strongly. Sarah-Jane Gaffney was unable to make an impression on Bristol on last leg, and we finished second less than four minutes down. However with all the leading women's teams qualifying for the Handicap class, we were again able to take home the Handicap Trophy.
The A Handicap team was led off by Helen Gardner and she came in on the heels of the leaders, just ahead (!!) of our men's team, and this team was still in touch with the men after the second leg. After that it was a fight to hold position and they slipped behind Southdowns and Thames Valley to finish eighth – comfortably in the top half and an excellent result.
The B handicap were set back when Jim Mallinson pulled a muscle early on, but he struggled round to the handover and despite that they were ninth of the 34 teams in the B class and 3rd place in their class, being just one place and one minute behind the ladies.
And then there was the "fun" team. They had fun and with a mixture of good runs and learning experiences finished 19th on the B course, just missing a place in the top half.
Full results are available from BAOC, and many thanks to them for organising a great event.
Race report by Andy Robinson