SLOW Finish 8th in CompassSport Cup Final 2011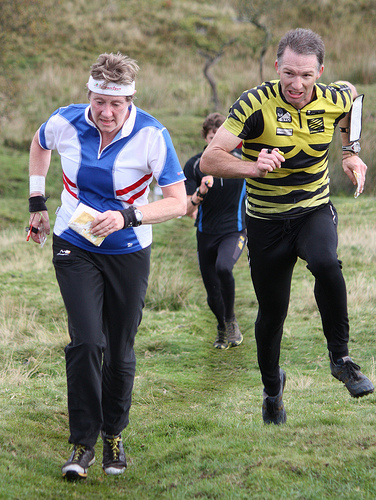 SLOW took 8th place in the CompassSport Cup Final, also known as the British Club Championships. A team of 33 competed at Longshaw in the Peak District, a national standard area of interesting rocky terrain, moorland, fast mixed forest & a little bracken!
There were particularly impressive performances from Ed Catmur, Paul Couldridge, Helen Gardner, Charles Bromley-Gardner and Mike Murray.
SYO won convincingly, with quite a battle for 2nd-5th places. To give an indication of what it takes to win, the SYO scorers averaged 89 points & Octavian Droobers 82!
Unfortunately the team was affected by some very late withdrawals due to illness & injury. Those that managed to get to the event had a very enjoyable sunny day. The key to doing well is to have a spread of very good runners across all the age categories, with good backup by non-counters for contingency and to keep everyone on their toes. Currently we are doing well with men's & women's open runners but don't have enough veterans or juniors to compete at the top. Next year's final is in the Scottish Borders so quite far away, but in 2013 the final is due to be held in the Bristol area.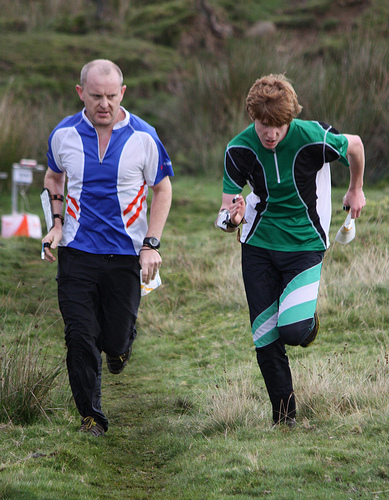 The race has let us know where we stand relative to each other before the start of the winter season so should give some incentive to our training plans. Look out for coaching and training opportunities over the next few months. There are some great individual and team events coming up next year including the JK Festival of Orienteering at Easter in Scotland & the British Championships in the Lake District. Remember everyone of all abilities is welcome to run for SLOW in the relays. See the latest SLOWPrint for a fuller list, and look out for other Hot Picks events to go to. Where there is demand we hope to organise some group accommodation for the larger events away from home.
Team Results: SYO (2224), OD (2062), LOC (2023), BOK (2010), AIRE (1976), HOC (1835), NOC (1691), SLOW (1456), SOC (1171). Thanks to DVO for putting on the event with a great arena and atmosphere. Full results here.
Brown: Ed Catmur (97), Paul Couldridge (89), Ben Roberts (78), Ollie O'Brien (63), Dan Findlay-Robinson (58), Paul Nixon (48). Backup: Michael Balling, Ed Stott, Angus Lund, Ben Smith, Mike Garvin, Chris Wroe, Vince Roper, Tim Smith.
Blue W: Helen Gardner (90), Libby Schofield (78), Carys Morgan (66), Sarah-Jane Gaffney (58). Backup: Jayne Sales, Christine Jones, Jane Harries.
Blue M: Charles Bromley-Gardner (99), Peter Haynes (70), Pete Huzan (68), Charlie Turner (66), Andy Robinson (56), Don McKerrow (42).
Green W: Sarah Brown (72), Chris Robinson (60), Dorte Torpe Hansen (56). Backup: Heather Walton.
Green M: Mike Murray (96), Jim Mallinson (46).
Report by Peter Huzan. Photographs by Wendy Carlyle and used under a CC-By-SA-NC licence.