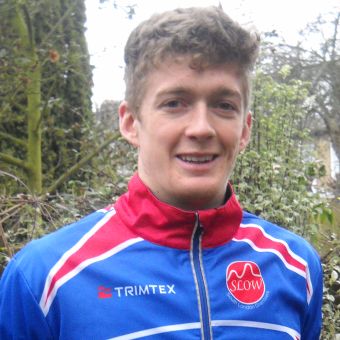 SLOW's Ralph Street in the 2013 World Orienteering Championships
SLOW athlete Ralph Street has been selected for the British team competing in the 2013 World Orienteering Championships in Finland from 5-13 July. Ralph is one of two athletes in the 13 strong team making their debut in the national team.
Ralph has been selected for the long and relay events. All seven British men (the team is limited to seven athletes each sex) are down for just one individual event, although a team can enter three runners in each if they want. Team GB are encouraging athletes to focus on a single individual event rather than doubling-up, and this should mean that athletes in the last event – the relay – are still sharp.
The championships are taking place in Vuokatti in Finland, six hours drive from Helsinki. The first race – the long distance qualifying event is on Sunday 7 July, and the event concludes with the relays on Saturday 13 July.
The Long or Classic event has an estimated winning time of 90-100 minutes for men and is run in the forest. The Middle Distance event is 30-40 minutes in forest, planned with an emphasis less on route choice and more on map interpretation. Sprint is a fast 12-15 minutes often in a complex urban area such as a university campus or an old town. The final relay is for teams of three – very fast competition and these are often the best event to watch. Each discipline has three qualifying heats, and the best 15 from each go through to the final with the fastest runners starting last.
Britain is 8th in the women's ranking and 17th in the men's, so expectations are modest and particularly so given the terrain. The sprint and relays are Britain's best chances for podium spots. The British men's team won the relay gold medal in the 2008 World Orienteering Championships.
The full programme is available from the WOC 2013 website, and there is usually good news coverage on the website. The main regular orienteering events are:
Sunday 7 July – Classic length qualifiers
Monday 8 – Sprint qualifiers and sprint final
Tuesday 9 – Classic final
Wednesday 10 – rest
Thursday 11 – Middle qualifiers
Friday 12 – Middle final
Saturday 13 – Relay
The TV coverage of the recent international sprint race in Finland is still available on-line. This is in Finnish, but it is not to hard to follow from just the picture. Ralph appears three times: at 36 minutes, partway round the course; 41 minutes, nearing the end; and 43 minutes, at the run-in.
Ralph is very grateful to SLOW and its members for support and help along the way, particularly Matthias Mahr who was his coach for three years prior to going to Sheffield University in 2009.