Relay News
We had 14 teams competing at the British Relay Championships in the Forest of Dean last bank holiday Monday. And came away with two 1sts, two 2nds, one 3rd, & four other top ten positions. Firstly, we had teams in both the Men's & Women's Premier Class. Both teams gained UK cup points, & the women are doing particularly well at the moment. The men (Charlie W, Mal L, Simon E) came 18th – Charlie was up with the lead pack for about 20 minutes on his first ever first leg. Simon had a good run on last leg. The women (Rachael H, Nicky K, Anja S) came 9th – Rachael was 2nd on the first leg!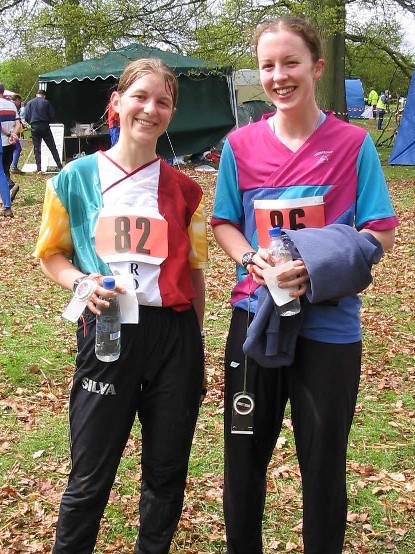 Our veterans always have a good chance of podium positions at the British Championships partly because there are so many classes. The number of classes may get reduced in the future. The W40 team (Karen J, Jackie C, Christine R) got a silver medal. The W45 team (Kathy H, Sarah B, Diane L) won yet again – with extremely fast runs from Sarah & Diane; Kathy has been running well all year & now has a relay trophy to put on the mantelpiece. The M45 team (Peter Ha, Andy J, John D) came 3rd. John had a great run on last leg to get in the places but we ended up 5 minutes behind Guildford followed by Hertfordshire.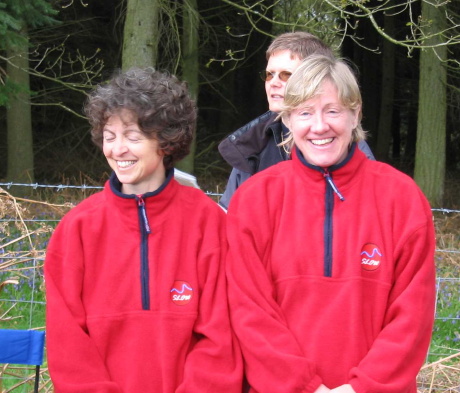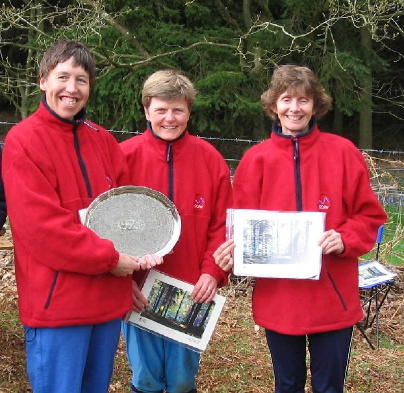 The M50 team (Paul S, Charlie T, Andy R) put in a very solid performance to come 2nd, just 3 minutes behind Thames Valley who had the youthful Neville Baker on last leg. Our 2nd M50 team (Don M, Alan L, Jim M) came a good 6th & were in 3rd palce after 2 legs before other clubs' 1st teams hauled them in.
The last veteran's performance was in MW55 (David M, Teresa T, Mike M) where we came 1st by 15 seconds. This was an excellent team performance in a very competitive class. Mike was amazing on last leg & looked as though he was trying very hard on the run-in! Especially well done to Teresa running with two of our most in-form men.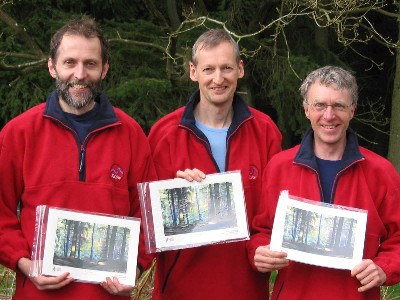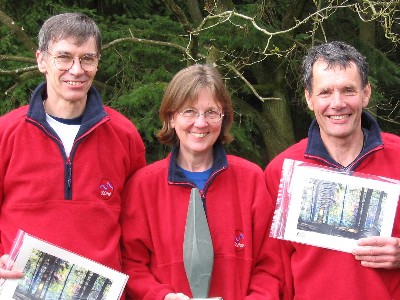 The junior classes were harder than at the JK, especially the yellow which was gaffled (ie had variations) as well. Everyone successfully finished their course & our younger juniors have gained a lot more relay experience that will be good to build on next year. Our Junior Ad Hoc teams came 4th & 7th, with especially good runs from Ralph S, James M & Michael M. Our Mini Relay team came 11th, with a great run from Robert J on 1st leg coming back in 3rd place.
The Short & Ad Hoc classes had the most teams! Our Ad Hoc team came 13th including a good run from Chris W. In the seniors, the Women's Short team was 7th. Heather M was in the team & brought the team back 1st after 2 legs. Sarah C wasn't overawed by this & brought the team back in a very respectable position. The Men's Short team came a solid 22nd.
Overall the weekend was very enjoyable. The new SLOW red fleeces made their first appearance (thanks Simon), & many of us stayed in 'luxury' group accommodation very conveniently located for all the weekend's events. We had carbo-loading feasts in the evenings, & were able to use up any excess energy playing table tennis, and table football. That was one part I was able to take a more active part in & allowed myself & Don to show Charlie & Simon how to play the beautiful game – roll on the re-match.
Best wishes Pete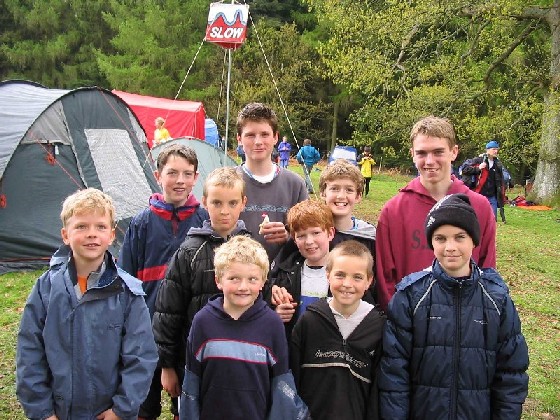 Other Relays – May 6th
Wednesday 6th May saw some less important relays.
During the day at the Army Relays at Long Valley, the SLOW team of Chris Robinson, Kate Thomas and Don McKerrow won the Ad Hoc class having led all the way.
In the evening in Richmond Park, the SLOW team came 12th in the Thames Parkland Relays. Those who have run this before might like to know the split times:
Andy Robinson 19.48
Karen Jones 20.21
Andy Jones 19.28
Owen Lindsell 18.30
The first 3 were all slower than last year (blame wet underfoot conditions and the British Relays 2 days earlier). it was Owen's first run in this and he gained 2 places on last leg.