British Night Champs
The British Night Championships were held on Saturday evening in the woods at Hambleden near Henley-on-Thames. Hambleden is a private shooting estate, and was an excellent venue for the championships – technical and hilly but very runnable. The organising club Thames Valley did a terrific job putting on the championships and a big race the following day. The area was previously used to host two days of the biggest UK orienteering festival, the JK, at Easter 2013.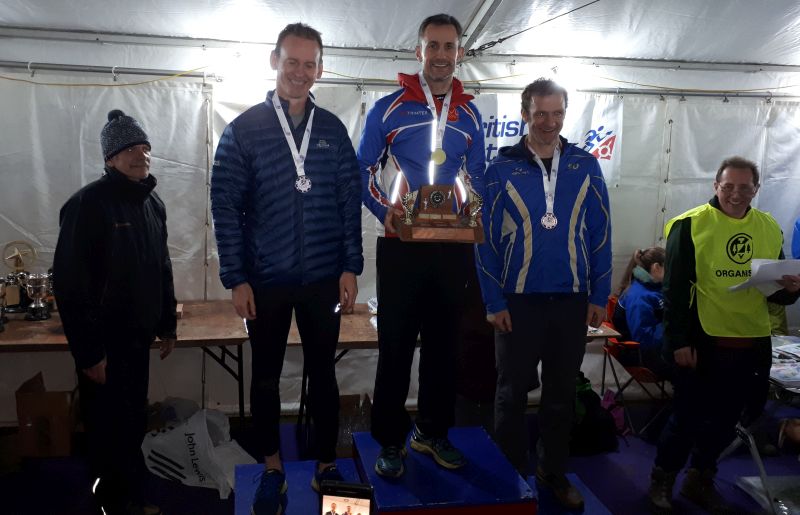 Congratulations to club stalwart Paul Couldridge who won the M45 trophy through fast and accurate orienteering and a well-paced race. He built a lead of four minutes in the last third of the course of 8.3km with 300m climb, to finish in a time of 55:23.

Paul is pictured above with the trophy, bracketed by second-placed Nicholas Cooper of South Yorkshire and third-placed Will Heap of Southdowns. In the fluorescent jacket is the organiser, John Dalton of Thames Valley O.C.
Paul has previously won both the M35 and M40 (twice) night trophies.
The W35 trophy was won by SLOWprint editor Sarah-Jane Barrable. This was her first win.
Third on M35 was fixtures secretary Duncan Grassie. (Sarah-Jane's husband Nick Barrable who runs with South Yorkshire was second in this class.)
Provisional results (all classes).
Other runners from SLOW were: Juste Raimbault and Yordan Kolev on M21L, Fiona Tam on W21L, Matthias Mahr – fourth on M40, Sue Carter – fourth on W50, Dorte Torpe Hansen – fifth on W50, Richard Stanhope on M60, Paul Street on M65 and Jim Mallinson on M70.
The M21L trophy was retained by Graham Gristwood of Forth Valley Orienteers who covered the 11.9km and 380m course in just 60:21. His speed was not very different from that of his run at the JK Middle race back in 2013. He has represented GB at World Orienteering Championships a record number of times. And he also presents our video Introduction to Orienteering.
The W21L trophy was won by Megan Carter-Davies of Mid-Wales O.C. Megan now holds all four British trophies, having won the long, middle and sprint titles last year.