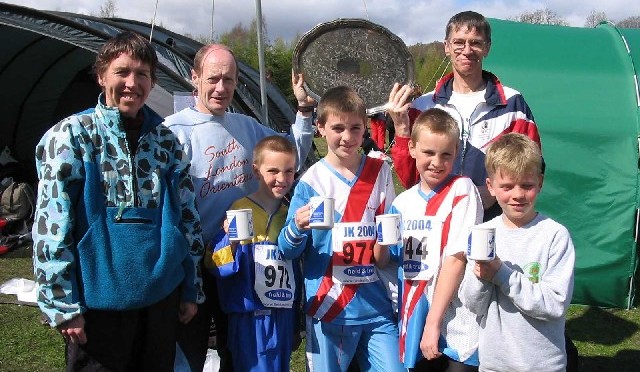 JK 2004 Results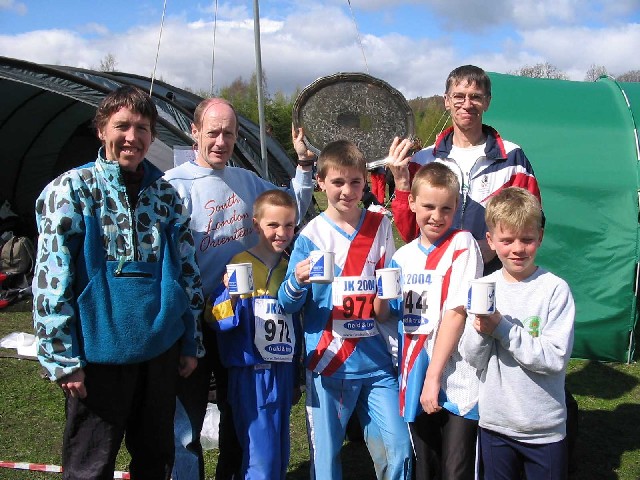 Seventy South London orienteers made the long trip to the contoured lands of the Lake District for the annual JK International Festival of Orienteering. The format is a training day, two individual days (with times added together), & finishing with a relay day.
On the individual days, there were very good performances from: Rachael Holmes (W21L 2nd), Diane Leakey (W45 1st on day 1), Monika Bonafini (W50 2nd), Sarah Brown (W50 3rd), Jackie Chapman (W45S 3rd), Ralph Street (M14 7th, 3rd GB), John Dowty (M45 4th on day 2), David May (M55 2nd), Mike Murray (M60 3rd).
The relays were well organised & SLOW had a front row view of the action. The forest seemed a lot faster than the other days as we cheered on our 17 teams. This included some running a relay for the first time, & some running a relay for SLOW for the first time. Particular highlights include: 3rd in the Mini Relay (Robert J, Thomas J, James H) 6th in MW40- (James McM, Matthew H, Ralph S) 7th in Women's Premier (Anja Stratford, Caroline Catmur, Rachael Holmes) 3rd in W120+ (Monika Bonafini, Sarah Brown, Diane Leakey) 5th in M120+ (Peter Haynes, Andy Jones, John Dowty) 1st in M165+ (Alan Leakey, David May, Mike Murray).
Also: Ed Catmur 11th on 1st leg of Men's Premier (2.5 minutes off the lead); the team finished 28th.
I hope you all enjoyed one of the best events this year, and have gained inspiration for the rest of the season. Next stop is the British Relay weekend in the Forest of Dean at the beginning of May. See you there!
Peter Huzan
SLOW Captain
Above: The prize winners