JK 2008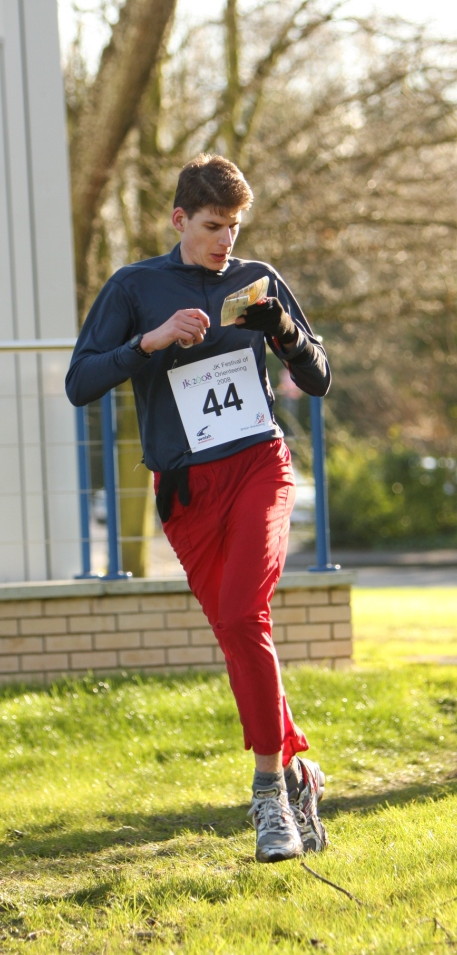 SLOW members made a major contribution to the organisation of JK 2008 as well as competing over the Easter weekend. The JK is the Jan Kjellström International Festival of Orienteering, the largest competition in the UK, held in south-east England for the first time since 1999.
On Saturday at Leith Hill over 75 club members worked extremely hard in snow, hail, rain and wind as well as the occasional sunny spell, and were warmly congratulated by fellow orienteers on an excellent competition and their cheerful devotion beyond the call of duty. Congratulations and thanks to Richard Catmur and Matthias Mahr (Planners) (Matthias pictured right) and Andy Robinson (Organiser). Special credit is due also to Don "White Van Man" McKerrow (Equipment Officer for all 4 days, who never got a run), David May (Sprint Planner), Di and Alan Leakey (Sprint Organisers) and Anne Straube (Trail O planner).
INDIVIDUAL PERFORMANCES
Congratulations to JK Champions Mike Murray (M60L) and Sarah Brown (W55L) on winning their classes over the combined individual days and to Alan Leakey in the Sprint. Well done too to the following on their 'top 6' performances:
Sprint Day 1 University of Surrey
M18E 3rd Ralph Street
M45 6th Charles Bromley-Gardner
M55 1st Alan Leakey
W50 2nd Di Leakey
W50 6th Chris Robinson
W55 1st Sarah Brown
W55 2nd Monica Bonafini
W65 5th Anne-Lise Ronaess
Days 2/3 combined Leith Hill/Ashdown Forest
M21L 4th Paul Couldridge
M21S 6th Ian Elder
M21V 4th Michael Rudolf
M35S 3rd Jon O'Donnell
M60L 1st Mike Murray
W50L 3rd Di Leakey (pictured right)
W55L 1st Sarah Brown
W55L 2nd Monica Bonafini (pictured below right)
Day 2 Leith Hill
M18E 2nd Ralph Street
M21S 4th Simon Turner
M50L 5th Peter Haynes
W21L 6th Nicola Woolford
W21S 5th Charlotte Turner
W55S 1st Anne May
Day 3 Ashdown Forest
M12B 1st Thomas Jones
M21L 4th Edward Catmur
W21L 6th Rachael Holmes
W21S 6th Liz Day
RELAYS
The relays were held at Eridge Park, near Tunbridge Wells on the bank holiday Monday. Fitting in with the rest of the weekend, the weather was quite variable including the now customary snow showers. The previous days of competition and helping had made a dent in our teams, but we still had lots of teams to cheer on.
In the Men's Premier, our top team came a very creditable 16th (10th UK club) – Ed Catmur, Paul Nixon, James McMillan & Matthias Mahr, with particularly good runs by the first two.
Women's Premier was even better in 7th place (4th UK club) – a great all-round performance from Rachael Holmes, Anja Stratford & Abi Weeds. We also had another 3 teams running the premier classes.
Our top Men's Vets team came 14th, including a very good last leg by Paul Whiston.
We had a lot of representation on the Men's Supervets. Our top team came home with the trophy, with excellent runs by Mike Murray, Alan Leakey & Peter Haynes, a couple of minutes ahead of 2nd place. Our next team came 10th, after every lap! – with a good run from Paul Street on 1st leg.
It was almost as good in the Women's Supervets, where we came 2nd, 3 minutes down on 1st place – well done Sarah Brown, Anne May & Monika Bonafini. Our next team were 7th – Chris Robinson, Anne-Lise Ronaess & Diane Leakey.
Our juniors (combined ages 48 or less) came 21st. And quite a few people had fun runs on the open short and Ad Hoc courses. It was good to see so many members taking part, including some making their relay debuts for the club. We hope you all enjoyed it. Next up is the British Champs in Inverness on 20th April where again we have quite a few teams across the classes.