Anne Straube wins World Trail-O Championships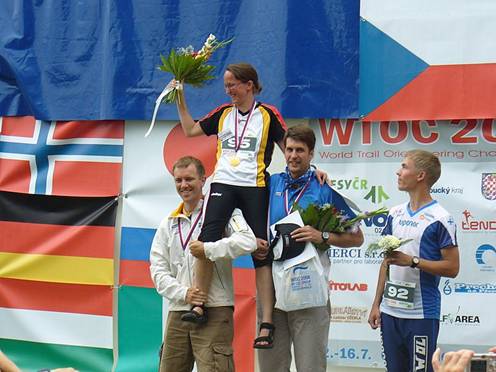 Congratulations to SLOW member Anne Straube who won the Gold medal at the World Trail Orienteering Championships held in Czech Republic on 15/16 July. This really is a superb achievement – Anne managed to beat all the competition, including several very experienced Trail-O competitors from the likes of Norway, Sweden and Finland, and won overall after two tough days of competition.
Anne has regularly competed in international Trail-O competitions, and was the planner of the Trail-O at this year's JK in the south-east.
Further information on the 2008 world championships can be found on the World Trail Orienteering Championships 2008 website. Full results from the event can be found here (PDF file).
Anne has written an account of the event in German which can be found here. A rough English translation of this (via Google) can be found here. Anne hopes to do a proper English translation for the next edition of SLOWprint! (Edit, here is a report in SLOWprint).
Trail Orienteering
For those of you who don't know much about Trail-O, the WTOC website describes Trail-O as follows:
"Trail orienteering is an orienteering discipline centred around map reading in natural terrain. The discipline has been developed to offer everyone, including people with limited mobility, a chance to participate in a meaningful orienteering competition. Manual or electric wheel chairs, walking sticks, and assistance with movement etc. are permitted as speed of movement is not part of the competition.
Trail orienteers must identify on the ground control points shown on the map. As this is done from a distance, both able-bodied and participants with disabilities compete on level terms. Proof of correct identification of the control points does not require any manual dexterity, allowing those with severely restricted movement to compete equally. Most trail orienteering events have classes open for everyone."