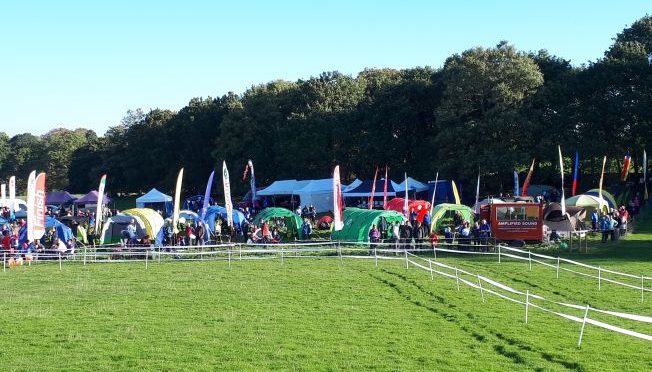 CompassSport Cup Final
SLOW came fourth at the CompassSport Cup Final on Sunday, 21st October 2018. This is a really good result for the club in this, the national inter-club competition. We qualified at the regional round in the Spring, having missed the final the previous two years.
Some way ahead of us were winners South Yorkshire (SYO), second-placed Forth Valley (FVO) and third-placed Bristol (BOK).
We were ahead of local rivals Southdowns (who were 5th), and also Lakeland, Derwent Valley, Deeside, Devon, Edinburgh Southern and Norfolk.
The final was hosted by Walton Chasers (WCH)  on spur and valley terrain of Cannock Chase. Results are on the WCH website.
The competition uses individual starts and a complex scoring system that allows all members of a club to take part. A club can have an unlimited number of runners, but only certain people can run on each of the 11 courses and only a certain number on each course can count. It is the best scoring 25 runners that determine a club's total score.
The courses and eligibility are based on the typical demographics of a British club – they have changed over the years as the average age of orienteers has gone up and up. We have a much higher proportion of younger adults than is typical, with no top juniors – and so fourth is an exceptionally good result. The three top clubs have a rich spread of elite runners across all the courses (numbers scoring 90+  SYO=22, FVO=21, BOK=18, SLOW=8.)
The golden boot for the fastest run-in was won by last year's British Sprint and Middle Champion, Jamie Parkinson of Devon.
SLOW's 25 scoring runners
100: Mihaly Ormay; 98: Abi Weeds; 94: Andy Jones; 92: Paul Couldridge, Alan Leakey, Sue Carter; 90: Matthias Mahr, Diane Leakey; 87: Andy Robinson, Mike Murray, Dorte Torpe Hansen; 85: Tom Cochrane, Rebecca Dal Bon; 84: David May, Velina Valova; 83: Sarah Brown; 82: Don McKerrow, Peter Huzan; 81: Heather Findlay, Duncan Grassie; 78: Yordan Kolev; 76: Boryana Peeva, Michael Crone; 72: Zlatko Peev; 71: Karen Jones.