SLOW finish 3rd in Compass Sport Cup final!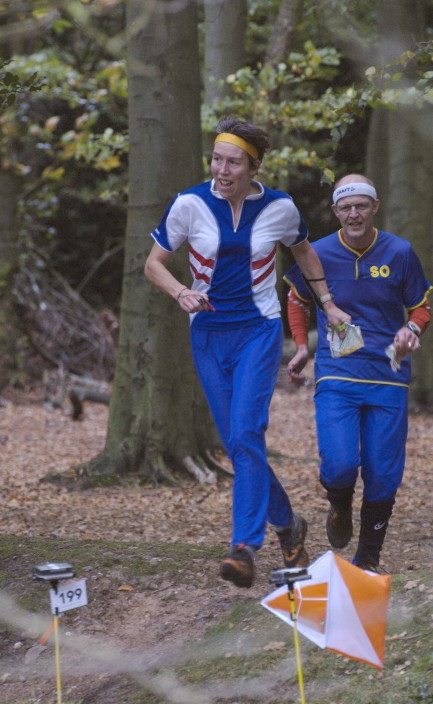 South London today finished in a very impressive 3rd position in the final of the Compass Sport Cup. This is the most important club competition in the British calendar with teams qualifying from all over the country. This was our best result in the final for eight years, since we also finished in 3rd place in 1999 and 2000.
The race was held at a windy Sutton Park, Birmingham. The terrain varied from fast heathland to light green forest, but the trickiest parts were the intricate but well-mapped areas of gorse.
There were some fantastic results (see below), especially by those scoring 90 points or more – that's what we need to average to win the competition! We were especially strong on Blue Men, and it was great to have seven juniors in the counters. It was a real team effort, so well done to all who were able to run.
Full results from the race can be found here.
Well done to South Yorkshire for winning the competition, & thanks to Octavian Droobers for putting on the event.
Next year's competition starts with the regional round on 29th March 2009 so put that in your diaries NOW! If we get though that, then we can have another go in the final on 18th October 2009 in Leicestershire.
Team Scores
2214 SYO (South Yorkshire)
2110 OD (Octavian Droobers, Coventry)
2004 SLOW (South London)
1961 NOC (Nottingham)
1903 BOK (Bristol)
1803 SO (Southdowns, Sussex)
1701 SROC (South Ribble, Lake District)
1401 WCH (Walton Chasers, West Midlands)
1399 WCOC (West Cumberland, Lake District)
1206 WAOC (West Anglia)
Club Scorers
Brown – Ed Catmur 84, Paul Couldridge 83, Patrick Saile 77, Ollie O'Brien 68, Matthias Mahr 67, Phil Marsland 64.
Blue Women – Abi Weeds 84, Charlotte Turner 80, Anja Stratford 76.
Blue Men – Audrius Janulynas 96, Charles Bromley-Gardner 95, James McMillan 91, John Dowty 88, Paul Street 86, Andy Jones 83.
Green Women – Sarah Brown 96, Diane Leakey (pictured above) 78.
Green Men – Mike Murray 86, Chris Fry 76.
Short Green – Teresa Turner 72.
Light Green – Ralph Street 100, Greg Street 74, Robert Jones 66, Gustav Lindeborg 62.
Orange – Matthew Jones 72.
Also well done to the following near misses:
Blue Men – Seb Woof 80, Andy Robinson 76, Peter Haynes 71, Don McKerrow 67, Alan Leakey 60.
Short Green – Judy Fry 60.