SLOW success at British Championships
Over 50 SLOW members competed in the British Orienteering Championships last weekend, which this year was held very close to home at Furnace Wood, Woolbeding Common & Great Common, near Midhurst in West Sussex. The forest provided a tough challenge, with long hilly individual courses with some small areas of complex detail. The relays moved to the Great Common part of the map, with excellent short courses containing lots of controls in the intricate areas, making for good head-to-head racing.
Individual day (1st April)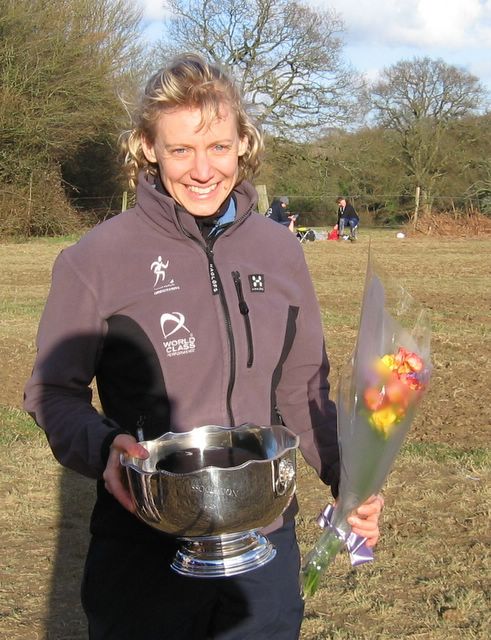 SLOW have two new individual British Champions – congratulations to Heather Monro (pictured right), who despite having retired from international orienteering and having (allegedly!) severely reduced her training program, managed to win the W21 Elite course by 3 minutes. You can see her winning route on the BOC website. Also, congratulations to Mike Murray on winning the M60 class, his 101st British/JK title in an illustrious orienteering career.
SLOW's other main star performers of the day, all finishing in the top 3 overall in their age group, were Ralph Street (2nd on M16), Diane Leakey (2nd on W50) and David May (2nd on M60).
Additionally, excellent top 3 performances in their respective classes were achieved by the following SLOWies:
Robert Jones – 1st, M14B
Greg Street – 3rd, M14B
Cordula Suter – 2nd, W20L
Matthias Mahr – 2nd, M21L
Anita Ray – 1st, W21V
Anne May – 1st, W55S
Many other SLOW members also had excellent runs – congratulations to everyone.
SLOW also played a big part in helping out on the day, being responsible for running the Finish, Download and Results. Several SLOW members also helped out on the Start. Big thanks are due to Don McKerrow for organising our helpers team, and to everyone who played their part in helping the event run smoothly.
Relays (2nd April)
Sixteen SLOW teams enjoyed the relay courses organised by Guildford Orienteers at Great Common. Some teams were trying for top places, but all teams were out to have fun as well.
We had three teams in Men's Premier – when was the last time that happened! (OK it was last year – but when was the last time before that!). The first team (Phil Marsland, Matthias Mahr & Ed Catmur) came 17th. There were also good performances from Paul Nixon & Simon Evans in the second team, who were joined by Andy Jones – now when did he last run Men's Premier?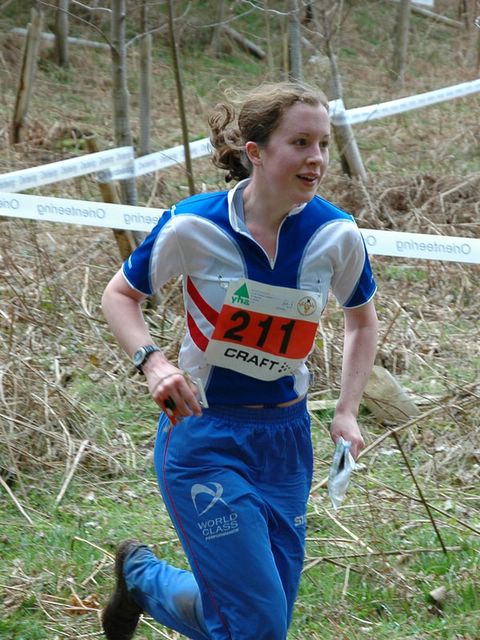 In the Women's Premier, the first team (Rachael Holmes (pictured left), Anja Stratford & Heather Monro) came 4th behind 3 very strong teams. Those teams each had two members of the British Squad, & we didn't have any! Ten clubs had teams in both the Men's & Women's Premier classes – and we managed it twice.
The M18 team (James McMillan, Michael May, Ralph Street) came 5th. This was a very competitive class at the top end; our team ended up 9 minutes down. The M14 team (Robert Jones, Matthew Haynes, James Haynes) were mid-table in 7th, 7 minutes down on the silver position.
The M40 team (Peter Haynes, Stephan Rudolf, John Dowty) were a very good 4th place, especially considering they are all M45, just missing out on bronze by 11 seconds. And just 7 seconds slower than the winning Women's Premier team, who shared the same course! Our two M50 teams came 5th & 6th. There were particularly good runs from Mike Murray (M60), Charlie Turner & David May (M60).
The W40 team came 8th, with a good first leg from Jackie Chapman.
And finally our best performance of the day came from the W50 team (pictured below – L-R Diane Leakey, Christine Robinson & Sarah Brown). Diane overtook Happy Herts on the last leg to win by 26 seconds! Now if the whole team could get some solid training in, how much better would they do!
Team selection was quite interesting for the Men's Open & M50 teams this year – which goes to show how much depth we have in those two areas at the moment. It was great to see several people running in their first relay for SLOW. We do encourage everyone to take part in team events and they really are very enjoyable.
Finally thank you to those who brought along the tent & new banner (especially David, Phil, Andrea & Raffaella) – that's very important for the big events.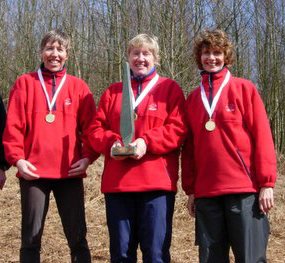 Full results
Complete results for the event, along with sample maps and winners' routes are available on the BOC website (archived results).
Photos
The SLOW photo gallery contains several more photos taken at the weekend – see the link on the frontpage. If you have any other photos which can be added, please email them to

.