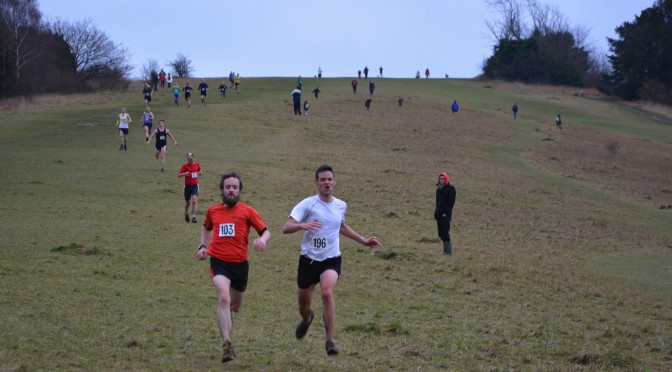 Box Hill Fell Race 2024
Saturday 20th January 2024 at 11.00am
42nd edition.
12 kilometres with 520m of ascent under F.R.A. rules.
The history of the Box Hill Fell Race can be found here.
The course will have the start and finish on Burford Spur, as was the case in 2023 and pre 2015. Registration is again based in the Stepping Stones pub in West Humble Street, West Humble, RH5 6BS (grid reference = TQ170517; what three words: ///juror.mimic.heave). The predominantly off-road course is fully marked, covering 12.88km and featuring 540m of ascent, and will be held under FRA rules. 
Please make sure to follow the pink flags* and at some locations we are also using orienteering direction arrows to emphasise a turning. The event will have a mass start at 11:00 this year.
*While the route is fully marked, keep your eyes peeled during the race as there are many changes in direction.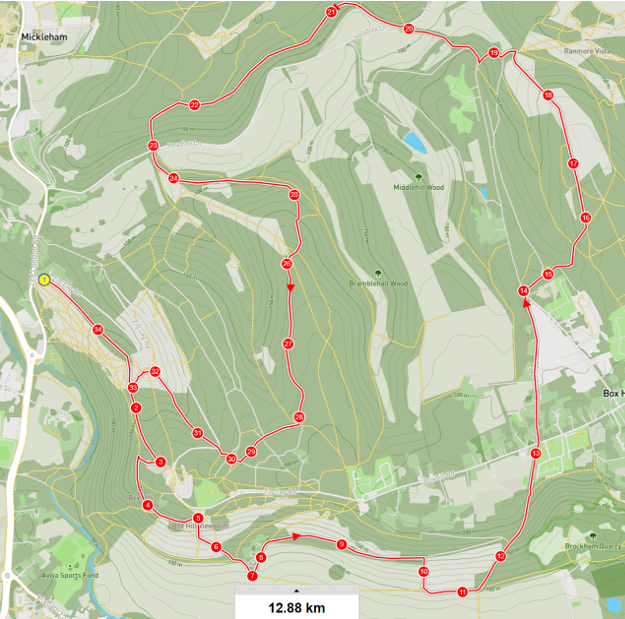 Entries
** Entries will be online only at SiEntries. Opening 12:01 (noon) on Boxing Day 26th December 2023 **
Please note that under FRA rules people under 18 are not allowed to run.
Competitors will need to collect their race number and timing chip from the Stepping Stones pub by 10:45 on the morning of the race and prize giving (for overall individual Men's, Women's, FRA standard veterans categories and team competitions) will be at around 13:30.
The course will be remain open until 13:15. We reserve the right to remove course markings that correlate to a finishing time of 2 hours 15 minutes. If you fall behind the tail runners you will be asked for your timing chip.
Event Centre
Location
Stepping Stones PH
Address
West Humble RH5 6BS
Latitude/longitude
51.2529, -0.3246
OS grid reference
TQ170517
Maps
Google Maps, OpenStreetMap
Travel
By public transport:
Take a train to Boxhill & Westhumble station, which is a c. 300m walk from the Stepping Stones pub; or…
Take the 465 bus, which runs every 30 minutes from Kingston and stops on the A24
By car:
Parking will be available. Further details to follow
Special Details
There will be prizes for age categories and also team competitions (Women's and Men's, 4 to score).
The National Trust are the landowners for the vast majority of the course and they make two conditions to avoid erosion of the wonderful chalk downland the race uses:
THERE IS A LIMIT OF 250 RUNNERS. We will accept more entries than this expecting some no-shows. Note that entries tend to sell out quickly, in a few hours.
RUNNERS ARE NOT ALLOWED TO WEAR SPIKES. They cause considerable erosion on steep downhill grass. Your co-operation is requested as significant damage could jeopardise future races.
Contact and Queries
For any race related questions, please contact the Organiser Harold Wyber