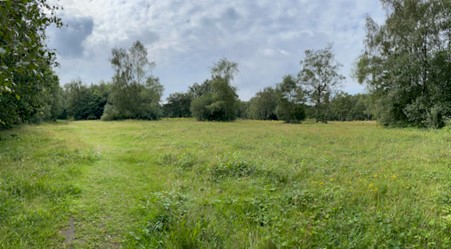 Bramshott JHI Spectator Race, Sunday 10 October
UPDATE 2/10 – FINAL DETAILS NOW AVAILABLE
Over the weekend of 9 and 10 October, SLOW is organising the Junior Home International (JHI) weekend for MW 14,16 and 18 runners from the 4 'nations' of England, Scotland, Wales and Ireland. The individual race on Saturday will be held on the Devil's Punchbowl (without a spectator race) and the relays on Sunday will be on Bramshott Common, with a spectator race immediately after the relays on the same area and using the same controls.
Here are the preliminary details for this spectator race.
Event Location
Location
Bramshott
Address
Rectory Lane
Latitude/longitude
51.0903, -0.7778
OS grid reference
SU856330
Maps
Google Maps, OpenStreetMap
What3Words: disclose.lightly.cubic
The Assembly area is a large flat grassy field in the middle of the competition area. It can only be accessed from a small turn-off (Rectory Lane) on the northbound A3 about 1 Km north of the Liphook junction. The start and finish will be close to the Assembly area. Facilities in the Assembly area will include toilets and likely refreshments.
Note the nearest postcode is on the wrong part of Rectory Lane and should not be used for navigating the last mile – approach from the northbound A3 and follow the O-signs.
Event Details
Bramshott Common is mostly flat with a few steep slopes around the edges of the area. It is very runnable with a mixture of lightly wooded sections and open grassy areas interspersed with trees. The competition area for the longer courses extends both sides of the A3 and is connected by a tunnel. We are using a brand new map produced by Tom Edelsten using LIDAR data. Start times will be from 11.30 to 13.30; this is later than usual to allow the JHI relays to take place first. Relays will start at 9.30 and winners will finish around 11.00, so come early and watch!
The courses offered are:
| | |
| --- | --- |
| Colour | Approx Length |
| Yellow | 1.7km |
| Orange | 2.0km |
| Short Green | 3.7km |
| Green | 4.5km |
| Short Blue | 6.0km |
| Blue | 7.0km |
| Brown | 8.5km |

Southern Navigators (SN) are holding their Club Championships on the same area using the same start but with their own separate Green course (not listed above). SN members wishing to enter their Club Championships should contact their club captain. SN members not wishing to enter their Club Championships may enter any other course via SiEntries.
Entries and further information
Please enter online here (via our partner SIEntries).
Entry fees are: £12 Seniors, £6 Juniors until midnight on 3rd October. After this date, fees are £14 Seniors, £7 Juniors. For entrants who are not members of BOF (British Orienteering Federation), fees are increased by £2 for Seniors and £1 for Juniors.
Entries will close at 13:00 on 10th October (the day of the event). All late entries, including those on the day, should be made online through SiEntries at the above link. When you enter, please select a 15 minute start window, eg 11:45-12:00. A maximum of 15 entrants are allowed in each start window for each course, so enter early to get your preferred start block!
This event is using Mixed Punching, which means you can use your SIAC to register at the controls contactlessly, or your SI-Card to dib in the traditional way. SIAC cards can be hired for £2 for Seniors or Free for Juniors.
Refreshments will be available in the Assembly area.
Any questions please to the day organiser Nigel Saker

.
South London Orienteers would like to thank Guildford Orienteers and the British Army Orienteering Club for their cooperation in enabling this event to take place