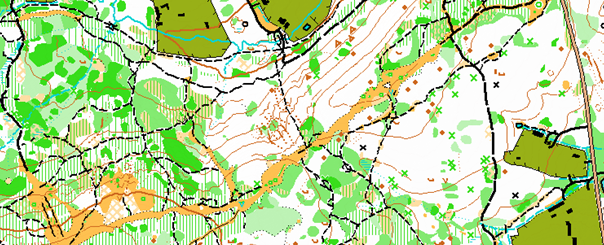 Holmwood Common 8th October – OK Nuts
"Please note there are a maximum of 250 entries being accepted due to car parking limitations – enter early to avoid disappointment."
South London Orienteers is proud to be using Holmwood Common for a colour coded race, which will also incorporate the OK NUTS Trophy.
Terrain
Holmwood Common consists mostly of natural woodland on gentle slopes with good path network and lots of vegetation changes, together with streams, ditches and gullies. Vegetation boundaries are usually blurred on the ground and should not be used for fine navigation. Bramble and bracken covers much of the common and all the courses have been planned, to give sensible routes avoiding all but the smallest areas. The map has been produced and updated by Charlie Turner using LIDAR data, scale of 1:7,500 and updated as far as possible for summer vegetation.
Getting There
Location
Holmwood Common
Address
Holmwood Common
Latitude/longitude
51.2102, -0.3256
OS grid reference
TQ170469
Maps
Google Maps, OpenStreetMap
The nearest stations are Dorking and Dorking West, both within 4km from the parking field. Check National Rail for journey information.
The entrance into the car park is narrow. Please arrive by 11:30 and no departures before 11:30.
Car Parking, SIAC hire and download are in the assembly field. Starts are 175m from assembly and the finish is 750m away. The route from the finish to the car park passes very close to the start.
Dogs. Well behaved dogs on leads allowed in car park, but not to be on courses.
Entries & Course Information
Entries via SIEntries
Eligibility for the four trophies are as follow:
Men: Brown
Women: Blue
M16: Green
W16 Green
Entries will be available online (subject to map availability) until 11:45 on the day of the event.
Nine courses will be provided with the following distances (subject to final planning and controlling):
Brown* – 9.1km
Blue – 7.2km
Short Blue – 6.1km
Green – 4.9km
Short Green – 3.6km
Light Green – 3.7km
Orange – 3.1km
Yellow – 2.1km
White – 1.4km
*Please note the Brown course has over 30 controls. If you are using a version 5 Si card (nos 1 – 499,999) or a version 8 SI card (nos 2,000,001 – 2,999,999) please hire a SIAC as they can only handle 30 controls.
Race Details
| | |
| --- | --- |
| Start Times | Between 1000 and 1200 |
Start times are between 10:00 and 12:00 – Please select a 15 minute start block but we are effectively operating a turn up and go policy. Courses close at 14:30.
We anticipate that Tom and Julie's food wagon will be in attendance.
Please ensure you familiarise yourself with the British Orienteering Participant Code of Conduct.
Personal Details
The personal data you give will be used by the event organisers and their agents only for the purpose of processing and publishing the event entries and results, for conducting safety checks and to validate British Orienteering insurance cover.
Officials
Planner: Kieran Marsh (SLOW)
Organiser: Charlie Turner (SLOW)

Controller: Neil Speers (DFOK)