Night Series Finale – Wimbledon Common (South), Tuesday 22nd March
The final race of South London Orienteers' five event 2021-2022 night series takes place on the southern half of Wimbledon Common, south-west London, on Tuesday 22nd March 2022. With mass starts for both the Long and Short courses, expect exciting head-to-head racing!
Series results after 4 races – Long Short
Race Centre
The race will be based at The Crooked Billet, SW19 4RQ. The pub serves great food and drink, and there will be the usual opportunity to revisit route choices with other runners. Kit can be left while you run (at you own risk).
Note that due to online entry (see below), you do not need to come the The Crooked Billet before your run if you have your own SI card – you can go directly to the start. However you must come back to the pub to download.
Whistles are mandatory – they can be borrowed (collect from The Crooked Billet).
Location
Wimbledon Common (South)
Address
Crooked Billet, SW19 4RQ
Latitude/longitude
51.4213, -0.2278
OS grid reference
TQ233706
Maps
Google Maps, OpenStreetMap
Getting There
The Crooked Billet is close to Wimbledon village and there is plenty of parking available on nearby roads. The pub is a 15 minute walk from Wimbledon Station (SW Mainline and Underground) or Raynes Park. Bus route 200 runs from Wimbledon station and Raynes Park, closest stop is "Edge Hill" on Ridgway. Route 93 runs between Wimbledon and Putney Bridge, stop "Marryat Road" or "Wimbledon War Memorial". See TFL website for details.
Race Details & Entry
Registration and entry is online only at SiEntries. All entries, including on the day, will be online. Entries will stay open until 19:15 on the day of the event subject to map availability.
The entry fee is £5 for SLOW members*, students and juniors; £7 for others. The races use both SIAC contactless and SI electronic punching; SIAC cards are available to hire for those who do not have their own for £2. A small number of headlamps are also available to borrow for free but you need to e-mail the organiser in advance to reserve one.
*If you are not yet a member, now is the perfect time to join or renew for 2022! Please see our 'Join Us' page for more details.
SIAC Collection
If you are hiring a SIAC card, you can collect from the Crooked Billet between 18:00 – 19:00. The earlier you can arrive the better.
Start Location
The start is 700m from the Crooked Billet – allow 10 mins walk / 5 min jog. Please aim to be there by 19:10 (Long), 19:15 (Short)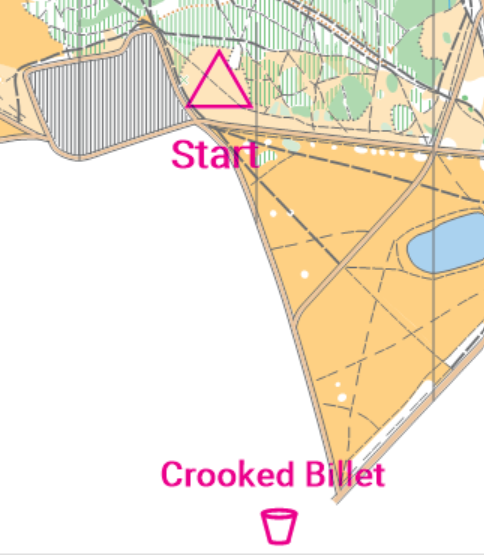 Course Information
Wimbledon Common offers varied and relatively technical terrain.
These courses are offered:
Long: approximately 5km, quite challenging – mass start at 19:20
Short: approximately 2.5km, quite challenging – mass start at 19:25
Courses close 20:45 – you must return to the pub by this time.
All competitors take part at their own risk. Adequate clothing should be worn for the conditions. Full leg cover is strongly recommended.
Results will be available on the SLOW website shortly after the event.
Additional Information
Photographs will be taken during the event.
Organiser / Planner – Mihály Ormay