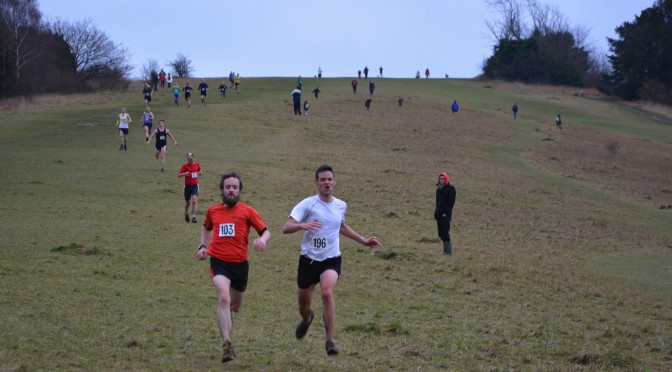 Results from the 33rd Annual Box Hill Fell Race
250 runners completed the 2014 Box Hill Fell Race on a warm January Saturday, even if the recent incessant rain had left conditions underfoot a little damp. Overall results are here.
Photos of almost every runner, courtesy of Katherine Heaton.
The Men's Race was won by James McMullan of Thames Hare & Hounds in 49:36. The fastest woman was Sarah Pemberton from Serpentine RC in 65:09. Serpentine RC again dominated the event and took first place in the club competition.
Age Group Winners
| Age Group | Name | Club | Time |
| --- | --- | --- | --- |
| M | James McMullan | Thames Hare and Hounds | 00:49:36 |
| M50 | Paul Jeggo | Springfield Striders RC | 00:59:44 |
| M40 | Keith MacIntosh | Wimbledon Windmilers | 00:56:06 |
| M60 | John Manning | Tring RC | 01:10:48 |
| W | Sarah Pemberton | Serpentine RC | 01:05:09 |
| W40 | Julie Rayfield | Reading AC | 01:08:07 |
| W50 | Alison Harding | Tring RC | 01:15:25 |
| WU23 | Alice Leake | Reading Roadrunners | 01:12:58 |
| MU23 | William Jones | Imperial College Union Cross-Country and AC | 01:05:29 |
Club Competition
Teams are formed by groups of the four best-placed runners from each club. Serpentine RC fielded 28 runners, with 20 from Tring RC and 15 from Incline Accelerators. The top 10 teams were placed as follows:
| Position | Club | Total points |
| --- | --- | --- |
| 1 | Serpentine RC A | 24 |
| 2 | Victoria Park Harriers & Tower Hamlets AC A | 57 |
| 3 | Cambridge Harriers | 76 |
| 4 | Tring RC | 127 |
| 5 | Serpentine RC B | 139 |
| 6 | Victoria Park Harriers & Tower Hamlets AC B | 164 |
| 7 | Arup Aces | 169 |
| 8 | Reading Roadrunners | 208 |
| 9 | Guildford & Godalming AC | 284 |
| 10 | Serpentine RC C | 296 |