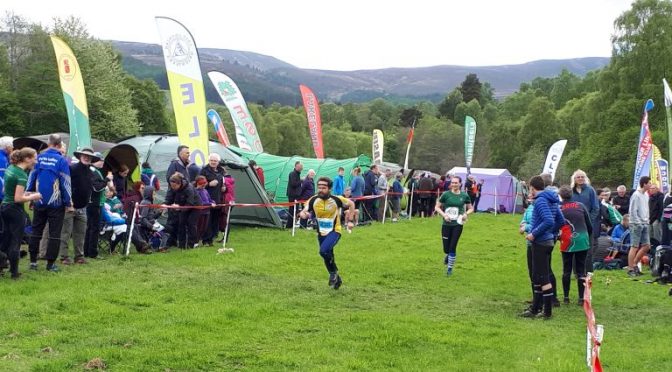 British Champs Weekend
On the 19th May, the day of a Royal Wedding in Windsor, the British Long Distance Championship races were held far away, at another Royal Castle, that of Balmoral, on Deeside in the Highlands of Scotland.
The weather was glorious and Deeside was wonderful in the sunshine. The Balmoral Estate forest was hilly and rough with few tracks, and there were some extended running times.
The next day, a little along the valley in the somewhat easier forest at Torphantrick the British Relay Championships took place.
In the individual there were new champions in the open classes, Jo Shepherd of Inverness OC (and Halden SK, Norway) and Peter Hodkinson of Nottinghamshire OC (and Lillomarka OL, Norway.) Short report on the open classes (at On The Red Line website.)
There were 20 SLOW members running the individual (and fixtures secretary Duncan Grassie, not 100% fit, was there too under his AROS designation – seventh on M35L, and helping it all happen.)
Long Distance Results (pdf, on Scottish orienteering website.)
Ian Webb was the only SLOW member tackling M/W21E – he finished in three and a quarter hours.
Sarah-Jane Barrable was third on W21S.
SLOW's top class (arguably, just shading M65L) was M35L, with Ed Catmur second and Steve Clelland fifth.
Steph Moss was fifth on W40L, and Karen Jones 13th on W55L, with Heather Walton 37th.
Captain Peter Huzan was 32nd in M50L,  with Andy Jones 33rd and eight seconds behind him  (a small margin in an hour and a half), and  Simon Moss was 47th in that class.
Kathy Haynes was 15th on W60L, 6 seconds ahead of 16th placed Diane Leakey. Chris Robinson was third on W60S. Sarah Brown was equal fifth on W65L, with Anne May 16th. Paul Street was 31st in M60L, with an injured Andy Robinson missing a few controls. Alan Leakey was fifth and Don McKerrow eleventh on M65L. David May was sixth on M70L.
The next day was the British Relay Championships. SLOW fielded teams in both the top class races.  In the Men's Premier, Ed Catmur, Peter Huzan and Ian Webb were 19th. In the Women's Premier Karen Jones, Sarah-Jane Barrable and Christine Robinson were 12th.
In the veteran classes SLOW got two bronze medals, in the men's and women's 60+ races. The women's team was Sarah Brown, Kathy Haynes and Diane Leakey. The men's (seen below – with Andy Robinson's SLOW jacket in background, helping at the prizegiving in his capacity as a BOF Director) was David May, Alan Leakey and Andy Jones.