Kew Street-O, Tuesday 11 October
The first Street Orienteering Race for the 2022-23 series will be held in Kew on Tuesday 11 October. Do join us for an evening of checkpoint hunting and socialising! All are welcome – bring along your friends and family. Don't worry if you are a complete beginner to orienteering – the start of a series is a great time to try it. For this series we will also return to use of the cluesheet.
If you plan on coming, please fill in the Google Form.
Race HQ
Our venue is One Over the Ait, a delightful pub near the river and close to Kew Bridge. You can leave your bags here (items left at your own risk).
The pub is easy to get to by public transport. It is a very close to Kew Bridge station (National Rail), with fast trains from Waterloo taking only 28 minutes. Gunnersbury station (Overground and District Line) is a 15 minute walk away. There are also many bus routes passing near by. See the TFL website to plan your journey.
The pub is a Fuller's pub and has an extensive and delicious menu so please do stay for some post-race chat.
Location
Kew
Address
One over the Ait, 8 Kew Bridge Road, TW8 0FJ
Latitude/longitude
51.488, -0.2884
OS grid reference
TQ189779
Maps
Google Maps, OpenStreetMap
what3words ///tracks.lots.gather
Race Details
Entry fee is £2 for SLOW and LOK members, students and juniors and £4 for others. You will get a specially produced street map showing the control points you need to find. You will need a timing chip – so bring your own SI/SIAC if you have one, otherwise you can hire one for £1.
Groups or pairs are welcome. Make as any entries as you want maps (e.g. if you are running in a pair and want a map each then make 2 entries).
If you're not a SLOW member, please consider joining.
For the event, you'll need to bring running gear, a watch or timepiece to keep track of time, and a pen to fill in the answers on the cluesheet. It will be dark and so it is advised to wear hi-visibility clothing and to bring a headtorch or light to make map reading easier. A compass is not essential!
Like all our Street-Os, this a public race – all are welcome. You will need fill in the Google Form. Please aim to do this at least a week before the event so we can print the correct number of maps. You'll just need to pay on the day.
| | |
| --- | --- |
| Registration | Between 1815 and 1915 |
| Start Times | Between 1815 and 1930 |
Format
We'll be using the same 'score' format as previous years, where you have 60 minutes to collect as many points as possible. Using the map provided, find controls in whichever order you like, collecting 10 points for each control starting with a 1, 20 points for each starting with a 2 and so on. As the controls are worth differing points, there are some tactics in deciding where to go. If you're late, the penalty is 1 penalty point for every 2 seconds late back (so you'll lose 30 points if you are a minute late back etc.). This guide provides general information about street orienteering.
1. Register via the Google Form and come along on-the-day to pay and to collect your timing chip (if necessary).
2. On the day at the start, the start official will give you the map and clue sheet. Write down your name on the clue sheet. When you are ready to start, "dib" your timing chip to start your time and your 60 minute countdown.
3. Find controls in whichever order you like. At each location you'll fill in the answer to the question on the clue sheet to prove that you've been there.
4. Return to the finish and "dib" the finish box to stop your time. Come back within 60 minutes to avoid time penalties. If you don't want to be out for a full 60 minutes you can come back earlier.
5. Report back to the registration desk after you've finished and hand in your clue sheet to be marked. You can collect this after it has been marked and score recorded. Full final results will be posted on the website as soon as possible.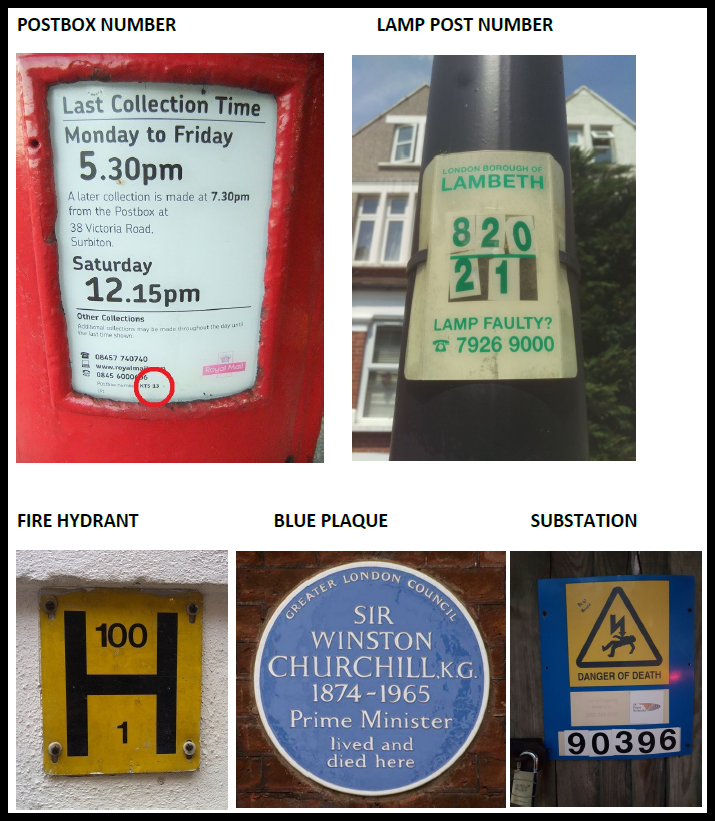 All competitors take part at their own risk, and because of our insurance any under-16s must be accompanied by a parent or guardian.
If you have any questions, do ask them on the SLOW Facebook or email the organiser Tom on

Also get in touch if you can help on-the-day.