Andrea & Raffaella get married
Many congratulations to SLOW members Andrea Rebora & Raffaella Marin, who got married today at Bromley Public Hall in east London ("after 6 years of quarrelling and postponing!"). The wedding reception was held afterwards at the famous Prospect of Whitby pub in Wapping with an excellent meal provided for all. Many SLOW members attended the ceremony and reception, as well as lots of Andrea & Raffaella's friends and family who had flown over from Italy.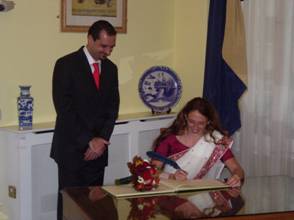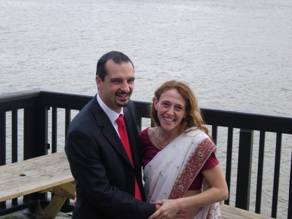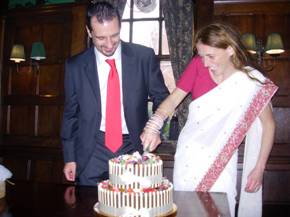 A special surprise was provided by former SLOW member and map-maker Remo Madella (www.remmaps.it), who had prepared a special Street-O map and course of the area surrounding the reception venue. This was impressive work, as he had prepared the map from his home in Italy with the help of Google Maps and a Tower Hamlets base map! Andrea & Raffaella ventured in their full wedding outfits to complete the course together, before lots of other SLOW members followed suit.
Andrea & Raffaella are now travelling to north-west India for their 2-week honeymoon.
Many congratulations to the happy couple from everyone in SLOW!