British Championships Weekend
Ten SLOW women won medals at the British Champs this weekend.
There were three individual medals on Saturday. Silver for Abi, and bronzes for Lyudmila and Sarah. And on Sunday, in the relays, our W40, W50 and W60 teams all earned places on the podium.
Thanks to Robert Lines of Southdowns Orienteers for the photographs used in this article. Rob has great galleries at Flickr for the Championships weekend. They include shots of many SLOW runners in action, and a chance to spot the variety of club colours on display over the weekend.
Individual Championships
On Saturday (26th March) it was the individual championships. They were south-west of London near the Surrey/Hampshire border in an area not previously used for orienteering.

Courses at the upper end of the target range, plus the rough terrain and significant climb, combined with unusually warm weather to extend average running times. Of course the best runners coped well with the challenge and conditions.
Results and Reports including GPS tracking, Winsplits and Routegadget.
The M21E and W21E winners were Graham Gristwood (Forth Valley Orienteers) and Megan Carter-Davies (Swansea Bay OC). Graham ran his 16.6km / 815m climb course in 102 minutes. Megan took 82 minutes for 11.4km with 495m of climb. Both were slightly longer than the target winning times range. (Having said that Megan did lose time throuhgh mistakes – see Winsplits, and the M40 winner, Richard Robinson of Nottinghamshire O.C, running the same course as W21E, was inside the target time range.)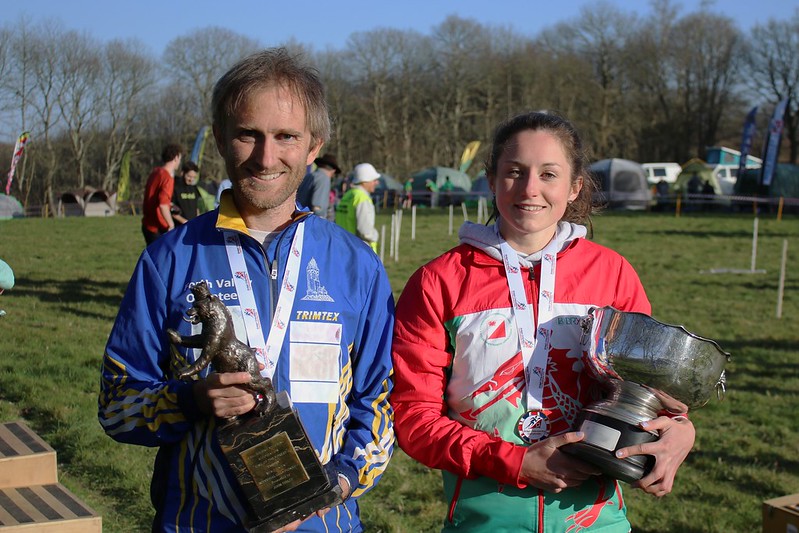 Top SLOW result of the day was Abi's second place in W45 behind Sarah Rollins (who next day took the SN team onto the Women's Premier Class podium.) Bronze medals were earned by Lyudmila (pictured in featured image) in W50, and Sarah in W70.
Relays
The same arena was used on Sunday for the British Relays: a big day out focused around the clubs. It had not proven possible to hold the races in 2020 or 2021 so it was great to be back. And the weather held so it was another great day out.

The premier classes were won by Forth Valley (men) and South Yorkshire (women). Notably South Yorkshire swept the board in the "mini-relay" for children under-12, and also won both U14 relays.
For SLOW, our captain, Pete, did a great job on the morning of rearranging several SLOW teams from what was planned a week beforehand – injuries had taken quite a toll. And everyone who wanted a run got one that was matched to their preferences.
Our team in the Men's Premier, Michael, Yordan and Ian, was 14th. We didn't have a team in the Women's Premier, but Fiona and Cecilia ran the first two legs of the women's short class.
There was however a remarkable set of achievements in all the women's senior age class relays. Our W40, W50 and W60 teams all earned bronze medals.