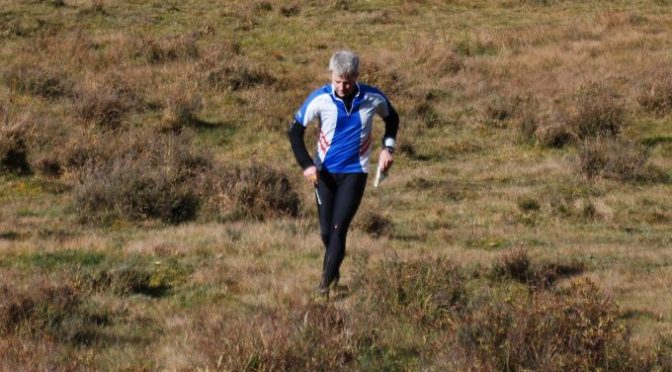 November Classic
Thanks to Steve Rush of Bristol OK for the use of the photo of Simon Moss crossing one of the open areas.
Southampton Orienteering's Club 50th running of the November Classic yesterday, incorporating the Southern Championships, was the last "major" race of 2017.
It was also SLOW's Autumn Series Race 3 of 5; an event we felt all members could enjoy. And so 35 of us made the startline.
The map was "Acres Down & Highland Water". It was usual New Forest conditions for Autumn – fast on the whole, but with leaves, water and mud, so no-one got to the finish with dry feet.  Heavy going  on a lot of the tracks meant the forest sometimes provided easier running. The weather was bright if not so warm.  And  the navigation was pretty tricky in places, with many controls on small features.
A summary of all SLOW results (external link.)
Congratulations to SLOW runners in the top 3 of the Southern Championships. We have three Southern Champions!

M35 1st – Ed Catmur, 3rd – Tom Davies.
M40 2nd – Paul Couldridge
W50 1st – Dorte Torpe Hansen
W65 1st – Sarah Brown, 3rd – Anne May
M70 2nd – David May.
UPDATE: Wednesday 8th November. BOF Ranking Points have now been allocated, and so SLOW Autumn Series points too.
Top points were taken by Paul Couldridge, with a score that is one of his best for the last 12 months. Tom collects a sixth counting score in the last 12 months so will leap up towards the top of the SLOW list. The top 5 SLOW scores were:
| | | |
| --- | --- | --- |
| Runner | Ranking Points | Series Points |
| Paul Couldridge | 1319 | 100 |
| Ed Catmur | 1296 | 99 |
| Matthias Mahr | 1280 | 98 |
| Abi Weeds | 1276 | 97 |
| Tom Davies | 1237 | 96 |
Three runners  had their highest scoring runs in the last year: well done, Abi, Chris (Robinson), and Nicki. Great to do that at a major championships.
Closest companions are David and Andy (Robinson) (2 points apart), Karen and Steph ( also 2 points apart), and Heather and Anne (also 2 points apart.)
Not everyone had a good run. New Southern Champion Sarah for example, had, if I understand the system correctly, a run that was so below her normal scores that it was automatically excluded from the calculation of the target time for that course.
EDIT – SLOW Autumn Series, Scores after 3 of 5 races (pdf)