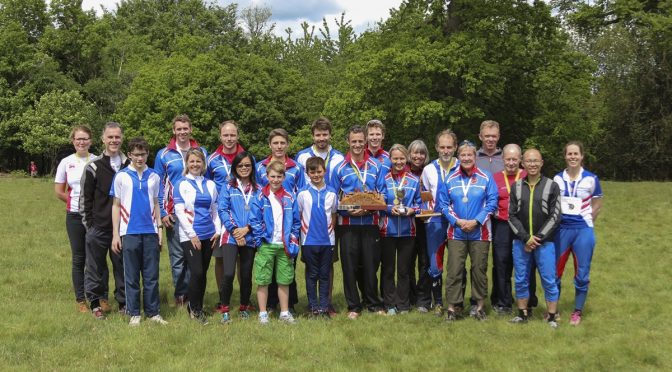 SLOW success at the Southeast Relay Championships
South London Orienteers took home three of four possible trophies with a great set of results at the Southeast Relay Championships, hosted by SAXONS at Knole Park, a beautiful deer park near Sevenoaks in Kent.

The club fielded nine teams – two of which were non-competitive – and five of the seven remaining took home medals. The junior team was very close to being another medal team, but just missed out.
SLOW achieved a convincing 1-2 in the Open Relay, 2:31 ahead of our second team, who in turn were almost six minutes clear of Southdowns Orienteers in third.
SLOW 1: Matthew Schepisi, Paul Couldridge and Michael Crone (85:24)
SLOW 2: James Lyne, Tom Davies, Michael Balling (87:55)
And there was a similarly convincing 1-2 in the women's relay with the first team finishing almost 18 minutes ahead of the second team who were almost 10 minutes ahead of third-placed SAXONS. This was a great result after a number of last-minute changes to the line-up only a day before the race.
SLOW 3: Dorte Torpe Hansen, Dianne Leakey, Gytautė Akstinaitė (121:41)
SLOW 4: Fiona Tam, Christine Robinson, Vicky Whaley (139:18)
SLOW also won the Handicap relay by over five minutes from the host club, SAXONS.
SLOW H1: Andy Robinson, Ludovic Maillard, Alan Leakey (83:34)
SLOW's junior team narrowly missed out on the medals. They were the third team to finish with good runs all round. Unfortunately there was a mispunch, but the organisers generously applied some common sense and reinstated the team with a three minute time penalty that pushed them into fourth place. The junior team has great potential for future years.
SLOW Juniors: Thomas Arnison, Kit Foulkes, Benedict Davidson (56:25 mp)
Many thanks to all the other SLOW runners who competed on the day: Gordon Parker, Peter Foulkes, Mike Garvin, Anja Davidson, Nigel Saker, Hing Hung and Heather Walton.

Report by Andy Robinson; photos from a set by Gyte Akstinaitė