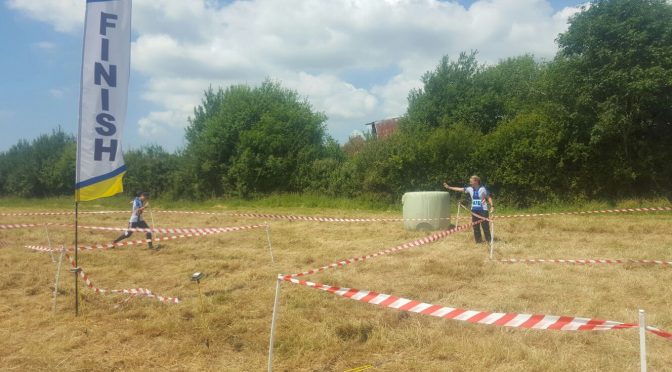 SLOW teams on the podium at the Southeast Relay Championships
SLOW picked up another trophy at the 2017 Southeast Relay Championships on a scorching hot Sunday in June, with good performances across the four categories. The Handicap Trophy was won by SLOW's Tom Davies, Pete Huzan and Don McKerrow, in a close competition that saw them less than 90 seconds clear of second place after 90 minutes of running.
SLOW also picked up podium finishes with both teams in the Men's Open, and second place in the Women's Open. SLOW's junior team of Anja Lund, Olin Davies and Jemima Hayward-Bhika (pictured) picked up a creditable sixth place in the face of a very strong showing from Guildford Orienteers who fielded six teams. Notably SLOW junior Jamie Lund ran in the fourth Handicap team.
Southdowns Orienteers hosted the event at Capite Woods in West Sussex. Despite the compact area, the club set challenging courses with a good run in for finishers to be cheered on by those that were able to brave the heat in the full sun.
Full team results are available from Southdowns' website, with SLOW's team performances below:
Handicap Team 1 (1st place): Tom Davies, Pete Huzan, Don McKerrow
Men's Open 1 (2nd place): Matthew Schepisi, Paul Couldridge, Michael Crone
Women's Open 1 (2nd place): Heather Findley, Fiona Tam, Dorte Torpe Hanson
Men's Open 2 (3rd place): Yordan Kolev, Angus Lund, Ed Catmur
Women's Open 2 (5th place): Chris Robinson, Nicky Adams, Heather Walton
Handicap Team 2 (5th place): Andy Robinson, Charlie Turner, Mathieu McGuire
Handicap Team 4 (9th place): Keith Davies, Richard Catmur, Jamie Lund
Handicap Team 3 (n/c): Duncan Grassie, Ginnie Catmur, Andy Robinson
Pictures courtesy of Fiona Tam (shown finishing and about to hand over to Dorte Torpe Hansen) and Keith Davies (junior team).