SLOW at the South-East Relays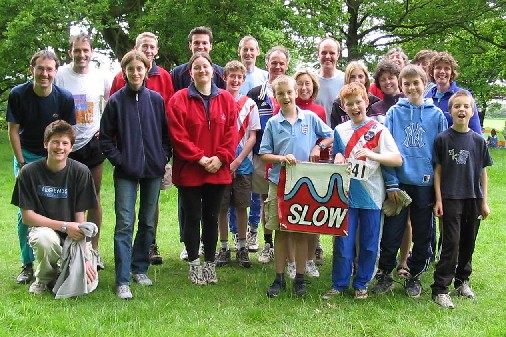 These were very ably staged by CROC on our very own Wimbledon Common. The memorial on the playing fields was a good setting for the handover & spectator control & the weather was good for the whole day. The relay prizegiving was preceded by the individual south-east galoppen presentation, where several SLOW members got certificates for their performances at local age group events last year.
There were only two teams in the junior relay. Charles, Greg & Ralph managed to get round well to win, especially given that the orange course was quite tough.
The rest of the SLOW teams battled it out on the Handicap course, which had the most teams. A Handicap team has three members, running blue, green & orange; each age class has a points value & the combined points value must be below a certain maximum. This gave the team captain lots of fun trying to work out the best combination, especially when he realised someone would not be there with 20 minutes to go before the start. Southdowns won, with SLOW teams taking 2nd (Andy J, Sarah B, Mark V), 3rd (Simon E, Karen J, Paul St), 6th, 13th & 16th places. The top 3 teams were within 3 minutes of each other. It was especially nice to see Jenny C & Justin M running their first relays for the club.
See you at a Tuesday evening training event sometime soon.