SLOW taking part in the Nike Grid Challenge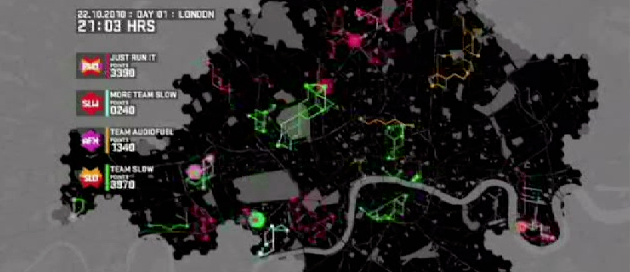 SLOW members are taking part in the Nike Grid running challenge, which is taking part in London for two weeks. Two SLOW teams – Team SLOW and More Team SLOW are active, members are running around the streets of London, scoring points for their team. Points are scored by running between any two of four specially marked phoneboxes in any of the 48 central postcodes in London. The graphic above shows activity of the leading four teams in the competition, with runs from both teams showing as green and light blue. The competition is rather reminiscent of the club's street-o events, only the legs are typically rather longer – sometimes several km long – and the race is over two weeks rather than one hour!
After seven days, and with a further week to go, Team SLOW is lying second (behind a team composed of the winners of the previous Nike Grid challenge in April), while More Team SLOW is lying fourth. The teams are holding on to 12 and 4 of the 48 postcode "crowns" respectively.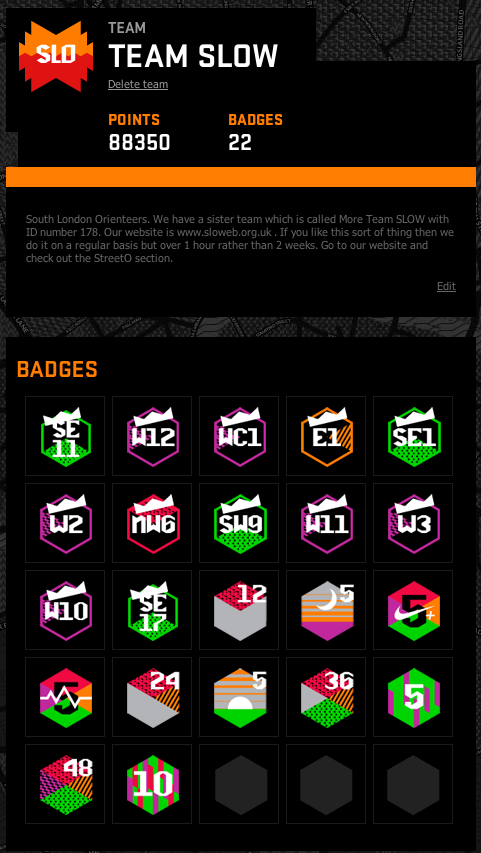 Other notable achievements so far include Team SLOW being the first of all the teams to have run a leg in all the 48 postcodes, soon followed by Ed Catmur being the first person in the challenge achieve the feat himself, and Dan Findlay Robinson accumulating the most points of any runner in the first days of the competition, a position he held for almost a week, thanks in no small part to a marathon "shuttle" run in E1 over eight hours. Team SLOW also has the distinction of being the first team to have at least 10 runners (out of a maximum of 15) completing a leg in a single postcode, securing them another "badge" and more points.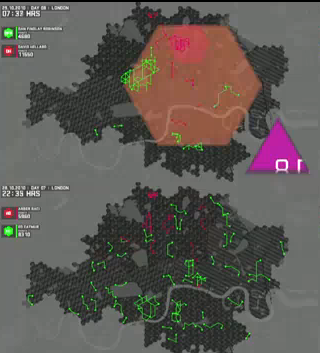 The graphic above shows the activities of Dan and Ed, both in green, compared with their nearest rivals. Ed's 48 postcode legs can be seen.
Top club scorers so far (at 5pm on Saturday 30 October):
| Position | Name | Points |
| --- | --- | --- |
| 3 | Dan Findlay-Robinson | 15410 |
| 6 | Ed Catmur | 10990 |
| 7 | Evan Barlow | 10450 |
| 11 | Phil Marsland | 9110 |
| 17 | Oliver O'Brien | 6470 |
| 23 | Vince Roper | 5520 |
| 33 | Mike Garvin | 4600 |
| 34 | James Beattie | 4470 |
| 35 | Bryn Monnery | 4420 |
| 37 | Christine Smith (MTS) | 4380 |
| 50 | Carys Morgan | 3460 |
The maps used in the graphics are based on OpenStreetMap data (CC-By-SA OSM contributors) which is exactly the same data as that used in OpenOrienteeringMap. The challenge ends at 6pm on Saturday 6 November.