OK Nuts 2022 – Leith Hill Place Woods, Sunday 10 April
**Update 7th April – Final Details – correction to course closing times**
Entries still open subject to map availability
Event Date
Sunday 10th April 2022
National and South East League Event, & OK Nuts Trophy
The central part of the area was last used 35 years ago. This is used in conjunction with the southern part of the LOK map of Leith Hill, together with some new areas of woodland.
History of OK Nuts Trophy found here.
Terrain
Short Green to Black courses use the scarp slope of Leith Hill and pass close to Leith Hill tower, which at its top of 313 metres is the highest point in southern England. These courses have two road crossings and are mostly in mature woodland with good runnability.
In the later part they cross a short section of parkland and then pass back into woodland, leading to an uphill Finish. The White, to Very Short Green courses have no road crossings.
Car Parking and Assembly
Location
Leith Hill Place
Address
Tanhurst Lane
Latitude/longitude
51.1734, -0.383
OS grid reference
TQ131428
Maps
Google Maps, OpenStreetMap
A slightly sloping field and a nearby small area of hard standing. There are two Starts.
Near Start: Very Short Green, Light Green, Orange, Yellow, White – 225m from carpark
Far Start: Other courses – 950m from car park
Start times 10.00am to 12.00pm.
Finish for all courses 150m from the car park.
Entries
Entries via SiEntries.co.uk
Courses
This course information was updated on Thursday March 31st.
The OK Nuts courses are also the recommended courses for the SEOA league.
You can however run any course you choose.
Further description about entering age classes or colour courses is on the SiEntries event page.
Black, Brown, Short Brown and Blue courses will have back-to-back maps.
Courses from the Far Start have 2 road crossings, both timed out.
Newcomers are encouraged to run the White (very easy navigation), Yellow (easy navigation), Orange (confident adults, experienced juniors) or Light Green (hard navigation but less physical than other green courses.)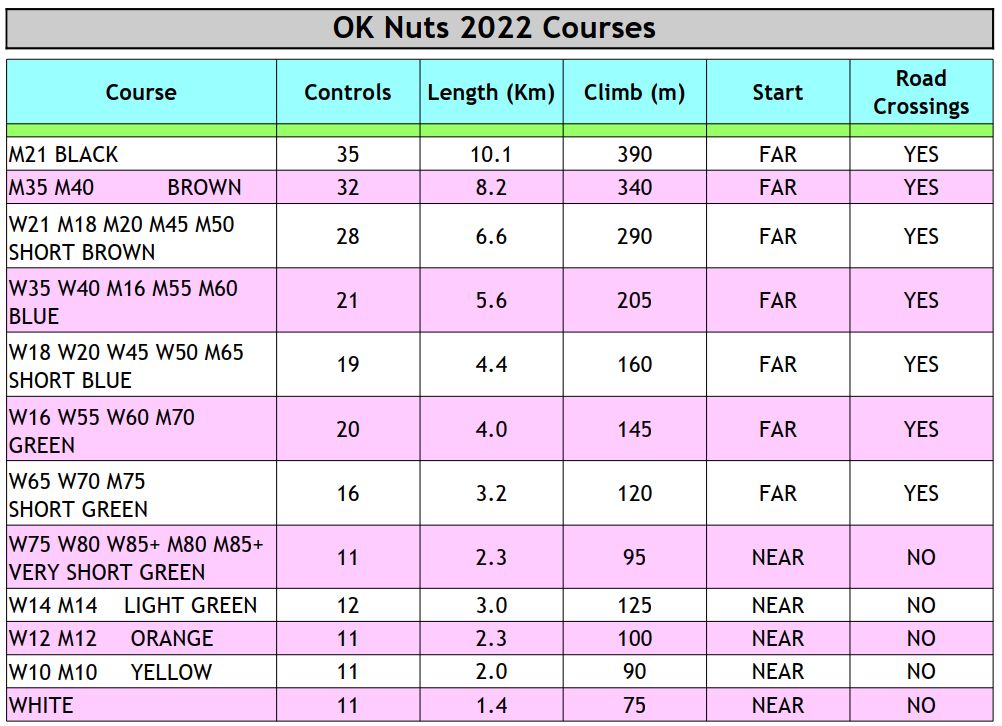 Newcomers
If you are new to the sport, these videos give an introduction to the basics of orienteering
https://slow.org.uk/about/orienteering/,
https://www.youtube.com/watch?app=desktop&v=bUm2JUeFNh4,
https://m.youtube.com/watch?v=o7wFFY8zOZo,
https://m.youtube.com/watch?v=wx_3xpnNT9E
When you enter you will need to hire a SPORTident timer and on the day, pick this up from Enquiries. Please come with clothing suitable for walking/running round a wood, especially if it is wet and cold. Full cover leg protection is required but you may wear short sleeved tops. You will need a compass. SLOW club members will be on hand to answer your questions and help you get started.
Under 16s and Road Crossings
Under 16's running the Short Green to Black courses must note there are two road crossings. See below.
The Short Green to Black courses have timed out road crossings. The roads are minor with little vehicle traffic and this is generally slow, however bicycles tend to be relatively fast. Road signs will be placed to warn traffic. There is plenty of time to cross safely as the time between the controls on either side of the road will be fully removed from your race time. Take care crossing the road. There is no need to rush. Only the second road crossing will be marshalled
Event Officials
Organiser – Simon Moss
Planner – Charlie Turner
Controllers – Ronan & Julie Cleary (LOK)