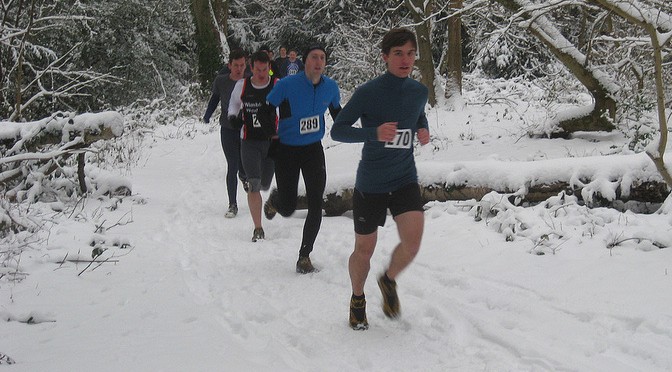 The 38th Box Hill Race
---
South London Orienteers organize two hill races in the Surrey Hills Area of Outstanding Natural Beauty near Dorking each year. The winter Box Hill Race sells out very quickly. For a summer (and somewhat greater) challenge, why not run the Surrey Hills Trail Challenge in June?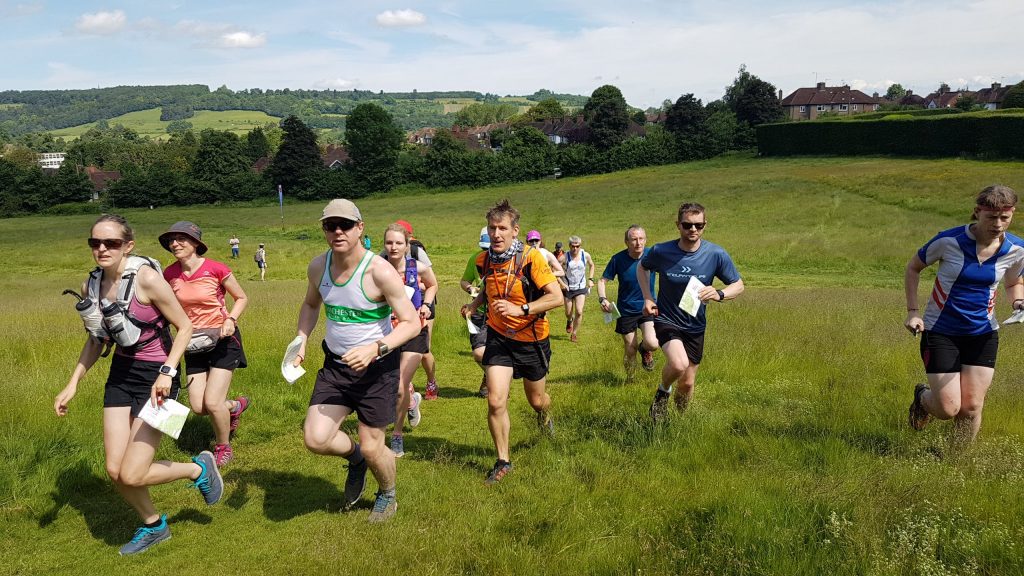 Surrey Hills Trail Challenge Map.
---
The 38th Box Hill Fell Race
The race is SOLD OUT. Entries opened at 00:00 on Thursday 1 November and closed just after 07:30.
As of 23:59 on Thursday 17 January, the Amend Entry facility is no longer available. Should you wish to edit any details of your entry, including transferring it to someone else, you or the individual to whom you wish to transfer your entry can do this at the Race HQ (the Stepping Stones pub) on the morning of the race between 09:20 and 10:45

FINAL DETAILS – HIGHLIGHTS
Where do I have to be when?
– All runners please collect their race numbers from the STEPPING STONES PUB (Westhumble St, Dorking RH5 6BS) between 09:20 and 10:45
– The race will start at 11:00 on Burford Meadows, which will be clearly marked and sign-posted / taped from the Stepping Stones pub.
How do I get there (and where do I park if I've driven)
?
– We would usually recommend that you travel by public transport to either Box Hill and Westhumble or Dorking stations… however, irritatingly, there are planned engineering works on Saturday meaning that there are no trains between Leatherhead and Dorking.
As such, we recommend that you either:
i) Take the train to Leatherhead and then take the rail replacement bus; or
ii) Take the train to Leatherhead and then take a taxi, ideally sharing with fellow Box Hill Fell Race competitors; or
iii) Take the 465 bus, which runs every 30 minutes from Kingston; or
iv) Drive (ideally with as many fellow runners as you can fit in your car) to designated parking near the start / finish (we have secured a VERY LIMITED number of parking spaces at Ryka's Cafe, a very short walk from both the Stepping Stones pub and the start. This will be available from 08:45 and we will be collecting a fee of £3 per vehicle, which will go to a charity of Ryka's Cafe's choice);
or
v) Drive to parking elsewhere. Specifically, if you arrive after our parking at Ryka's is full you should be able to park in one of
a) on the B2209 near Ryka's Cafe;
b) in the Box Hill and Westhumble station car park;
c) on Westhumble Street;
d) in Dorking (please DO NOT park at the Stepping Stones pub)
Saturday 19th January 2018 at 11.00am
12 kilometres with 520m of ascent under F.R.A. rules.
Records:
54.08 (Andy Greenleaf 2015)
62.26 (Nichola Jackson 2017)
Event Centre
Location
Stepping Stones PH
Address
West Humble RH5 6BS
Latitude/longitude
51.2529, -0.3246
OS grid reference
TQ170517
Maps
Google Maps, OpenStreetMap
The race returns to the Stepping Stones pub in West Humble Street, West Humble RH5 6BS. Grid Reference TQ170517. Collection of race numbers will be there from 9.45 and the prize giving will be around 13:30.
RUNNERS ARE NOT ALLOWED TO USE THE PUB CAR PARK AS IT IS VERY SMALL.
Boxhill & Westhumble station is only 300 metres away and the 465 bus goes along the A24.
Race Details
The race will be over the same course as 2015-2018, with the start/finish area just across the stepping stones over the River Mole, about a kilometre from the pub – possibly our shortest warm-up run ever.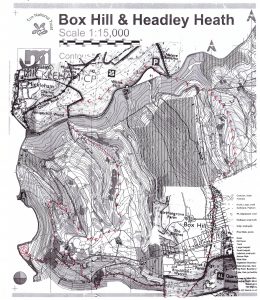 | | |
| --- | --- |
| Registration | Between 0920 and 1045 |
| Start Time | 1100 |
Special Details
There will be prizes for the leading runners in the usual categories (note that lady veterans have to be over 40) including a team competition with 4 to count.
The National Trust are the landowners for the vast majority of the course and they make two conditions to avoid erosion of the wonderful chalk downland the race uses:
THERE IS A LIMIT OF 250 RUNNERS. We will accept more entries than this expecting some no-shows (330 in all). Note that when entries opened last year they sold out in 9 hours.
RUNNERS ARE NOT ALLOWED TO WEAR SPIKES. They cause considerable erosion on steep downhill grass. Your co-operation is requested as significant damage could jeopardise future races.
Entries
Race numbers will not be posted in advance. Numbers can only be collected from registration on the day. Please note that under FRA rules people under 18 are not allowed to run.
Entries will cost £6.00 per runner and can only be made online at fabian4.co.uk. Entries will open on 1st November (and not a minute earlier!)
Postal entries will not be accepted.
Competitors will need to specify an emergency contact and phone number, and will be required to agree to the following statement when entering:
I accept the hazards inherent in fell running and acknowledge that I am entering and running this race at my own risk. I confirm that I am aware of the rules imposed on me by the Race Organiser and that I will comply with them. I confirm that I have read and will comply with, the FRA "Requirements for Runners". I acknowledge and agree that I am responsible for determining whether I have the skills equipment and fitness to participate in this event. I accept that neither the Race Organiser nor the Fell Runners Association shall be liable to me for any injury, loss or damage of any nature to me or my property arising out of my participation in this race (other than in respect of death or personal injury as a result of their negligence).

The race organiser is Harold Wyber; please contact him via .

.