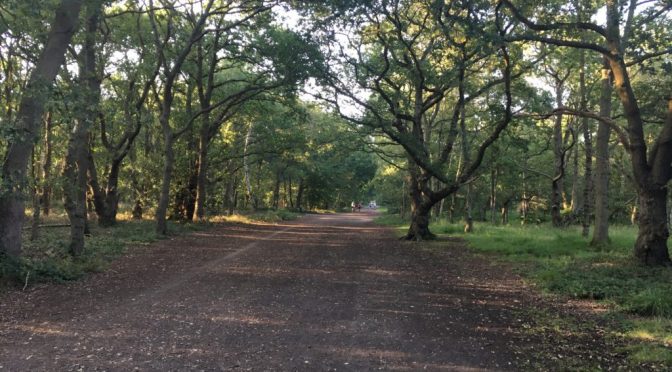 Wimbledon Common March Challenge
**This individual challenge can still be done at anytime to compare your score to others**
Well done to the 60+ runners who took part in our Bushy Park challenge in February – I hope you enjoyed Dave's excellent new map and Steve's course.
For our March challenge, we return to Wimbledon Common, but this time starting in the north-west, near Robin Hood roundabout. Once again, Don McKerrow has planned a challenging course for you, taking in some areas that I'm pretty sure we haven't used before!
Please only take part in this challenge if you can safely do so within the latest government restrictions, as part of your daily 'individual exercise' allowance.
Location
Start and finish are on the north side of Richardson Evans playing fields, near the end of Friars Avenue SW15.
If you come by car, you should be able to park in Friars Avenue (nearest postcode SW15 3DU), turning off at the big Asda supermarket on the A3.
For a more eco friendly (and healthier) approach, come by bike and use the racks next to the Thames H&H clubhouse on the western side of the playing fields. You could also come by public transport, with buses 85, 265 and K3 stopping at the Roehampton Asda.
Location
Wimbledon Common
Address
Friars Avenue, SW15 3DU
Latitude/longitude
51.4371, -0.2504
OS grid reference
TQ217723
Maps
Google Maps, OpenStreetMap
Format
We'll be using the same 'score' format as in previous months, where you have an hour to collect as many points as possible. Using the map provided, find controls in whichever order you like, collecting 10 points for each control starting with a 1, 20 points for each one starting with a 2 and so on. Make sure you're back within the hour to avoid a 30-point penalty per minute late.
As previously, we'll be using the MapRunF timing app, which also means that you can do the challenge anytime you like before the end of March.
Technical details
If you haven't already, please install MapRunF on your phone and download the challenge from UK > South London > StreetO > Wimbledon Common Mar21. Note: There is also a Wimbledon Common Nov20 so make sure you select the correct one! If you'd like to run with a Garmin watch instead of your phone, follow these instructions as well.
Next, download and print the race map from here (you will need this to navigate.) You can also get the clue sheet here, which may help in finding the exact control locations.
Note that (as usual), North is at the top of the map when printed and due to lack of space, the map has no legend but you can download it here.
Once you're ready to go, press 'Go To Start' (there is no code required) and the App or watch will start automatically when you're at the start location. The App will record each control (beeping each time) and then finish once you're back at the start location.
Your result should be uploaded automatically, but you may need to 'Get Track from Garmin' if you're using MapRunG.
All competitors take part at their own risk.
Enjoy the challenge! If you have any questions, just ask me on