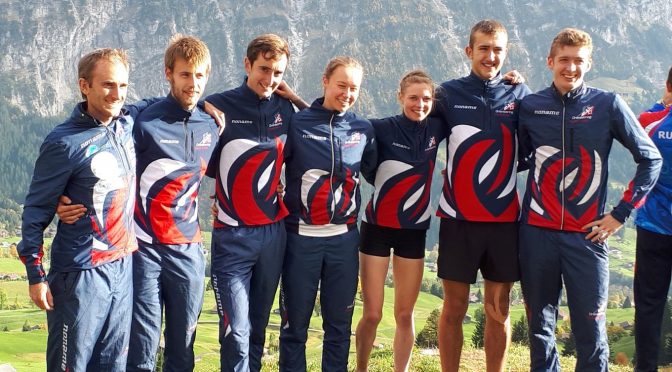 Ralph Street's 2017
As the Scandinavian 2017 training year ends, Ralph has written a summary of his year on Attackpoint . He says his worst relay run this year was the JK running for SLOW. He anchored SLOW to fifth place, a record high for recent times.  He did  show off the club jacket well at the individual prizegiving for the middle race (see picture below.)
Ralph runs for two other clubs too, one in Norway where he lives, and one in Sweden where he used to live – he joined them six years ago. Last month he helped  Södertälje-Nykvarn Orientering (SNO), to third place in the 25-person relay in Sweden that is one of the all club great days of the year. 374 teams took part.  Here is the  SNO site (text in Swedish).
Ralph did several races for the Great Britain team this year, with some noteworthy team results in the sprint relay. The season finished with the World Cup Final Meeting in Switzerland, in Grindelwald just by the Eiger. Above is a team photo after the long race. The 2018 international season will start in Switzerland with the European Championships next May. They are at Ticino in the Italian speaking part. The website for the competition is here.
He also took part in the World Games, with a good run in the relay  helping GB to 5th place. And he also had a minor hit with the feeling a bit naughty training picture.
But for many non-orienteers his 2017 will be best known for his contribution to a genre:  Race The Tube – Oslo