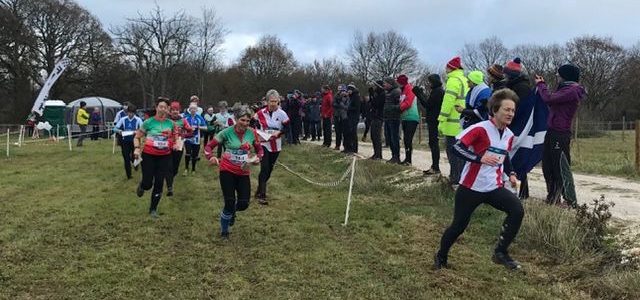 Veteran Home International
VHI 2021 Results
South London Orienteers staged the 2021 Veteran Home International on the weekend of 4th/5th December.
Officials
Weekend Coordinator – Sarah Brown
IT Coordinator – Gordon Parker
Individual Day Organisers – Alan and Diane Leakey
Individual Day Planner – Andy Jones
Individual Day Controller – Paul Todd (LOK)
Relays Day Organiser – Charlie Turner
Relays Day Planner – Paul Street
Relays Day Controller – David Dawson (DFOK)
Co-ordinator's comments
It became clear at the JHI competition on 9th October when the nations had a chance to chat how deep the disappointment was that the VHI would not take place. It was probably more acute as, due to all the Covid restrictions, we had been starved of the competitive side of orienteering as well as the social aspects and sharing of experiences.
Gordon Parker who was responsible for all the IT and Equipment provision for the JHI immediately offered to run the two days of competition. He suggested asking Charlie Turner who has great links with the Rangers on Winterfold and Glovers Wood to get a quick agreement on land permission. I got in touch with SLOW chairman Alan Leakey to see if he felt we could take it on, identified a date and by the following day at the JHI relays I was asking Paul Todd and David Dawson if they would control, Paul Street if he'd take on the relays and Andy Jones to plan the individual. So by 19 October, a team was up and running with land permission for the events.
With a lot of work from this small core, the VHI took place 7 weeks later and seems from all the comments to have been an unqualified success. The competition has tremendous value, not only giving a wide range of people an opportunity to be in a national team but also bringing together so much experience in orienteering and further enriching our sport.
Sarah Brown
Individual Races
The individual races were staged on Winterfold and Pitch Hill on Saturday 4th December.
Planner's Comments
I was keen to have a distant start location to enable the shorter courses to visit parts of the forest that they wouldn't normally reach. I was having trouble making my potential start locations work until controller Paul suggested using the gully rather than the path network, and hey presto! I wanted to avoid having fixed road crossings because they would be a significant constraint on long route choice legs, and I was confident that on long courses competitors wouldn't risk crossing roads recklessly to save a second or two. I also wanted to get as many courses as possible onto the big slopes around Pitch Hill, for the contrast and the drama of the terrain. I was a bit concerned about mountain bikes so I kept courses away from the fastest tracks.
The map is getting a bit long in the tooth but Don McKerrow did a great job of mapping over the cracks and I hope that you didn't find anything badly wrong. The rhododendrons have grown like topsy over the summer; I had to take a planner's hand saw to them in a couple of places. All the same, there is still loads of brilliant terrain, particularly the hurtberry carpet where if you soft focus a little bit you can imagine you are in Scandinavia… lift those knees up!
Andy Jones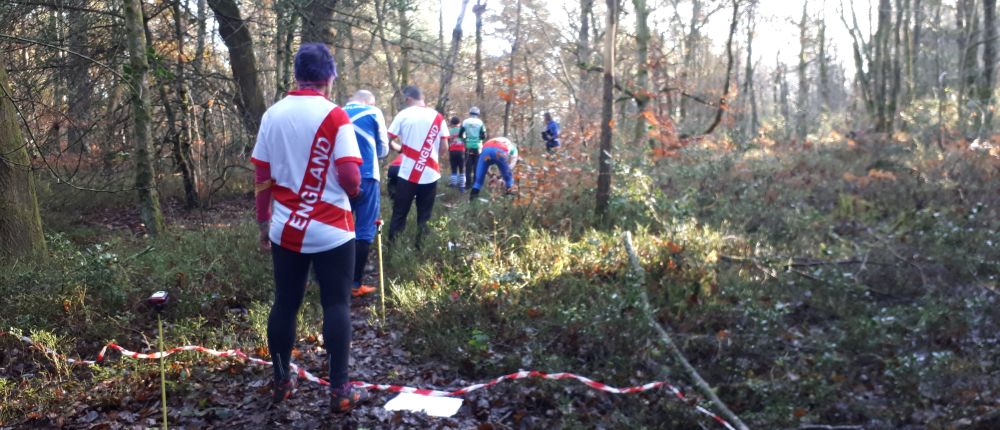 Relays
The relays were staged at Glovers Wood on Sunday 5th December.
Short video of MWM start on Twitter
Organiser's Comments
The relay area is a very compact area with two major landowners but also with a complicated pattern of many small parcels of land which have untraceable owners. Most of these owners appear to have forgotten about their woodland and there no physical boundaries, however in the two weeks before the event a new, very DIY fence appeared in the centre of the area and this did cause us concern; Paul felt it best to avoid taking his courses into this area.
The club's previous events on the area have been more summer based when the heavy clay soil is compact and car parking is no problem. The relay was only possible due to the enormous help of the owners of the field who not long ago laid down much of the hard standing that we used for car parking. The latter was very tight and most of you will never have been encouraged to be boxed in to so many tight spaces. I hope you all managed to get away with no problems.
At the prize giving we failed to give due credit to Paul Street and David Dawson for their respective planning and controlling. You all seemed to enjoy the day, as did our small team of club members!
Charlie Turner
Planner's Comments
It was a pleasure to plan the relays for this year's VHI in the delightful Glovers Wood. So thanks to Sarah and our wonderful clubmates in SLOW, especially Gordon, for giving me the chance.
That we have such a good map of such a suitable place for the relay, and that we got permission at short notice, is entirely down to Charlie. So thanks to him for that and also for considerable work organising this particular event. Mike Murray, a veteran of many VHI appearances, provided extensive help over the weekend.
Many thanks too to David, who was great to have with me and who suggested some significant improvements .
Well done all the runners and congratulations to winners of "WMW" – Jackie Hallett, Jon Cross, Sarah Rollins – who won by 3 seconds, and "MWM" – John Tullie, Jenny Peel, Will Hensman – who won by 4 seconds.
I thought of the relays as "SLL" (WMW) and "MMX" (MWM). The M (medium) and L (long) are similar in length and both fitted well for a circuit of the Wood. The basic design was such a circuit, with a way of shortening the L for the S (short) and a way of extending the M for the X (eXtra long). The rules mean the planner can have a very good idea who will run what leg, for example the 35s and 40s really have to run the last legs. Based on that the only concern on physicality in this area was to put crossings of Welland Gill for the S course where the valley is shallower.
I went for a clockwise circuit starting into the area known as Mountnoddy Wood for two reasons. Firstly, I wanted all courses to finish with ungaffled legs with the chance for route choice, and this was clearly better coming to the arena from the north. For M and L this was the sequence 208-217-199-200. For S it was 217-199-200. For X it was 205-199-200. Secondly, it allowed all courses to enjoy a gaffled section 180-210 along the valley on the west of the map. In and around the Gill made for particularly nice running I thought, and it meant the S runners had gentler (but still significant) crossings.
I went for a map exchange for a common last loop for the X runners as I hoped they would like it, and it could create interest for those watching. It did mean that the last half of the last leg of the race was ungaffled which perhaps worked out tougher than expected for Will and Richard at the front.
I was also very keen that it was possible for those in the arena to follow what was going on. That was why WMW (which goes slightly quicker than MWM) started ten minutes ahead of MWM. With the runners going as expected it meant we got in succession alternate finishes from leaders in each relay. And it was exciting to see lead runners coming in close together on all legs.
Paul Street
Controller's Comments
Everyone seemed to enjoy Paul's courses and that is the most important thing to achieve. He got the balance right between head to head running with navigating through the gaffles. My input was quite limited, generally just tweaks to control descriptions. There was only one control where I wanted a pit to be used that could not be confused by its proximity to yet another prominent thicket. We were fortunate to have access to such a lovely area with plenty of features.
We had a problem land-owner who decided to put a fence around his patch in the last few weeks. This required significant course changes the day before the maps had to be sent to the printers. Well done to Paul and the whole SLOW team.
David Dawson Controller VHI relays 2021.
The Social