SLOW runners at the Edinburgh Marathon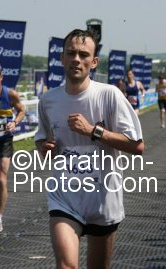 Three SLOW members took part in this year's Edinburgh Marathon. The course was fast and flat, looping out of Edinburgh along the coast to the east, but it was, for the second year in succession, a hot and humid day, and the sun took its toil on many people.
Ed Catmur raced around in 2:48:40, finishing 22nd out of a field of 9500 in his first marathon. On the way he ran 1:17:12 for the first half, recording a half-marathon PB. Ed was pictured on the evening TV news report featuring the race. Oliver O'Brien finished 1003rd in 3:34:22, also his first marathon, and Vicky Whaley finished 7930th in 5:17:26.