32nd Box Hill Fell Race – Organiser's Report
Since I first organised this in 1993 I've been wishing for snowy conditions. Now, at the 21st time of asking, success, and judging from the comments on the day and emails and photos since all you runners enjoyed it as least as much as I did. There had been some pressure to cancel – from the car parking angle of all places! But we resisted and with help from Neil at the Sports & Social Club we prevailed. Snowy conditions are hardest on the marshals who have to stand in them for long periods. So the runners owe all of them a big thank you, especially as this year we had to have more marshals, firstly to cope with the car parking and then to direct you through the mass of sledgers and snowboarders on the final descent. They all deserve naming – from SLOW there was Mike M, Chris, Angus, Vince, Mike G, Mike E, Linda, Nigel, Don, Charlie and Teresa – those last three responding to a late call in case of parking problems and then there was also Rebecca, Hugh and two more whose names I never asked directing you on that last descent. Absolutely wonderful the way some people just appear and help out when they see something needs doing.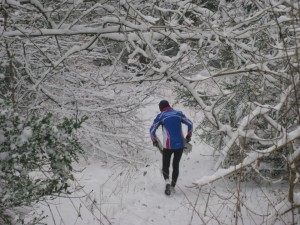 Now for the races. Great run from Harold Wyber to take the top spot. He's been close for some years now and last year came second. Four minutes slower this year was no surprise in those conditions and certainly more than good enough. He was chased hard the whole way by Mike Fanning running for Borrowdale (but recently moved south). Mike was top veteran and that must be the best veteran placing for some time (ever?). Third was Ben Stevens from Oxford University Orienteers; Ben was a mere two minutes slower than last year when he was 4th.
In the other age classes Alan Cherry was again top U23, but slipped 4 places from 3rd (6.5 minutes slower). Paul Jeggo claimed top super-vet, only 2.5 minutes slower than last year when he was 2nd in this category. And the evergreen Geoff Newton was (yet again) top M60 – how many times is that. There were no runners over 70 – so it looks like Peter White kept to his intention of retiring once he'd finished last – well he was 81 last year.
Among the ladies Victoria Basquill repeated Harold's feat of moving up from second place – and she was only 2.5 minutes slower than last year. This placed her well clear of the battle for second where Ruth Holmes just pipped Julie Rayfield. This made Ruth the first non-veteran on the podium for a couple of years. Katherine Harvey was again first super-vet (7.5 minutes slower) and there were no ladies over 60. Nicola Hanson came off the better from the two U23s entered.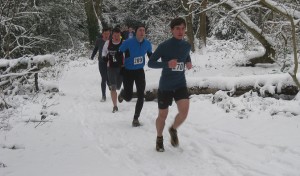 Now the team result. Our new results wizard (thank you, Angus) calculated them by adding the four best times on the day. I've always done in by adding positions as shown below. It made no difference to the winners as Serpentine were well clear, but second and third are the other way round to that announced on the day. There weren't that many complete teams with many regulars unable to get out 4 runners, despite having enough on the start list. e.g. SLOW – 10 entered, 2 ran. So well done to Incline Accelerators.
Team Results
| | | |
| --- | --- | --- |
| 1 | Serpentine RC | 39 |
| 2 | Tring R C | 102 |
| 3 | Oxford University Orienteers | 103 |
| 4 | Dulwich Runners | 172 |
| 5 | Reigate Priory | 178 |
| 6 | Cambridge Harriers | 362 |
| 7 | Springfield Striders | 204 |
| 8 | Tadworth AC | 335 |
| 9 | Incline Accelerators | 542 |
One innovation this year was to accept entries online – a decision taken by the SLOW committee to drag me into the 21st century. 96% of runners entered this way and it meant the race filled up quicker than ever before – nearly six weeks before race day. We knew it would also increase the no-show percentage, and we don't like people to miss out on filling up the NT's limit of 250 runners – so we accept a number well over that. Although only 199 started I think many of the "shortfall" of 51 can be put down to travel conditions on the day. The other innovation was not to send out race numbers. This was to give us control of knowing who had actually started and was successful in that respect.
We'll be looking at 18th January next year if the local XC races follow the usual pattern.
Andy Robinson, Race Organiser
Results from the 2013 Box Hill Fell Race are available here.
Photos by Nigel Clemens on Flickr.
Photos courtesy of Vince Roper (top) and Nigel Clemens (inset).