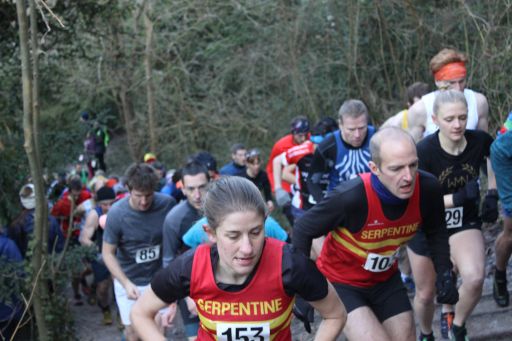 36th Box Hill Race Report and Results
Race video (first decent) by Sam Pearce
ORGANISER'S REPORT – Andy Robinson
Well that was a cold one. My car was registering minus 6 when I arrived at 8.15 to put the first flags out. Combined with the sunshine that did give us some beautiful views. My favourite was coming into the open after the last road crossing. It was a north facing slope which the sun can't have visited all winter and the frost must have been an inch thick. It made for some very fast and firm going. Too firm for one lady who had to retire after a fall and a visit to A&E confirmed she had broken her collar bone. We wish her a speedy recovery.
At the front end it was a welcome return to the race after a few years absence for James McMullan of Thames Hare and Hounds. James was the record holder on the old (pre-2015) course, and so a new record looked to be on the cards. However a fall when jumping a fallen tree 2 miles from the end forced James to slow down and miss the record by 16 seconds. He said "I just jogged in after that", which can be translated for the rest of us as "I just retained my 3 minute lead".
No such problem for the first lady. Nichola Jackson of Ranelagh Harriers stormed round to beat both 2nd place and the previous record by over 5 minutes. It's difficult to compare the new course with the old one, but I think her time would have put her close behind the great names of Sarah Rowell, Angela Carson and Yvette Hague who were the fastest then, but all from the last century.
There were many impressive age group performances. Richard Phillips is a first year veteran and took second place for the second consecutive year. William Stanley was the youngest in the race and took an excellent 4th place. But perhaps the most impressive performance came from Lynda Hembury in winning F60. She was a mere 3 seconds behind the leading F40 and many minutes ahead of the F50 winner.
Serpentine again took the team prize but were not packing as closely at the front as in previous years. Can someone take it from them? Reigate Priory certainly put up a strong showing and, as host club, it was good to see some of our younger members putting in fine performances.
Although we mourned for the delights of the Sports Club bar that we enjoyed for 24 years, we were excellently looked after by Phil the caretaker and Lin in the office at our new base. Thanks also to all the wonderful officials and marshals from SLOW; Peter on the computer, Chris on registration, finish and nearly everything, Mike on road signs, course flagging and road crossing, Fran and Dave for course sweeping, Linda and Katie on finish and registration, Don as first aider, Nigel, Steve and Ed on road crossings, Jane at number issue and all those on parking and number issue before they ran.
And personally one of the high points of the day was being able to talk to the 1984 winner, Chris Hirst, who was here to watch his son race to a fine 10th place.