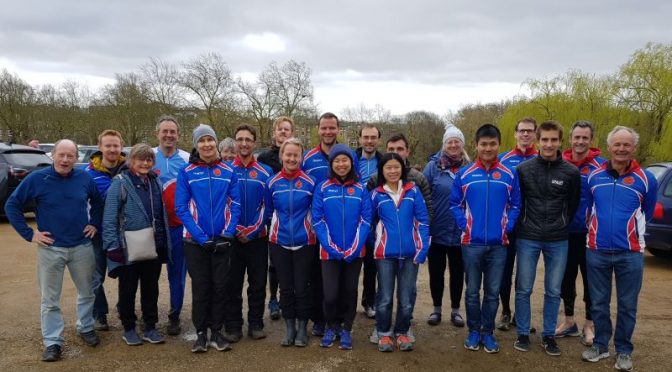 CompassSport Cup Tie
The last race before the coronavirus shutdown was the annual regional round of the CompassSport Cup.
Great work by London OK putting on the event on Hampstead Heath. It was a fine achievement by a small club -LOK are a "small club" in CompassSport Cup/Trophy rules, and indeed there were only eight LOK runners in the Trophy. Thanks very much to them for doing their bit for the sport.
We were matched with Southdowns, Happy Herts, Thames Valley and Southern Navigators. All clubs had full teams. We usually meet Southdowns and Happy Herts in this regional round, and we usually come second or third; in fact Southdowns won our regional last year and went on to come third in the final.

This year we won, thanks to a good turnout from the club and many good individual runs. The best course for us was five of the top six on men's open.

Captain Peter Huzan deserves a lot of credit for the result. In his email to the club he noted the very valuable contribution from SLOW runners on junior courses: well done Yona Jacquemin, Matteo Rebora and Théophane Roux.
CompassSport Cup large courses:
Men's Open
Women's Open
40+ Men
45+ Women
50+ Men
60+ Men
60+ Women, 70+ Men

Small courses:
Men 16/18
Women 16/18
Men 14-
Women 14-
Older Vets
It was great to see the new O-top looking good on so many members.