SLOW at the Edinburgh City Race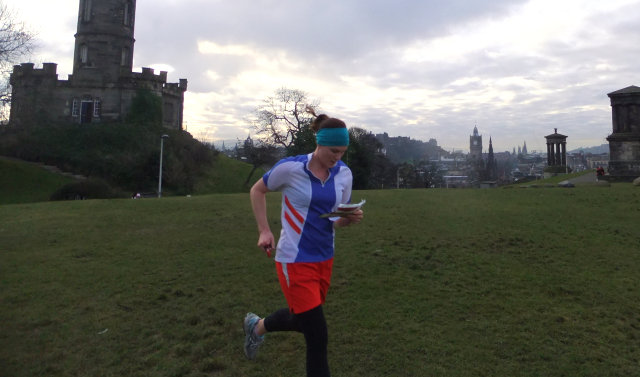 Edinburgh Street Race was attended by a small crew from Team SLOW. The map was designed for those with super vision and of fleet of foot with tiny details, apparently uncrossable walls (why wasn't I told this earlier!!) and small, easily missed short cuts. The supposedly 6km race (actually around 11km!) took us through the multi-level housing complexes and up over the hills for grand views of the city. The course was challenging with multiple route choices on each leg, often the fastest leg not easily seen upon first glance.
We attended the ceilidh (sorry my vocabulary doesn't allow me to pronounce the word – much to the amusement of the team!), tasted haggis, the local ales and watched the Scottish dancing.
I approached day 2, located in Holyrood Park with a heavy head and legs. The brown was a challenging course, again with lots of route choices in the long legs, then short, sharp butterfly loops to ensure we stayed in close touch with the map. The amount of climb was phenomenal, up, over and around Arthur's Seat; I must admit I stamped my foot in frustration at one stage, seeing my control fluttering in the wind at the top of the steepest hill I have encountered in a very long time! Hmm, perhaps back to the drawing board with my hill training approach….
A great weekend, with detailed maps and challenging both physically and mentally. I am keen to head back again next year! Hope to see you there!
Report by Libby Schofield