Esher Commons Results
Biritish Orienteering National Event held on October 30th 2022. Comments below from Alan Leakey.
MAPPING, PLANNING, & ORGANISING
Being both mapper and planner is not something I would generally advise but since we live on the edge of the Esher Commons and it is the base for many of our runs it was obvious that I would never be able to run competitively so.
Firstly, some apologies:
To those on the Very Short Green and Blue and Brown, where the text line about one of the road crossings appeared between the wrong controls on your control descriptions, I hope that it didn't confuse you too much. The perils of last-minute changes.
To any on the Yellow course confused by the Smileys out on their course. In our attempts to be helpful we inadvertently mixed 2 different styles out there and Yellow course competitors that went wrong at one control encountered a White course Happy Smiley that wasn't on their best route.
And to those on Park World Tours that found our multitude of Green courses confusing and ended up running a course they didn't enter. We tried to adjust things so that everyone was made competitive on the course they actually ran. But it does highlight that whilst the initial Colour Coded concept was a good one, its imposition on events with 12 or so courses results in a plethora of confusing course names…Very Short Green, Light Green, Short Green, Green…. We need a better system.
PLANNING
The location of the Start and Finish was fairly obvious once we had obtained permission to use Oxshott Station for car parking. It also meant that the White, Yellow and Orange courses would be constrained to Oxshott Heath in order to avoid road crossings, so the latter two were slightly shorter than the course length guidelines – but the winning times seemed to be long enough anyway.
Apart from that the main constraints on planning were the narrowness of the neck of land north of the road crossing, the A3 dual carriageway dividing the area in half, a multitude of paths compromising long legs and last-minute forestry work, including the building of uncrossable 'dead hedges'.
To compensate for that there are some areas of great intricacy, others of very runnable forest and even some that feel very remote when you are in them, so I tried to keep everyone running through the forest as much as possible whilst injecting bursts of intricate navigation where I could. I hope I succeeded in keeping you entertained.
Getting course lengths right is always a challenge for a Planner, especially when an area has not been used for a long time. The guidelines give a target winning time on Black of 67 minutes for an elite runner, with ratios of other courses lengths based on that. The winner could certainly be considered elite and took 72 minutes, so the course was probably about 700m too long. Since the predicted running speeds for all of the other courses are based on a ratio chart in the BOF Rules that implies that the other courses were too long in consequence. But I am not aware of any guidelines on winning times for courses outside of Championship events, so it is difficult to tell whether they were or not, except by competitor feedback. Certainly no one accosted me complaining that the courses were too long. 😊
Given the numbers I suspect that 'trains' formed in the forest on occasion – if we had predicted 600 competitors, we would have increased the start window to 2½ or maybe 3 hours to spread people out, but it was too late just the week before. Having said that I watched one such train heading for the last control on the vegetation boundary turn south soon and into a dead end of bracken and fight, where it all came to a confused halt. Much to my amusement.
ORGANISING
A tarmac car park adjacent to the area with Start and Finish nearby seemed set to make organising the event straightforward. Then we had a very welcome entry of 86 from PWT and were asked if we could host a junior selection race. And then the late entries poured in; there were around 200 in the week before the event, of course this is after we placed our map order. It took us from our estimate of 350 to 600.
Entering later and later seems to be a post-Covid trend and whilst we always print extra maps, there are limits and of course sometimes other things will be the restricting factors. Extra numbers did strain the planned support. So maybe don't leave it quite so late next time please?
As ever a big thank you to those members of SLOW who pitched in and helped.
MAPPING
The previous completely new (and first full colour) map of Esher Commons dates back to the 1980s (at least) and predates the building of the new A3 through the middle of the area (and OCAD!) So, with the advent of LiDAR coverage, it was time for a completely new survey. Over the past year I have learnt the wonders of LiDAR contour and vegetation screens, GPS trackers and the fantastic OCAD Sketch app on my tablet. Feedback on the end result seemed to be positive, even if hosting an event in October meant that Esher is somewhat greener than the last time!
And, thinking about previous versions of the map, have a look below at the first ever orienteering map of Esher, courtesy of Robin Smith of Southdowns.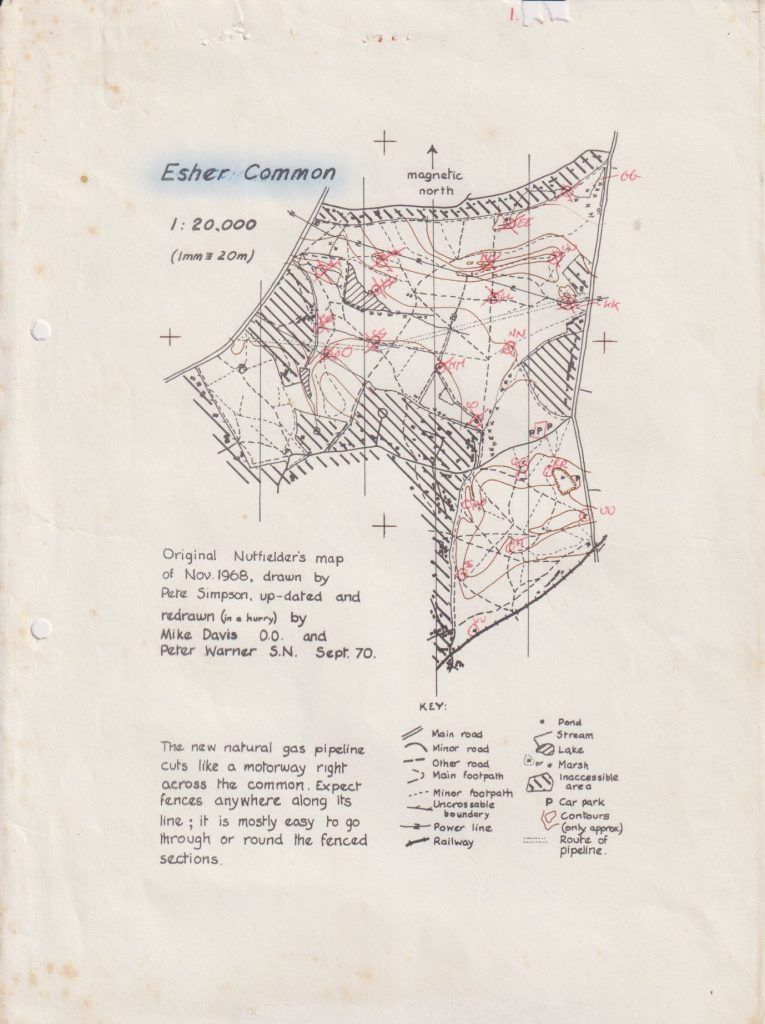 RESULTS
***
***
British Orienteering Results Page
Winsplits (data not adjusted for timed out road crossings)
Routegadget – please add routes
Results at SportIdent (as for live results on the day)