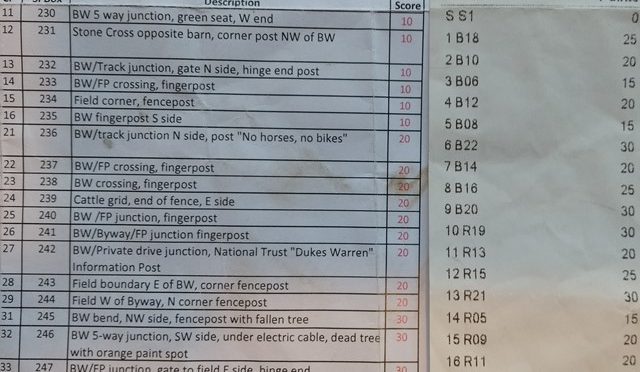 MBO SCORE 2019 Results
2019 Series Results
Here are the final Series Standings for 2019 after all 5 events and the Series Standings by Class (from the 2019 Series) .
Congratulations to the 1st, 2nd and 3rd place winners in each class:
Men's Vets (50+)
Women's Vets (50+)
Men's Seniors (18-49)
Women's Seniors (18-49)
Juniors (Under 18)
Results, Splits and Race Reports for each event can be found on the BMBO website.
Chilworth
We rounded off the year in October with a return to the fantastic riding around Chilworth in the Surrey Hills. Fortunately the forecasted huge deluge of rain was blown North overnight and we only had a few showers on the day. The trails were pretty wet and muddy in places but at least this firmed up the sand especially on Blackheath .
Chilterns Weekend
Our Chilterns weekend took place in August from White Mark Farm Campsite at Watlington which made a great venue for both days events. Here's an event report and a combined results sheet for the two days events. Overall league standings can be found above and individual event results on the BMBO website.
Mogador
We returned to an old favourite at Mogador in May where the countryside around Box Hill and the North Downs is surprisingly hilly. A great course, lovely views and dry trails made for a fantastic event. See Ifor's winning route which started with Red 243 and switched colours between Red 247 and Blue 241.
Tilford
Our first event took place in March at Tilford in the Surrey Hills. Despite the untimely break in the good run of weather during February, the rain did not spoil things and everyone came back looking very muddy but with lots of smiles. With all the mud and sand, brake pads might make for suitable prizes this year.
Series Prizes
Series prizes are presented to the top 3 finishers in the each following category.
To be eligible for prizes, participants must have attended at least 2 events. Course planners are credited for the events they plan with the average of their best 2 event results.
Previous Series Results
Overall series results: 2018, 2017, 2016, 2015
Individual events for all years: Results