SLOW success at the SE Relays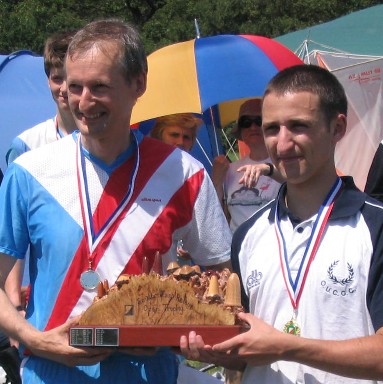 SLOW members took the trophies in both the Open and Handicap classes at last Sunday's South East Relays, held in Epping Forest. The event was a real test of heat endurance, as temperatures were up in the thirties and there was limited shade on the courses.
In the open class Charlie Whetham brought us in 3rd on the first leg, less than 3 minutes down on the local leaders CHIG. In the womens' race, Sarah Brown was also less than 3 minutes down on the leaders SO. On second leg Paul Street pulled the mens' team up to second place, now less than a minute down on CHIG. Jackie Chapman recorded the fastest female time on the leg to keep the women in strong contention. Ed Catmur anchored the mens' team home in style to take the title by a whopping eleven minutes, while CHIG mispunched under the pressure. Rachael Holmes was unable to catch the SO women on last leg, so the ladies finished second overall.
Our two handicap relay teams also had a great day – SLOW handclap (Ralph Street, David May and Paul Nixon) won the race by a big margin and SLOW progress (Vince Roper, Don McKerrow and Michael May) finished third. Paul won the Green handicap race by a massive 10 minutes, while Ralph had the third fastest time in the Blue and Michael beat David to get around the Orange in the third fastest time too.
This is a good fun, low-key relay event which caters for all standards and is recommended for next year (especially if we can win again!)