Results from the Streatham Common Park Race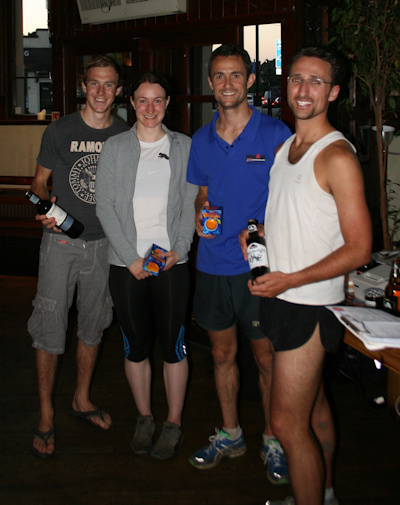 Results are now available for the 12th and final Park Race of the 2012 season. We hope you enjoyed and visiting and running in new parts of London! Congratulations to the series winners – see the series rankings page on parkrace.org for full details. We hope to see you at the next SLOW race!
2012 Organisational Team
Series coordinator: Chris Robinson
Website & Social media: Oliver O'Brien
Newsletter: Scott Collier
Rankings: Ben Lovett
Event organisers: Rachel Collins (x2), Neil Brooks (x4!), Ed Stott, Scott Collier, Libby Schofield, Oliver O'Brien, Sandra Vogel, Yehuda Alon
Event helpers: Various members of the organising clubs (SLOW, LOK, DFOK, MV)
Photo: Prizewinners for the Park Race Series 2012 – Jonathan Albon, Helen Gardner, Paul Couldridge and Ed Catmur.